AppSense Insight: Transform the User Experience
*This post originally appeared on the AppSense blog prior to the rebrand in January 2017, when AppSense, LANDESK, Shavlik, Wavelink, and HEAT Software merged under the new name Ivanti.
Keeping employees happy and productive brings constant challenges. Physical PCs operate side-by-side with virtual desktops, remote desktop session hosts, and desktops as a service (DaaS).
While IT may install many applications locally, they're just as likely delivered virtually through software like Microsoft App-V or VMware ThinApp. Just "keeping the lights on" in a desktop environment is a big job.
As much as IT executives would like to find a way to simplify their environments while staying ahead of users who expect high-performance, they rarely have the data necessary to make informed decisions on what's the best, most cost-effective course of action.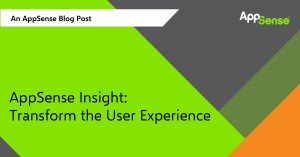 AppSense Insight provides IT with the data needed to make to an informed decision and transform the desktop experience for users. With Insight IT can:
Spot the causes of slow logons
Detect profile bloat
Pinpoint applications causing CPU and RAM spikes
Learn who uses applications and who installed them, when and where
Anticipate the user impact of removing administrative privileges
Ascertain how many employees and devices use each Windows OS version
Discover which systems have local admin accounts and who they are
Identify what and where data is stored on user endpoints
Knowledge equals power - discover what you don't know about your desktop
View this webinar to see how AppSense Insight can provide data-driven visibility into what your users experience every day and why.