I need to...
ensure that the National Health Service (NHS) balance's privacy and security requirements with IT performance.
It security, stat
Every year is "the year of the healthcare breach".
Find out how our clients are addressing the top 5 healthcare IT challenges.
Reduce Reporting Overhead by over 60%
See how Arden & GEM did it.
Prescription for IT Health
Keep the focus on patient care without compromising privacy and security
IT teams have one of the hardest jobs to meet the continuously changing demands of the NHS today. Teams need to ensure that clinicians have access to the right applications and records when they need it while protecting patient privacy. They must optimise IT operations to deliver the best value for the organisation, support improvements in patient care, and ensure compliance with regulations.
Protecting against outside cyber threats is a necessity as online criminals target healthcare organisations more and more. Healthcare IT teams must protect systems, users, and patient records from aggressive hackers.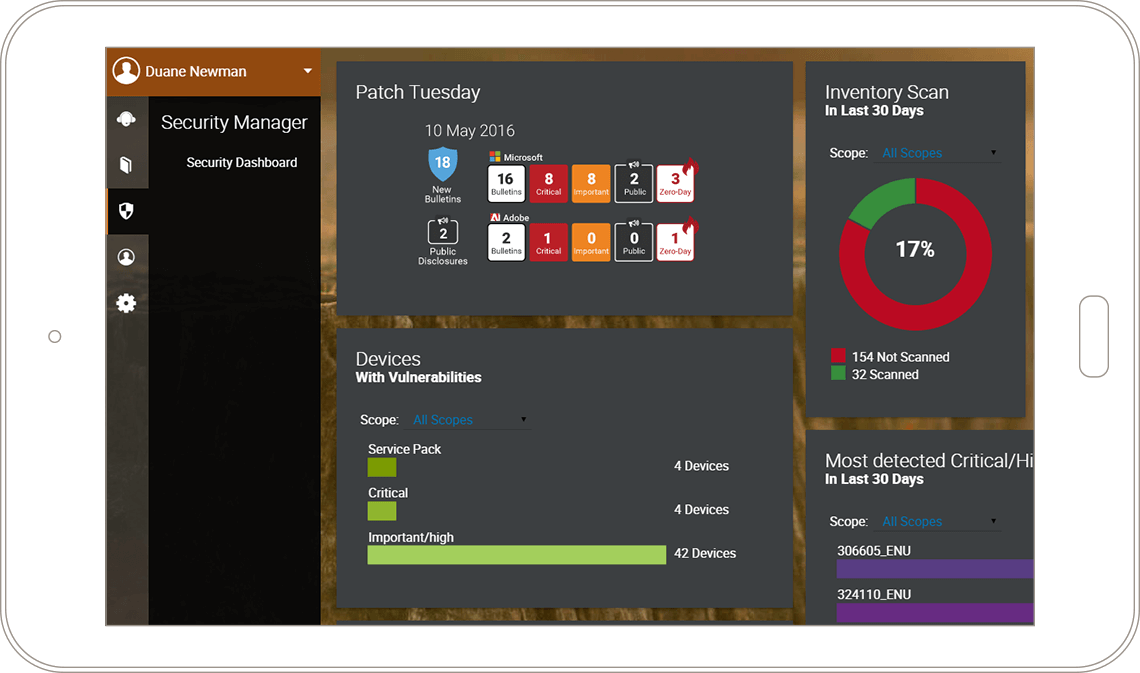 Modernise IT to focus on patient outcomes
Healthcare IT departments need to deliver exceptional and timely service. The challenge is high with rising clinician and patient expectations, regulatory mandates, and external security threats. The good news? Ivanti can help meet these challenges efficiently, effectively and economically, with a range of healthcare IT solutions.
Protect patient records
Healthcare organisations must protect the privacy and confidentiality of patient records, allowing access and sharing to only authorised staff or clinicians.
Secure against cyber attacks
Aging, unpatched software and the increased use of user-targeted attacks makes the NHS vulnerable.
See more patients
Everyone's blood pressure goes up if clinicians waste time with long logon and application access times, or delays in accessing needed records.
Stay compliant
Non-compliance can lead to significant penalties. Adherence to standard policies and processes are a must to ensure ongoing compliance. Plus, compliance with license entitlements controls costs and business risk.
More patient time
Doctors time with patients is tight. Patients get more attention and better care when the right records and applications are immediately available.
Ensure availability of critical systems and applications
Reduce life threatening consequences when clinical applications are not highly available.
Manage and update critical devices
The device landscape for IT is complex. Devices need to be securely connected and have the latest applications, access controls, and tools.
Drive IT performance while optimising costs
NHS IT teams are expected to minimise costs while delivering services that are reliable and high performing.
Keep your IT systems at peak health
Ivanti offers a comprehensive portfolio of solutions to improve health IT performance, security, and compliance across your environment. Ivanti's healthcare IT solutions meet your organisation's specific needs, enabling maximum benefit with minimal disruption for your clinicians, caregivers and patients.
IT Excellence improves patient care
Ivanti supports the core mission of the NHS. IT needs a sustained focus on excellence to be more agile, productive, and cost effective. Healthcare organisations like the NHS rely on Ivanti solutions to follow best practices and standards, secure the IT environment, and align IT to the delivery of excellent patient care.
Faster logon times
Drastically cut logon and application access times so clinicians spend more time with more patients without compromising security.
Personalised desktops
Deliver personalised workspaces to every clinician, no matter what devices they use.
Multi-layerd security
Isolate infected devices and take corrective actions quickly to stop malware infections. Protect the IT landscape and patient records with automated discovery, patch management, application and device control, and other solutions.
VIP support
Automatically route clinicians experiencing IT issues for immediate attention so they get back to their patients.
Asset optimization
Increase visibility to maximise the performance and value of your IT assets. Reclaim unused software, meet compliance requirements, and save time and budget with a centralised view of your assets.
Change management
Reduce the risk of out-of-compliance fines when making changes and updates to your Electronic PATIENT Records (EPR) AND CLINICAL systems. Use a comprehensive Change and Release processes to manage the complete release lifecycle.