Supporting Our Local Communities: Runcorn and District Foodbank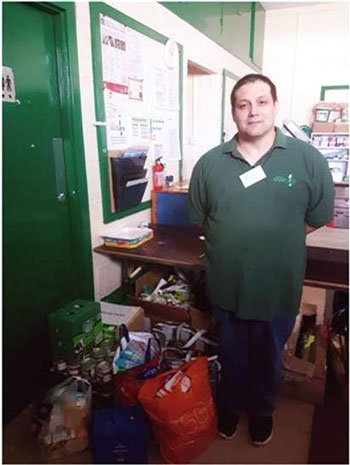 When Ivanti rolled out its unlimited VTO (Volunteer Time Off) policy to widen the scope for employees to work within their communities, I thought about a charity called Trussell Trust.
Trussell Trust was founded in 1997 by Carol and Paddy Henderson based on a legacy left by Carol's mother, Betty Trussell. They initially set up a food bank in their own back garden. Now Trussell Trust has food banks all over the UK providing emergency food and support to people locked in poverty.
I reached out to my local food bank in Runcorn, met with a lovely lady called Iris who recruited volunteers, and we met for a coffee one Saturday morning. I asked the question, "What can Ivanti do to help?"
Currently I volunteer on weekends in a shift rotation on Saturday mornings. Although I am volunteering on a Saturday and giving up my own free time rather than Ivanti's time, I knew that there was still a way Ivanti could help.
I communicated information about the food bank to the Ivanti Daresbury office and we decided to set up a food donation box. The kindness shown by Ivanti employees has been immense.
Each week I send out an email to all in Daresbury and let them know what supplies the food bank are running low on and the donations of food just keep on coming. This just shows what a caring bunch of colleagues we have.
A Day at the Food Bank
Every Saturday is different. I usually start my day at 9:30 a.m. restocking supplies from the warehouse and then the food bank opens its doors at 10 a.m. Some weekends we can feed as many as 25 people in two hours, so you can understand how important it is that the food bank receives donations.
Many different types of people will come in: families, single parents, and sometimes people who live in sheltered accommodations. It can be hard to not let your emotions show. We are fortunate here working at Ivanti, but is important to remember that any of us—our families or friends—could potentially fall on hard times, so giving something back to the community is important. It makes me feel happy knowing that just a few hours of my time will help a family to not go hungry.
Want to know more?
If you would like to know more about Trussell Trust, find volunteering opportunities near you, or want to make a donation, check out this page. The Bracknell office is looking into volunteering also at food banks so watch this space for further communications.
And thank you to all of you that have donated! I assure you the smiles I see on the faces of families when they leave the food bank knowing people care is worth it!