Questionnaire With Anne-Pierre, Marketing Director in Ivanti Paris
We're ramping up our Employee Spotlights blog series, interviewing both men and women who currently work at Ivanti.
In this post, we'll be highlighting Director of Field Marketing for EMEA South, Anne-Pierre Guignard.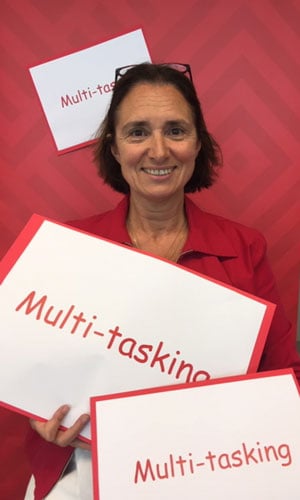 Q: Where are you from, where did you go to school, and what did you want to be when you were a kid?
AG: I was born in France, specifically in the South West of France, in a region close to the Atlantic Ocean and the Pyrenees mountains. Growing up there was great! I went to school there up to business school, then decided to go to Clemson University, SC, USA for a master's degree. That was my first time in the US! It was a great experience.
When I was kid, as far as I remember I wanted to be president, not sure why. I guess I was impressed by the presidential election.
Q: What was your position before Ivanti, and what have you been doing for the majority of your career?
AG: I've been working at international tech companies in various roles such as sales, tech, product, and marketing for most of my career. Before joining Ivanti, I was Enterprise Marketing Director at BlackBerry. In parallel, I was speaker and consultant on social media after co-writing a successful book "Réussir avec les réseaux sociaux" (How to Succeed With Social Media).
Q: How did you find out about Ivanti?
AG: I joined Ivanti (formerly Landesk) five years ago. I had previously collaborated with Landesk while working at IBM. Since then, it has been a long journey with many acquisitions, a new brand launch, different countries to cover over the years, and a lot of collaboration with very interesting people in EMEA, APAC or USA!
Q: If you had to describe Ivanti in three words, what would they be?
AG: I would say: international, transformational, and customer-focus.
Q: What are you passionate about?
AG: I'm passionate about marketing and innovation! The tech industry is a great place to embrace new technologies and solutions. As a marketing director, I love testing new tools, or launching pilot.
As a board member of a "Marketers in Tech" club, I learn about new practices and share with peers.
I'm also involved and passionate about the place of Women in Tech. I've been member of the Professional Women Network (PWN) in Paris for many years. In the EMEA South region, I try to motivate Ivanti women or partners around WIT activities.
Recently at Interchange Madrid, I ran several interviews with women after the WIT luncheon. See the video here.
Q: What advice would you give to someone looking to start a career in marketing?
AG: I believe that there are many opportunities in the tech industry, and a clear lack of women. For a marketing role today, I would recommend to focus on digital marketing but also on Artificial Intelligence since data will change the way we do marketing.
Don't be afraid to join a small or a large company; you will learn a lot and develop different skills! Don't be afraid to work in an International company, or have international assignments; you will learn a lot by working with different cultures! The most important thing is to believe in yourself, your skills, your abilities, your ideas, your intuitions, and to develop your network.
Q: What advice would you give yourself 10 years ago?
AG: Keep learning, training and taking risks!
Q: Any final comments?
AG: Have fun in what you do and enjoy the people you are working with!