Volunteer Time off With Ivanti Team West at Prior's Court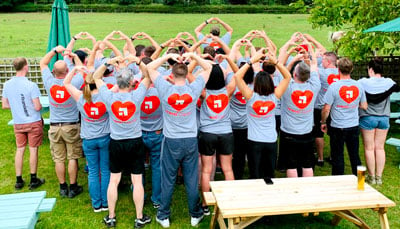 The Ivanti EMEA West team just took an opportunity to give back to the local community through the unlimited Ivanti Cares Voluntary Time Off (VTO) policy. "It was a great privilege to be part of a team of people who volunteered time to help support such a worthy cause," said Area Vice President West EMEA Nigel Seddon.
Where did we visit?
Stuart Robson-Frisby had recommended a fabulous charity, Prior's Court, which is a registered non-profit charity. Prior's Court manages a specialist residential school, a young adult provision, and a training and development centre. They support and improve life chances for young people aged 5-25 who are severely affected by autism.
Prior's Court is indebted to Founding Patron Dame Stephanie Shirley, whose vision of a centre of excellence for children with autism became a reality when Prior's Court School opened in 1999.
Dame Stephanie is a highly successful entrepreneur turned ardent philanthropist. Having arrived in Britain as an unaccompanied child refugee in 1939, she started what became Xansa on her dining room table with £6 in 1962.
In 25 years as its chief executive, she developed it into a leading business technology group, pioneering new work practices and changing the position of professional women (especially in hi-tech) along the way.
What is autism?
Autism (autism spectrum disorder or condition) is a lifelong developmental disability that affects how a person communicates with and relates to other people, as well as how they experience the world around them.
It is a spectrum condition—some people with autism can live relatively independently but others may need a high level of support throughout their lives. The condition can make life extremely challenging for the families of those affected.
All of the young people at Prior's Court have severe autism. Almost all of them are non-verbal. The majority of them have at least another four diagnosable medical conditions such as ADHD, learning difficulties, epilepsy, and mental health issues. Often they will display aggressive, violent, and self-injurious behavior, meaning it's not safe for them to live in the family home. It's for this reason that they live at Prior's Court 52 weeks of the year where they can be supported 1:1, 24/7.
They put us to work!
They certainly did that! We arrived at 9 a.m., were split into four teams, and were put straight to work. We were up for the challenges.
We undertook many jobs during the day including painting the fences around Sparkie the goat's enclousure (Sarah Lewis's favourite part of the day).
Lots of fences and a shed all had a fresh lick of paint. We made new paths and built rabbit hutches. We demolished old sheds (some, I think, slightly enjoyed this task a little too much) and weeded overgrown areas ready to plant fresh new herbs.
There were also inspiring new backgrounds secured to existing old fence panels, placed in the wooded area. We also revamped an existing area where previously a fuchsia garden was planted in memory of a former resident, but had unfortunately completely overgrown and needed some love and attention.
The team worked effortlessly in the scorching heat, and not once did anyone complain. We worked our little socks off, even through all the blood (just one minor injury all day, quite impressive considering the way that Grant Van Eck was swinging the pickaxe around!) sweat and tears, and at the end of the day it showed. All that hard work really did pay off!
Now, I know that I can speak on behalf of every single one of us who volunteered at Prior's Court, that it was a great and truly humbling experience. Being surrounded by all these inspiring children and their wonderful autism practitioners was a real pleasure and honor.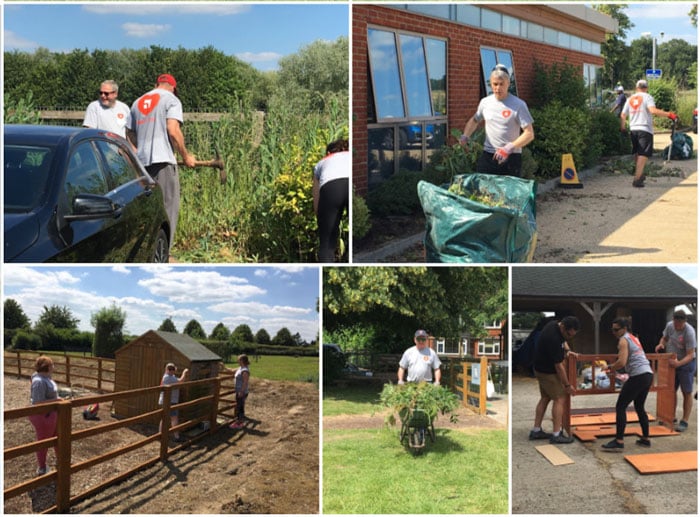 The staff at Prior's Court are amazing, so caring, and truly unbelievable. The children and young adults deserve the best, and if we gave just a little towards that, then Ivanti's VTO (Voluntary Time Off) is definitely worth it!
What did Prior's Court think of us?
"With Prior's Court being based on such a huge estate, there is always plenty of work to be done, so we were delighted to welcome the team from Ivanti. They were so enthusiastic and motivated and just ploughed their way through all the tasks, despite the heat! It was fantastic to see them engaging with our young people and to understand why Prior's Court is so important to them and their families. Thanks to the team our countryside learning centre, horticultural zone and young adult provision now look amazing. Thank you so much for your support. We truly appreciate all the hard work and sweat that went into it."
Want to know more about volunteering at Prior's Court?
We have only scraped the surface of what could be done, since the school is located in the most wonderful part of the country and surrounded by over 50 acres of charity land.
Learn more about how you can make a difference by volunteering at Prior's Court.