Interview With Jessica Sun, One of Ivanti's Women in Tech in Beijing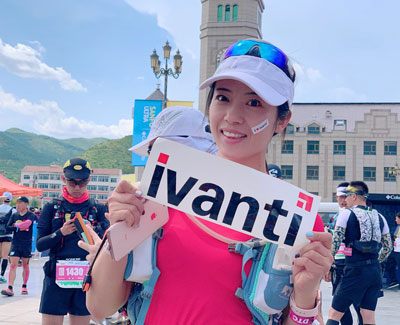 This week we are spotlighting Jessica Sun, a sales development representative on the field marketing team in Beijing.
What is your role at Ivanti?
JS: I joined Ivanti in 2011 and worked as an SDR on the field marketing team. My responsibility is to explore and cultivate business opportunities generated from marketing activities. I am working with the sales team to ensure all the business opportunities are followed up in a timely manner.
If you were to pick one characteristic about yourself that you'd consider your "super power," what would it be and why?
JS: If you say "super power," I think of Charlie (Hailee Steinfeld), a heroine in a movie that I love called Bumblebee. Charlie has so much positive energy! At the beginning of the movie, she is somewhat lost and feels inferior, but this insecure little girl grows into a position of enthusiasm, self-confidence, and courage.
I think my super power in life is "full of positive energy." In fact, this is a benefit not only in my personal life but also in my work environment. I need to interact with different people on the phone every day. I need to have enough powerful learning ability to quickly understand our solutions and communicate that effectively to prospective customers. I have to be fearless and full of energy.
What are you passionate about?
JS: I enjoy the joy of running in nature. I like marathons, and I am also a fan of cross-country racing. In 2016, I completed my first marathon, the Hengshui Lake International Marathon. From then, I began to enter more marathons. In the past three years, I successfully completed eight marathons, including the gold medal Beijing International Marathon, Xiamen International Marathon, Hangzhou International Marathon, and the Qinhuangdao International Marathon. Then I took on the challenge of the international cross-country races in 2018. The competition group consisted of three races of 50 km and one race of both 70 km and 100 km.
How is competing in marathons changing your life?
JS: In the spring of 2016, when I started running, I never thought that I would compete in a 100-kilometer cross-country race one day. Last week I was taking part in a 100-kilometer cross-country run but sadly, I chose to quit halfway. This was my first experience of quitting. On that day, due to high temperature and gastrointestinal illness, I touched the mountain of Chongli with one hand and my other hand was pressed against my stomach as I vomited, unsteady on my feet. And I thought to myself "it is time to make a choice." I can give up my beloved medals. I can give up even though I eagerly want to complete the competition and get my medal. I am responsible for my body, I am responsible for my family. I am responsible for this event. I finally quit halfway.
I deeply feel giving up is a kind of love, and it's brave. Whenever facing difficulties and setbacks—facing choice and giving up—we must have enough courage to choose and to change. Change yourself, only in this way can you get a new life and go further!
As an employee of Ivanti, I hope that I can work in the spirit of off-road, face the difficulties, calm down, be bold, step by step, take it steady, and be a winner.
What advice would you offer younger women as they start their career in technology?
JS: First of all, we must have a good working attitude and maintain this good attitude. We must believe that due to hard work, anything can succeed. Secondly, we must do a good job in back to basic work: We must seriously analyze and summarize, accept challenges, and overcome them. Moreover, dare to challenge difficult things, always believe that in the process of work will certainly get unexpected and rewarding gains.