International Women's Day Spotlight: Sally Hart
It's day two of Ivanti's countdown to International Women's Day, and we're serving up a great interview with Sally Hart.
Sally is a senior HR manager at Ivanti. She took a unique path to get to where she is at in her career.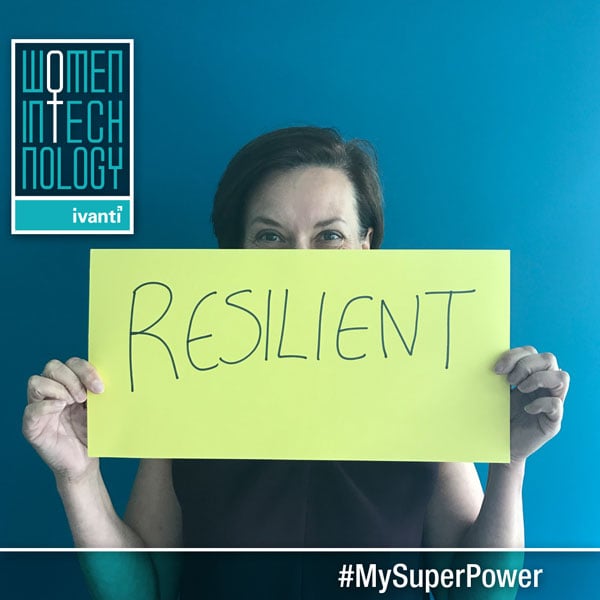 She started at Ivanti in May of 2000, which is nearly 19 years (and many acquisitions) ago. She started in the IT department and eventually transitioned to human resources. She and her team have responsibility for Ireland, Romania, Poland, and part of the UK. She works closely on a day-to-day basis with the UK sales team, who are mainly based out of the Bracknell office, right outside of London, where Sally is also based.
I first started working with Sally last August when my boss gave me the opportunity to transfer from Ivanti headquarters in South Jordan, Utah, to the office in Bracknell, UK. I was expecting the move to be difficult, but I had no idea how hard it would actually be. Sally guided me through the logistics, working with immigration lawyers, HR in Utah, my boss, and others to help my transition happen as seamlessly as possible. She helped me figure out what city to live in, gave me tips on how to minimize the shock of everything early on, and was basically my rock during the crazy six months I prepared my visa. I am forever grateful for Sally for helping me live out my dream of living abroad, so I consider myself very lucky to be able to spotlight her today.
Interview with Sally
Q: Tell us more about why you transitioned from IT to HR.
SH: I really enjoyed the people contact during the role I held in IT, but I struggled with a lack of analytical problem-solving skills and so my future was limited and honestly, I don't miss anything about it!
I became very interested in people vs. organsational dynamics and how they can fit and work together (or not!). I spotted a part-time role in HR that was coming up and approached the manager at the time, asking if she would consider taking me on as her assistant. For about a year, I worked part time in HR and part time in my IT role until the company grew and I could transition full time into HR.
The best thing about working in HR is the opportunity to connect with and help your Ivanti colleagues navigate their working life in all its complexities.
Q: When you were a child, what did you want to be when you grew up?
SH: I used to watch musicals with my mum and so for a long time, I wanted to be a musical actress – however, I quickly discovered as I got older that I can't sing (unless I am alone in the car, then I am Aretha Franklin).
Q: What are you currently reading and binging on Netflix?
SH: I just finished binge watching 'The Sinner' which was awesome but like a good book, it ended too soon. The last book I read was 'The Tattooist of Auschwitz' which was harrowing but educational.
Q: As part of the #MySuperPower campaign we ran in the summer, you picked "Resilient" as a word that describes you. Tell us more about why you chose that word?
SH: We have all faced adversity in our lives and I am no exception. They say what doesn't kill you makes you stronger and I am certainly more resilient following my experiences. I remember coming into work while going through a bad patch and a particular manager made a point of telling me every week how much he appreciated the work I did. At a time of self-doubt, those words cemented in a few cracks that were showing and helped make me more resilient. The people around you can help build your resilience, so work with people who care.
Q: Who inspires you?
SH: So many people have inspired me over the years, I could list pages of them, but currently the 116th American Congress is bringing a smile to my face - the first Muslim and Native American congresswomen, the youngest ever congresswomen, and for some states, the first female, black, or Latina congresswomen. They are forging the way for future generations and showing them that we are all equal and deserve an equal voice. The way they handle themselves is powerful – Alexandria Ocasio-Cortez and her lesson in dark money video- she owned it!
Q: What advice do you have for companies as they strive to promote gender equality?
SH: Flexible working for everyone – if an organsation is open to any flexible working discussion, including part-time arrangements, they would see many more applications from people who have caring responsibilities – either for children or relatives.
Also, in the UK, there is a little used right to share parental leave after the birth of your child. If companies encouraged their male employees to use this leave so that they too had children related gaps in their employment, the equality gap would start to close.
Q: What are you passionate about?
SH: Volunteering – small charities can't survive without volunteers. I volunteer as a Trustee for a local charity who provide help and support to Victims of Domestic Abuse. As the chair of Trustees, I currently use ½ a days leave a month to go and work with the CEO. I was so delighted when Sue launched the Ivanti VTO programme recently. Small charities are crying out for Trustees and I would encourage anyone who is looking to volunteer to look into it. Most trustees only need to commit a few hours per month, outside of working hours.
Q: Anything else you want readers to know?
SH: Be kind, always. You never know the impact your words have on another.
Join the social media campaign!

International Women's Day is promoting a global social media campaign that Ivanti is taking part in. Join the movement by taking a selfie with a #BalanceForBetter selfie card, post it on your social media using the #BalanceForBetter hashtag, and tag @TheTechieGirls so we can see your resolution to promote more balance!