Interchange Unplugged Behind the Scenes
Interchange, Ivanti's user conference, is an amazing chance for IT professionals to come together for networking, technical workshops, expert one-on-one sessions, and thought-provoking keynotes. This year, our two Interchange conferences were hosted in Madrid, Spain, and Nashville, Tennessee. In addition to these main events, we are offering 21 different one-day events globally, otherwise known as Interchange Unplugged.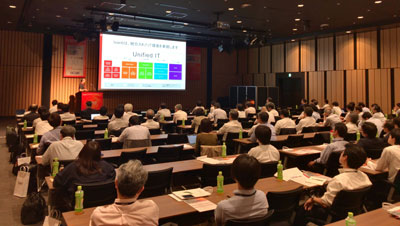 So far, we've already hosted these events in Dubai, Switzerland, Germany, Austria, France, Italy, and Japan. There are more coming in China, Australia, China, South Africa, the UK, Netherlands, Ireland, Denmark, Sweden, and Norway.
These events allow you to discover more about Ivanti's solutions for IT Asset Management, Identity Management and Automation, Security, Service Management, Unified Endpoint Management and User Workspace Management. They all include break-out sessions and informative content, designed to extend your knowledge of Ivanti and its solutions.
Planning the Event
data-lang="en">

#InterchangeUnplugged19 of the year in Dubai was yesterday. Great turnout, educational tracks and lots of insightful conversations between Ivanti customers, partners and executives! Thank you to everyone who attended. pic.twitter.com/AoBoolVuzW

— Ivanti (@GoIvanti) April 25, 2019
Before the day of the actual event, there is a ton of planning that goes into Unplugged. I asked Miko Arai, our Japan Field Marketing Manager, about what goes into planning an Unplugged event, as she just wrapped up Tokyo Unplugged. "It's a lot of communication, internal and external. This includes collaborating with local media, getting a referral for a keynote guest speaker, getting partners onboarded to sponsor the event, working with customers to join as guest speakers (this is especially key because the customer session is the most popular session every year). It also includes reviewing presentation slides of internal speakers and partners as well as having the sales team and partners engage by inviting customers and prospects," Miko said.
Jeni McSkimming, EMEA West Field Marketing Manager, added to the list of everything that needs to be considered when planning an event. "Planning any event is hard work, you literally need to think of everything, from the minor to the major. Staffing, electricity requirements, internet, speakers, and social media all need to be considered, and that is just scratching the surface. You need to start planning at least 10 months in advance to establish a location, venue, and content, but of course content can change up to the very last minute," Jeni explained.
Christine Butsmann, our EMEA Central Senior Field Marketing Manager, and her team refer to their Unplugged events as their "Interchange Roadshow." "With a sound system, furniture, and equipment such as a reception desk and a lectern, we're basically a band on tour, just without the musical instruments. The atmosphere even makes us feel like roadies. We drive together, we eat together, and we help each other up to the moment we are all exhausted – but happy. That's my favorite part of Interchange Unplugged, when everything is in the van, all bundles laced and off we go!" Christine said.
Cultural Differences
Another key part about planning any event is catering for your specific audience and keeping in mind cultural differences. You need to consider these differences depending on your location, an Unplugged event is going to look very different in London vs Japan. "In Japan, people are more serious, so it is hard to play around and make the event more entertaining. During the actual presentations, people prefer written surveys over Q&A sessions and they like printed presentation materials available the day of the event. Half-days are usually preferred over full-day events so people can work in the morning. We have a lot of workaholics here!" Miko said.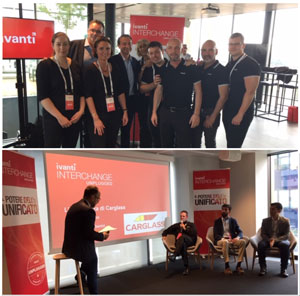 "In Germany, people appreciate an event that they do not have to stay overnight at. We try to start an event no earlier than 10am and end it no later than 4pm. We also try to choose a venue that can easily be reached by plane, train, public transportation, or car. This gives everyone the freedom to travel in the morning and evening," Christine said.
"I have found over the years of event planning that in the UK, we do like some social drinks at the end of an event. We're happy with a full day of events as long as the content is engaging, and we get a nice long lunch breaks and plenty of time to check emails!" Jeni said.
During the Event
The Unplugged events are a great chance to meet with Ivanti experts and partners. We asked Anne-Pierre Guignard, EMEA South Field Marketing Director, what sort of value people can expect from attending an Unplugged event. "The events have great solution keynotes and demos in local languages. The number one topic this year was Ivanti Cloud. Attendees also have a chance to hear interesting customer testimonies, have one-to-one meetings with Ivanti experts, and discover the benefits of Unified IT," Anne-Pierre said.
Jeni added to Anne-Pierre's sentiments. "We have so many updates and product insight at the events. It is a chance for our customers to network, meet industry folk who know and breath Ivanti, meet peers, and of course enjoy the day at no charge," Jeni said.
"The best part about Interchange Unplugged events are the interactions and discussions with the customers, prospects, and sponsors (plus the selfie opportunities!). As one customer told me, 'It's good to feel like being part of the Ivanti family at Unplugged.' These events are great teamwork events where everyone is involved," Anne-Pierre said. Even with all of the stress that comes into the actual event and the planning, it is very rewarding seeing our customers come out with a great experience. "The fun of Unplugged comes during the execution. To see a well-organized event take place and customers get what they wanted and what was intended from the day is so fun. It's also great working with a team who support the event in all aspects and make good things happen," Jeni added.
No matter where you are in the world, the Interchange Unplugged events are a great way to network, connect with and learn more about Ivanti, attend educational IT sessions, and hopefully have a lot of fun. Check out our Unplugged site to find a location near you. We hope to see you soon!