The Interview and Hiring Process
A Guide for Future Ivantians
So you've found a role that sounded like a good fit, or you've heard from someone about how great it is to work at Ivanti—now what? Here are some helpful tips to prepare you for the next steps.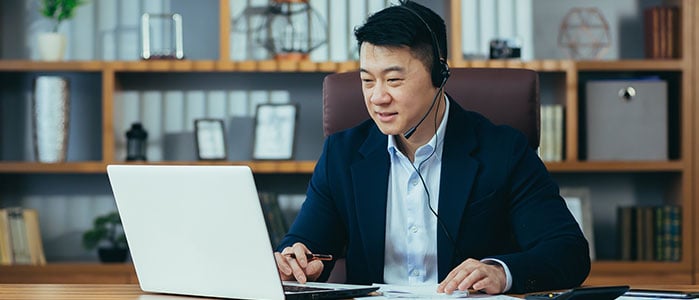 How we hire
At Ivanti, we do our best to make the hiring process simple and efficient for everyone involved. After all, hiring should be a fun and exciting process! Keep in mind that every department/team/role is different, so the interview process may vary slightly based on position. At Ivanti, you can typically expect a hiring decision within 2-4 weeks. During that time, your recruiter will provide interim updates. See the hiring workflow above to better understand our recruiting lifecycle.
1. Apply to the Position
Review the available jobs on our Careers Page. Apply to any position(s) that match your interests, background and skillset. Don't forget to include the name of your referrer if you have one! We'll review your resume and evaluate your qualifications.
2. Meet the Recruiter
During a discussion with the recruiter, you'll learn more about Ivanti and share information about your background and skills. We want to ensure that role aligns with your interests and expertise.
3. Meet the Hiring Manager
You're moving forward to speak with the hiring manager! This is a more in-depth overview of your background and experiences; this step may take place as a phone call or a Microsoft Teams video interview. The hiring manager will assess how well your skills and knowledge match the qualifications necessary for the role. The hiring manager interview is usually 30-60 minutes.
4. Meet the Team
Now you're moving on to connect with the team! Your recruiter will work with you and the team members to schedule the interview(s). During this step, you'll speak with select individuals from the team/department in either one-on-one meetings or a panel interview. The team interview is usually scheduled for 45-60 minutes. For Technical roles, we may ask for a coding exercise to be completed.
5. Decision Stage
Once we have gotten to know each other, it is important to generate feedback from you and each interviewer. Your recruiter will debrief with you directly, requesting information about your interview experience. The hiring team will meet to discuss your candidacy before making a final decision; this process may take up to a week following the final interview. You can expect the recruiter to follow up and share our feedback with you, regardless of the outcome.
6. Offer
Good news! Everyone thinks you'd be a great fit on the team! Your recruiter will call you to review the offer details. Ivanti recruiters are there to be an advocate for you, so don't be afraid to let them know if you require additional context, you have questions or to express concerns. After you've made your decision and have verbally accepted, you'll be sent the official offer document via DocuSign.
7. Prepare to Start
Upon written acceptance via DocuSign, you'll receive the welcome emails from HR, a background check link, and other pertinent information. Your equipment will be shipped out to you as your start date grows nearer, usually 3-4 days prior.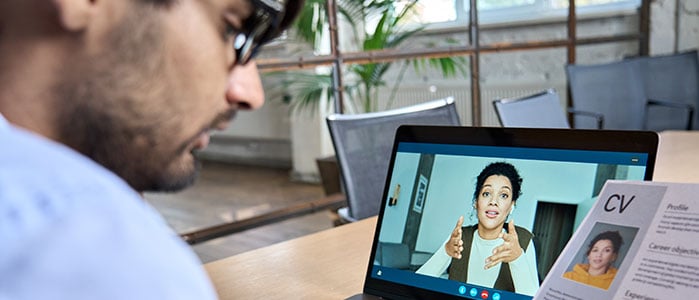 Preparing for your virtual interview(s)
We all know how nerve-wracking interviewing can be! Below are some tips to help you prepare and make your interview experience with Ivanti as smooth and pleasant as possible.
Business casual attire
Dress in whatever business casual attire makes you feel comfortable. Most people wear collared shirts, but no neck ties.
Microsoft Teams + Wi-Fi Connectivity
We use Teams for both audio and video interviews. You can access Teams through a web browser or by downloading the application to your computer or phone. Check your internet connection ahead of time to make sure it's fast and reliable enough to support a video meeting with your camera enabled.
Find a Quiet Spot and do a Test Run
Familiarise yourself with Teams and adjust your camera and microphone settings before the meeting so you'll look and sound your best and avoid delaying the conversation. Set the scene and prevent unwanted distractions by choosing a well-lit space with minimal background noise, so we can focus on the conversation.
Last-minute prep
Re-reading the job description helps you come to the interview with relevant examples, showing how your experience aligns with the specific position you're interviewing for. If a technical glitch happens, don't worry! Stay calm and hang in there. Try rejoining the call and loop in your recruiter if you need their support.
For in-Person Interviews
Professional attire may be recommended for interviews that take place in-person at Ivanti. Please be sure to discuss this with your Ivanti recruiter in order to determine the best approach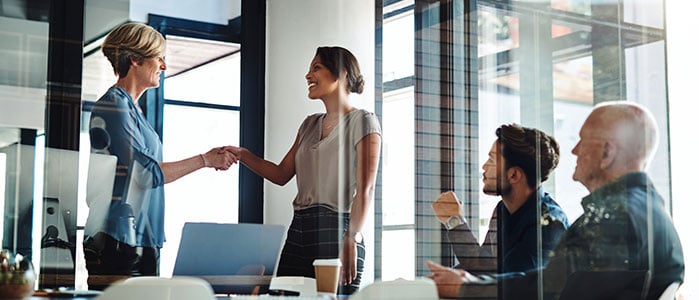 Hiring FAQs
Does Ivanti allow employees to work remotely? Of course!
Ivanti elevates and secures Everywhere Work so that people and organisations can thrive, making it possible for employees to stay productive, secure and engaged wherever they are. While our headquarters is in the U.S., we have 36 offices in 23 nations, with significant offices in London, Frankfurt, Paris, Sydney, Shanghai, Singapore, and other major cities around the world. A significant number of our positions are eligible for remote work – ask your recruiter about the role you are interested in!
I've submitted my resume/CV. Now what?
An Ivanti recruiter will review your job application in detail, comparing your qualifications with the job requirements.
Can I apply for multiple jobs?
Yes, you can apply for more than one role at once. However, we recommend narrowing your choices down to a few jobs that truly match your skills, experience, and interest.
Do you have an employee referral programme?
We do have an internal employee referral programme and encourage you to reach out to any friends or colleagues so that they can submit your information. There will also be a section in the application to list an Ivanti employee who referred you to the role.
Can I withdraw an application?
Yes, if you change your mind about a particular job or role, you may withdraw your application at any time. You can inform the recruiter should you want to withdraw.
How do I make an accessibility request?
If you need an accommodation for the best experience during the hiring process, please let your recruiter know or email us at [email protected] prior to any scheduled meetings.
How long does the interview process take?
Generally, it takes about 2-4 weeks to complete interviews. It could take longer for executive level roles.
Does Ivanti allow flexible work schedules?
Employees regularly work with their managers on a case-by-case basis to evaluate flexible work arrangements. Ivanti elevates Everywhere Work for our customers and our employees.
What if I need a visa?
There are many jobs for which the company might be able to sponsor visas, depending on the requirements of the job and the qualifications of the candidate. If the role is appropriate for visa sponsorship and you're qualified for the job, the recruiter will let you know how to proceed with the interview process.
When will I know if a hiring decision has been made?
Your recruiter will let you know as soon as they know. On average you should hear back within 1-2 weeks following your final interview. Feel free to touch base with your recruiter for an update.
I accepted my offer, what should I expect next?
Upon written acceptance via DocuSign, you'll receive the welcome emails from HR, a background check link, and other pertinent information. Your equipment will be shipped out to you as your start date grows nearer, usually 3-4 days prior. Start dates are typically on Monday's, but we are flexible, as notice periods vary by region.
Does Ivanti provide equipment?
We provide all new hires a laptop, headset, and monitor. Equipment is shipped out 3-4 days prior to your start date.
Fraudulent recruitment warning
To ensure applicants are applying for valid, open positions and not potentially fraudulent listings, we want to ensure all applicants know what to look for. To help avoid confusion, make sure any job posting you've found is consistent with the following:
Ivanti will never ask for payment in any form from an applicant as a condition of employment.
Ivanti will advertise all vacant positions on our website, Glassdoor and LinkedIn. Any other posted job openings may be fraudulent. It is safest to apply directly on our website.
We rarely conduct interviews at a physical location, but if we do invite a job applicant for an interview, it will be at one of our 33 office locations. The addresses can be found and verified on ivanti.com.
Most, if not all, interviews are held remotely via Microsoft Teams. If a different conferencing bridge is sent other than through a valid Ivanti Microsoft Teams account, job seekers should decline the invitation.
When Ivanti is sending an offer letter, we only send it via DocuSign.
We encourage anyone who has been fraudulently contacted and offered a job by anyone not affiliated with Ivanti to report this activity to relevant law enforcement agencies.