Victoria University: Student and Staff Satisfaction with Their IT Service Experience Nearly Doubles with Help from Ivanti
IT's Net Promoter Score has jumped to 90% from around 54% to 60%.
Victoria University received "Most Improved Student Services" award
Thanks to preparedness of all IT teams, the university shifted quickly to total online instruction during the COVID-19 pandemic
Take a moment to search "customer engagement" and you'll find Stephen Peatling's picture.
Okay, that's a stretch.
But at Victoria University (VU) in Melbourne, Australia, it's safe to say Peatling is the "ePeatome" of IT customer engagement and support—working in the field for nearly 25 years.
Before arriving at VU nearly three years ago, he worked in management for local government in positions spanning IT, business analysis, and quality assurance. Stephen recalls, "The thing I loved most in those opportunities was the customer-service aspect and the genuine customer engagement—making our customers' lives better wherever they work to ensure that they can do their jobs properly."
VU offers both vocational training and higher education, meaning that students can start their education journey with VU Polytechnic at certificate level and proceed to a diploma, degree, or even a PhD at Victoria University—exiting at any point to pursue work and returning to further their study when they choose. VU has eight colleges, six research institutes, and seven research centers among nine campuses in Melbourne's CBD and western region, and a 10th campus in Sydney. Nearly 43,000 students, including around 13,500 international students, study VU courses worldwide and benefit from the University's unique Block Model of course delivery.
Promoted as "A New Way to do Uni", the VU Block Model enables students to focus on one unit or subject at a time over a four-week block. Students complete the block, receive their results, and recharge over a few days before starting the next block.
Contrast this approach with the traditional university model where students juggle multiple subjects with their respective competing assignment and exam deadlines over a semester. VU is the first university in Australia to introduce the Block Model, building on the proven successes of block programs at universities in Sweden, Canada, and the US.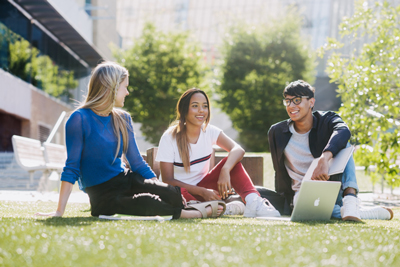 Well-Seasoned IT Team
The University's IT Services group (ITS) numbers around 300 employees, including Stephen's team of 43 IT professionals. Stephen has a full management plate, looking after the Support Desk; the Client Services Desk, which is face-to-face support; the Remote Team, which handles remote support over the phone; Audio Visual Services throughout the University; and also VIP training and support for the University as well.
"My team here has been well established for a long time, and we have very little turnover in my area of customer engagement," he says.
Need to Innovate a 10-Year-Old IT Ticketing System
One of the first things Stephen noticed upon arriving at VU was the legacy HEAT service management system. (The 2017 merger of HEAT Software and LANDESK, Inc., formed Ivanti). The HEAT system had been installed about 10 years earlier, but, according to Stephen, VU was only really employing it as an IT ticketing system, with no significant improvements or innovation added since.
He explains that to enter a ticket, customers either had to call the service desk or send an email, and then that email would be copied and pasted into the ticketing system. But each time someone in IT touched a job in the ticketing system it would send off an email to the customer.
"This was one of our biggest customer complaints," Stephen says. "'You're sending me all this junk email. I'm not even reading it anymore. I've actually put a rule in Outlook to delete it straight away so it goes out of our system.'"
Another significant complaint was that customers didn't know what was happening with their job, along the lines of: "I logged the job four weeks ago and haven't heard anything about it. It's still an issue. What's going on?"
It's Not "Students" and "Staff"—They're All "Customers"
In those early months as a new manager at VU, Stephen says he devoted most of his time to figuring out "how to get the communication working properly with our customers, because it just wasn't happening at all." He was also getting more accustomed to the legacy system and embarked on a process to further develop and update it within VU to the modern Ivanti® Service Manager solution. This included hiring a manager and a staff member to administer and support the new solution.
Stephen explains, "We had a great relationship with University staff members, and they would provide constructive feedback on what was good and bad about our system. However, the customer experience of our students was really poor. Over that year I tried to change the culture to say 'a customer is a customer no matter what', and that we had to set up our systems to advise the customer—not a 'staff member' and not a 'student'—but a customer. They're all the same to me and they all have the same service level agreement."
Among the feedback received was a request for new templates—not just words on a screen. The team responded by creating new, concise templates, broken into sections for easier reading. This effort included color-coding status of the service request: green for "complete"; yellow, indicating an "update"; red if there's still a 'major issue".
"Within the first few months of implementing the feedback through new templates, etc., the feedback we received was, well, no feedback," Stephen says. "No one was ringing up asking, 'What's happened to my job?' or 'Where is this at?' and that sort of thing. From our customers' perspective we made massive change, and this would be the way we'd communicate moving forward."
"The feedback we received was, well, no feedback. No one was ringing up asking, 'What's happened to my job?' or 'Where is this at?' and that sort of thing."
Stephen adds, "Having the team in place that we do has contributed significantly to what we've done with Ivanti Service Manager. It's become a great way of communicating."
Improved Insights and Service-Level Agreement Compliance
The next phase of the IT team's effort was to tackle service-level agreements (SLAs) and reports. "We weren't doing anything with SLAs whatsoever," Stephen says. "And we got really deficient reports about what was and what wasn't being breached. And no one across ITS was looking at reports at all, in any division, about SLAs."
Stephen says he spoke with the local Ivanti team about the need for real-time reporting and the requirement to run daily statistics and send out monthly SLA statistics. "That's when Ivanti introduced its Xtraction solution to us," he says. "And I have to say it's been absolutely life-changing. That's when we arrived 'at the top of the mountain' and could see where we were going and what we needed to do."
He continues, "Firstly, we saw where we needed to improve on our resourcing in different campuses and so on because we could actually see in real time—for the first time ever and on a daily basis—where jobs were breaching. We could see backlogs and the determine to send someone out to this or that campus."
"We could actually see in real time—for the first time ever and on a daily basis—where jobs were breaching. We could see backlogs and the determine to send someone out to this or that campus."
Stephen explains that his team also started to create monthly reports for ITS directors and managers to help them assess how they had been performing over the past 12 months. "I just can't emphasize enough that data is power. If you look at the history of the last two years, we were very "red"; we had failed SLAs completely. However, in the month we started to introduce monthly reporting through Xtraction, everything started to move to green."
He adds, "Once our people had the data and knowledge on what they need to do to fix the issues, that's when we started to turn everything around. Customers really started to notice that we were responsive, we're meeting our SLAs, and we're really trying to improve on our customer service. Personally, that was my main focus all the way. And then the next phase of the Xtraction program was to start rolling out monthly SLAs to all of VU's colleges to assess ITS' service-delivery performance."
"Most Improved Student Services" Award
Stephen reports that VU last year won the "Most Improved Student Services" award—a benchmarking survey conducted across many universities in the nation. He credits the recognition to how well his team has implemented Ivanti Service Manager and Xtraction, the communication and outreach with students, and the performance reporting being produced.
"The turnaround point for me was with our students," Stephen says. "The amount of effort that we put into actually communicating with our students was phenomenal. We're now doing yearly surveys of our students and staff and customer service has gone through the roof. So have our phone services."
Nearly Doubling the Net Promoter Score
Stephen says that when he first joined VU, the IT team's Net Promoter Score—a management tool employed to gauge the loyalty or satisfaction of customers—was down around 54% to 60%. "Today we're currently sitting at an NPS of 90% as shown by our surveys. The number of students and staff actually completing that NPS survey is just amazing now, and it speaks for itself. The culture shift we've tried to implement in the customer service area has worked, but it's also worked because we've had the right software tool behind it."
Customer Care During COVID-19
Like so many universities across the globe, VU students are currently attending classes remotely due to the coronavirus pandemic. "We experienced a bit of an influx in service requests for the first few days when students shifted to online instruction, but we were prepared, largely due to the preparation all the other IT teams put together," Stephen says. "Through our efforts with Ivanti Service Manager, a big plus for us is that our team has been recognized for how customer service should be run within the University."
"Through our efforts with Ivanti Service Manager, a big plus for us is that our team has been recognized for how customer service should be run within the University."
He adds that ITS had implemented a number of walk-up, on-campus IT service kiosks where students could receive help face-to-face with service staff. The kiosks and the service have been highly popular with students, and the kiosks will re-open when it's safe to do so at some point in the future.
Looking Ahead
Stephen explains that over the next six months, other IT teams will be coming onto Ivanti Service Manager, including Finance, Procurement, and Library Services. It's been an amazing transformation story. All it really took was making sure that we had the right setup within Service Manager, that we could see the data through Xtraction, and then really promote a customer service-focused result."
His counsel for other organizations considering Ivanti Service Manager? "The best things I could sell someone on are the customer experience, the journey of accomplishment that we've been on, and the vast improvement in our NPS score. It's because of the system we've implemented AND our great customer service team. The Ivanti tool is the backbone of that team. If you want to improve your service relationship with your customers, you need a tool like this to do it."
It's because of the system we've implemented AND our great customer service team. The Ivanti tool is the backbone of that team. If you want to improve your service relationship with your customers, you need a tool like this to do it."