Remote Support During a Crisis
The Challenge
With the current health crisis being faced across the globe, businesses are looking at how they can activate their disaster recovery and business continuity plans to support most of their workforce being remote. The current global situation has put a spotlight on every organisations ability in a health crisis or natural disaster to carry on functioning.
Ivanti is in the position to help organisations deliver continued support to their workforce, maintain security compliance and provide secure file access from anywhere.
Ivanti Cloud
A software as a service (SaaS) fully managed platform hosted from Australian data centers.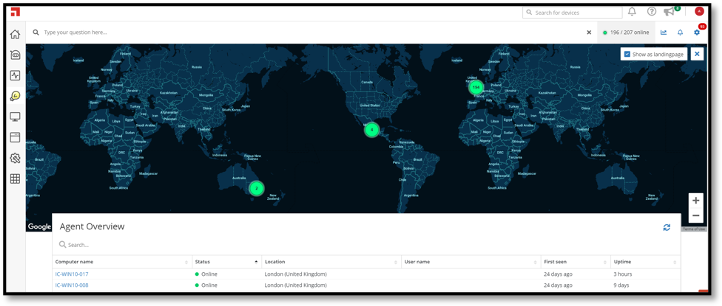 Ivanti Cloud provides IT teams unique capabilities to support and work with their remote users, including:
Perform diagnostics on a user's machine with no remote session
Check the location of a user's machine if lost or user is non contactable
Enable/disable or start/stop windows components, services and application remotely
Ability to network isolate and repair compromised remote devices
Perform scripted PowerShell tasks on a remote machine initiated from the cloud
Maintain visibility to security, health and inventory of your remote fleet
Covers Windows, Mac and Linux
As a SaaS offering the only thing you need to do is deploy the cloud sensor to your devices after cloud tenant provisioning. The sensor can be deployed via SCCM or provided to the user as a compiled installer to self-install. There is no professional service required to get this running, it's turned on and you are ready to go.

Ivanti Security Controls
Ivanti offers industry leading patch platforms for remote and on premises patching featuring centralised reporting for both. The challenge faced by organisations is how to keep Microsoft and 3rd party applications updated when many remote devices may not return to the corporate environment for weeks or months.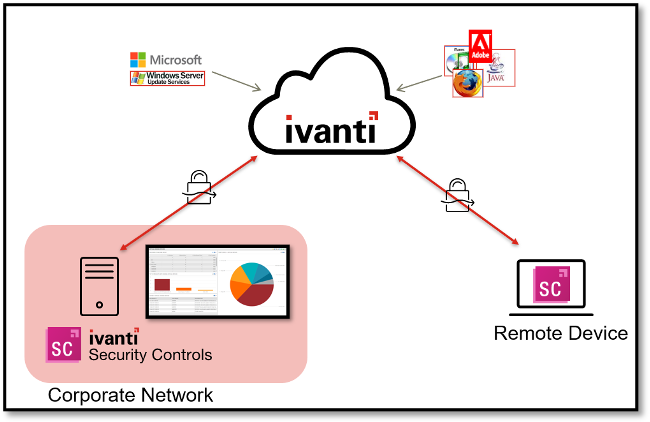 Using the Ivanti Protect Cloud, customers can patch machines via the cloud gateway. This means machines stay up to date with the latest security patches while they are disconnected from the corporate network. Importantly they automatically report back their compliance securely, so your organization maintains visibility of its current risk profile.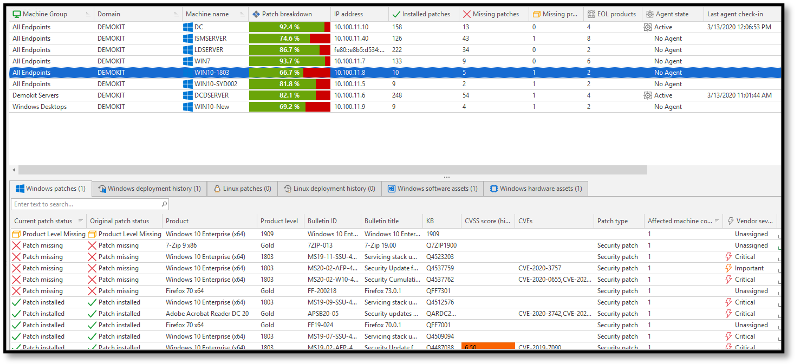 Security Controls does require an on premise/Azure/AWS install, but this can run on a Windows server virtual machine and can scale to thousands of remote devices. Devices must have the patch agent installed, this is managed through an automated email invitation. Detailed monitoring statistics are available for integration with solutions such as Splunk.
Typically, this configuration can be stood up in less than half a day, with little to no professional services.
File Director
With so many remote workers, ensuring they have secure access to key corporate data to do their job is imperative. This access when remote is commonly provided by a corporate VPN. With so many users accessing these VPNs during a crisis, some customers may find their VPN solutions reaching saturation.
Ivanti File Director provides simple, secure file syncronisation from Windows, Mac, IOS or Android devices. An on-prem virtual Linux appliance acts as a file proxy for the users to access both corporate file shares and cloud storage solutions. This access is available for all platforms including browser-based devices.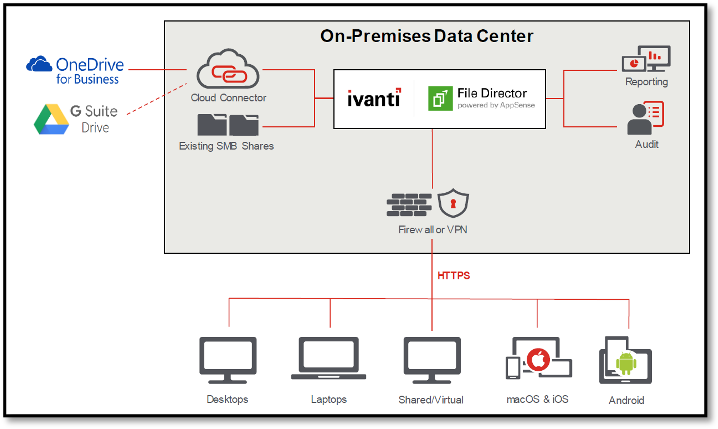 There is no requirement to move any data or change any file permissions. File Director integrates directly with Active Directory and provides granular data policies, and data wipe functionality. Detailed monitoring statistics are available for integration with solutions such as Splunk.
The virtual appliance can be uploaded to an existing hypervisor (VMware. Hyper-V) and configured in around 30 minutes.
What's the Value?
Being able to deliver your users a consistent level of support, and full user experience is key in enabling them to successfully do their jobs, while working remotely for an extended period of time.
Ivanti solutions will deliver value in 5 key areas:
Ability to manage your users remotely & maintain business continuity and keep the lights on
Maintain the security compliance of your devices
Provide visibility to your remote fleet and their health, security and performance status
Subscription licensing to allow flexible, instant access to these solutions
Rapid deployment of these solutions can be achieved typically with no professional services
Next Step
Contact us for a 30-day proof of concept or pilot implementation. It is half a day's work and we can do it all remotely!