365 Days of Accelerating Your Office 365 With Ivanti Environment Manager
Wow, it only feels like 12 months ago since I was at the Ivanti booth at Citrix Synergy discussing with attendees all the great benefits Environment Manager (EM) can bring to help accelerate their Office 365 projects. Wait a second, it was 12 months ago! Time flies when you are having this much fun.
Recalling back, what was even more satisfying was the real-world examples of how our customers were already using Environment Manager for just that. For the uninitiated, it has been possible for some time to manually configure our Policy engine to roam large application caches such as OST, OneNote and Skype GAL, and by introducing our best practices whitepaper, we made this a step easier for customers.
Fast forward from May 2017 to February 2018 and with the release of EM 10.1 FR4, we stepped up our game a notch further by making it even easier for customers to roam essential Office 365 caches with a set of new policy actions to provision and manage VHD containers and also effortlessly configure our out-of-the-box Cache Roaming actions for applications such as Outlook, Skype & OneNote.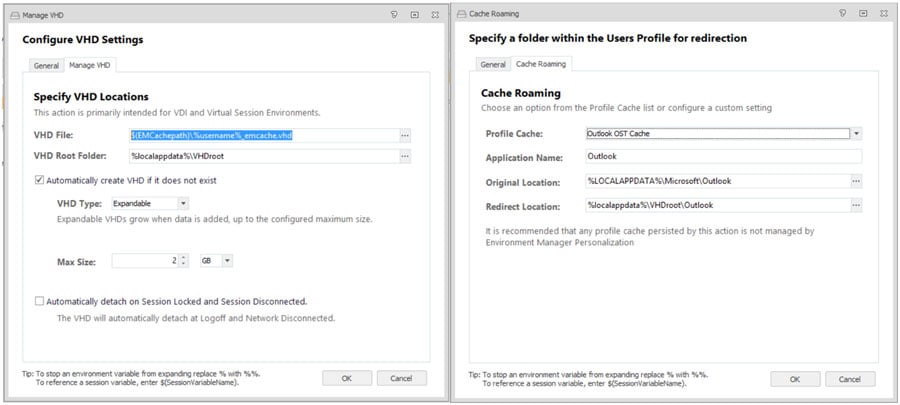 This has been a great hit with customers and partners. But don't take our word for it. Read an impartial view from Alchemy Group.
Below is a summary of the extent of EM 10.1 FR4's Cache Roaming capabilities: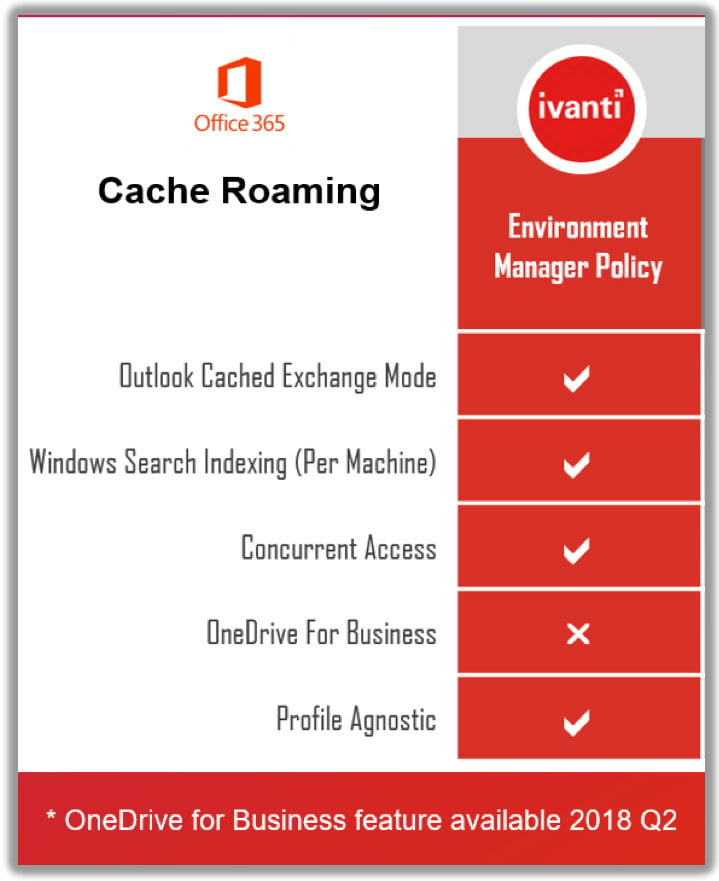 Note that a few of the items on this list have been attracting great discussions within our community, and it is worthwhile explaining further:
OneDrive: Having the ability to roam a user's OneDrive cache massively improves experience within non-persistent environments, and we are very excited that we now have this working in the lab and can demo it on request. We'll add it to the product soon! Voice your support via a vote on our User Voice portal here to stay updated.
Concurrency: Using our contextual Policy engine, customers can take the necessary steps required to ensure that users who may have concurrent sessions receive the correct behavior. Some of the common scenarios that are available today are:
Connect to a secondary cache if primary is unavailable
Configure the user's session for Exchange Online mode should their primary container be unavailable
Or, even if the user's container is unavailable, prompt the user with a message and auto-logoff their session
Example configuration snippets will be available on Ivanti Marketplace very soon to kickstart your deployment!
Search: Roaming a user's mail search also frequently comes up in conversation. This is the most intriguing of topics especially since the advances in Outlook 2016 Fast Search, discussed in the following article, outlines the benefits of relying on this as opposed to Windows Search (and its legacy issues around index rebuilds).
Our testing to date shows minimal returns in comparison, and we welcome any discussions or experiences that may differ with our research via our User Voice portal here.
Beyond Cache Roaming...
We should also reiterate the depth of the Office 365 benefits we provide to our customers with the following range of out-of-the-box features for both physical and virtual environments:
Automated Outlook Signature Creation
Customised corporate signatures can be configured and deployed to ensure the latest template is in use.Combine with AD Session Variables as demonstrated here by Ivanti's James Simpson.
Office Application Lockdown Wizard
Go beyond Group Policy control with our Lockdown Policy action to control access to all the key Office features. Remove or lock down content to help simplify the user interface for users or address potential security loopholes. A key use cases includes the ability to prevent printing from remote ICA sessions or IP address range.
Office 2013/2016/365 Personalization Templates
Apply personalization, on-demand at application start/stop, to ensure efficient profile management that can be managed from our central Web console.From 10.1 FR2, customers can also configure Geo-Sync to ensure a consistent experience where users may roam between geographic locations and require access to their personal settings from different Datacenters (Cloud or on-premises).
Office Shared License Token Roaming
Microsoft introduced Shared Activation roaming in Office 365 with version 1704 and by applying our templates as below, EM Personalization ensures seamless roaming of thesesettings across sessions.