Windows 10: Your Next Profile Challenge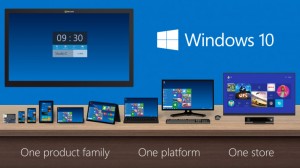 *This post originally appeared on the AppSense blog prior to the rebrand in January 2017, when AppSense, LANDESK, Shavlik, Wavelink, and HEAT Software merged under the new name Ivanti.
Microsoft just released a technical preview of Windows 10, the next generation of its dominant desktop operating system. Along with the re-introduction and improvement of the start menu, and a slew of new features, there's some under the hood stuff we need to talk about.
In particular, Windows 10 brings a new user profile version. As someone who follows this space, you'll be expecting v3 given that Windows 7 & 8 uses v2... right?
Wrong.
In fact, if you look into profile version compatibility (you should, it's a fascinating read) you'll see that profiles are only ever compatible between one desktop and one server. So, Windows 7 profiles are only compatible with Windows Server 2008 R2. Windows 8 is only compatible with Windows Server 2012. And, Windows 8.1 is only compatible with Windows Server 2012 R2. Microsoft describes this in their knowledge base article 2887239.
So how do you keep roaming profiles separate for these incompatible platforms? And how will Windows 10 change things?
The answer is to use the same approach you used when you migrated from XP to Windows 7 – use a new profile version for each OS.
This is done by installing the Microsoft hotfix, which causes Windows 8 to mark user profiles as v3. You can activate this functionality with the following registry key
HKEY_LOCAL_MACHINE\System\CurrentControlset\Services\ProfSvc\Parameters\UseProfilePathExtensionVersion (DWORD=1)
For those of you on Windows 8.1 or Server 2012 R2, you don't need the hotfix, but use the same registry key and then the users' profiles will get a v4 extension at the next logon.
Windows 10: introducing the v5 profile
The good news is that Microsoft has continued this pattern, and Windows 10 introduces us to profile v5. But what does this mean for your environment?
In the worst case you could have three or four different profile generations simultaneously. Handling that, especially if your users frequently roam between virtual and physical desktops, maybe with Surface tablets and multiple versions of Windows Server (RDSH) thrown in, is going to cause you enormous headaches. And, out of the box, there's no Microsoft technology to help you.
Over the last two weeks, we've spoken with many customers about their next generation workspace: a combination of notebooks, Windows tablets and published apps in an RDSH environment. The one common thread is the need to divorce a user's profile from their environment, in the same way they virtualized the OS itself.
At AppSense we call that User Virtualization, and we're busy engineering Windows 10 compatibility into everything we do. Very soon, your users will be able to move from an XP machine (for that one legacy application they need) to Windows 10 machine, and back to a Windows 7 or 8, without loosing any of the personalization that makes their desktop feel like their desktop.
If you want to talk to use about how you can help make your future Windows 10 plans AppSense compatible, reach out and say hello. We're here to help.