We're All About That Base
*This post originally appeared on the AppSense blog prior to the rebrand in January 2017, when AppSense, LANDESK, Shavlik, Wavelink, and HEAT Software merged under the new name Ivanti.
Every growing enterprise company knows it needs a top partner ecosystem to reach the stratosphere.
18 months ago we began a singular engineering focus to deliver the very best products to the market in a way that our customers wanted to purchase them. Our new go to market strategy are designed to make sure our partners will want to sell them.
We've put a huge effort into recruiting the best and the brightest, both internally and externally, to grow our channel. Today those investments are showing results, so we thought we'd take a moment to point out three new things that every partner needs to know.
We're throwing a party in April.
We have a new grow-your-business partner program.
We have a massively renovated portal to interact with us.
BONUS: There's a new learning system on its way.

First, to the party. We're hosting a Partner Conference in Orlando for our US-based partners in April. It'll be the most important AppSense investment a partner can make this year and will be singularly focused on growing your business. You will meet our top execs, interact with our technology partners, you will be able to influence our product direction communicating directly with our products team and you can even rack up AppSense certifications at this event. Also, beer, lot of it.
Register your interest here. No commitment necessary.

Second, our new partner program is a fantastic opportunity for everyone involved in servicing the desktop market.
The Certified Solution Partner (CSP) Program is designed to expand, accelerate and support the growth of AppSense user virtualization solutions by providing sales enablement, technical enablement, solution design assistance, co-marketing development funding, technical support plus official training and certification program.
AppSense offers three programs to fit your individual business goals: Channel Partner, Alliance Partner and Systems Integrator. Read more here.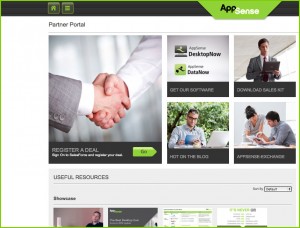 Lastly, the new portal is a superb jumping off place to learn. It has our most important collateral nicely organized and sorted to help impact our partners' customer engagements. It also includes incredibly powerful customer testimonials, as well as product videos. And soon, very soon, it'll include our new training and certification center.
Those are just three of the high profile things. There's much more to come! For now, Partners can register their interest in the conference here.
Thanks.