Virtualizing? Begin with the end (user) in mind.
*This post originally appeared on the AppSense blog prior to the rebrand in January 2017, when AppSense, LANDESK, Shavlik, Wavelink, and HEAT Software merged under the new name Ivanti.
In an AppSense sponsored research project Forrester Research sought to discover the greatest contributor to a successful virtualization project. Would it be support for BYOD/work anywhere, user experience, level of spend, or something else?
In making the case for virtualization, IT managers cited a number of factors as driving their decision to migrate, with lowering costs (cited by 33%) far and away the top motive. IT related drivers were also common, with workforce enablement only a driver in a minority of cases.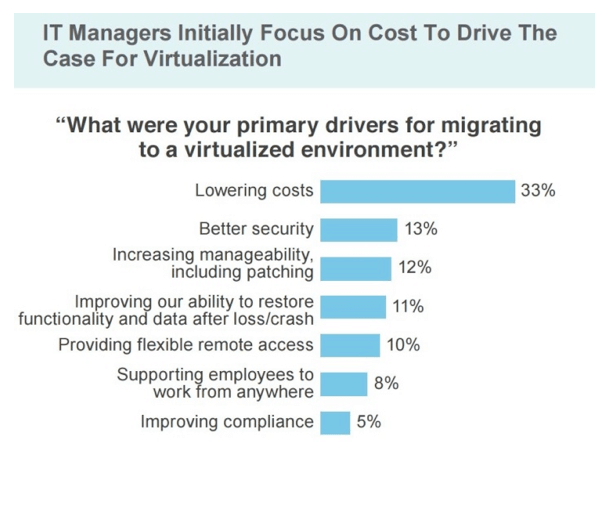 Virtualization user benefits were plenty
While IT Managers might initially have started with the goal of cost reductions and improved IT performance when driving virtualization projects, the benefits they saw were often quite different, with workforce enablement figuring strongly when measuring business outcomes.
Many (51%) found that virtualization resulted in end user productivity increases for users working remotely across multiple devices, with 34% claiming their employees are now more effective as a result of using their personally owned devices, making the case for considering a BYOD strategy in your virtualization deployments.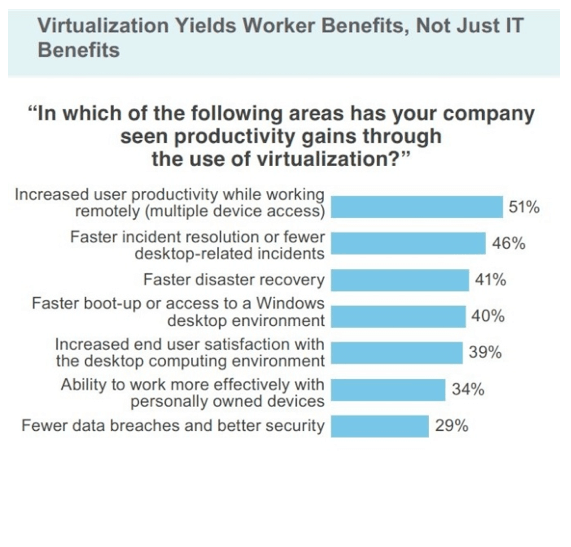 Begin the virtualization journey with the end (user) in mind
As those surveyed learned, the value of virtualization comes from workforce enablement, not primarily a reduction in costs. To put your organization on a path to virtualization success, make the user experience your prime objective when building your virtualization plan, invest in the tools necessary to drive user acceptance and engagement, and bring in a trusted partner to help educate users and embed the change.
Make sure to download the full AppSense report from Forrester: What You Need to Know Before Undertaking Your Virtualization Journey and make your virtualization journey a success.