User Workspace Manager Feature Release 2 Highlights
Last week heralded the release of Ivanti User Workspace Manager 10.1 Feature Release 2 (FR2) – formerly known as AppSense DesktopNow Plus – including updates to Environment Manager (EM), Management Center (MC), Application Control (AC) and Performance Manager (PM).
Let's take a quick look at some of the highlights of this release…
GeoSync [Ivanti Environment Manager]
One of the challenges faced by many IT admins is ensuring that users receive a personalized desktop experience, regardless of their site or location. Today's workforce is more mobile than ever and it's now commonplace for employees to regularly work from different locations – "Going to work" is no longer synonymous with sitting in the same office every day and therefore IT must support this increase in user mobility. We have always enabled personalization of users that roam between large sites by allowing users to connect to their nearest Personalization Server and database, but until now this required configuration of database replication between SQL servers.
Environment Manager 10.1 FR2 introduces a new GeoSync feature that ensures user settings are synchronized between sites or datacenters at a scheduled time.
This unique approach to managing User Personalization data reduces the need for organizations to replicate full Personalization Databases across multiple geographical locations, conserving valuable network and storage resources. It also enables use of SQL Server Standard in all locations, rather than SQL Server Enterprise which was often required before. With granular control, IT can target replication of specific Personalization Groups (or even specific users within a group) for synchronization to one or more remote locations.
This ensures that databases at remote sites operate at an optimum level, and is ideal for branch office scenarios. If you only require central configuration management (and not database replication), this is also possible at a Personalization Group level within the console.
GeoSync requires two or more Personalization Server databases – one to act as the publisher, and the other(s) as subscribers. Publishers and subscribers are configured using new PowerShell cmdlets provided when Environment Manager is installed. Subscribers are then assigned to Personalization Groups in the Environment Manager console, to determine what data is synchronized. Syncs can be triggered from the publisher, either on-demand or on a daily schedule.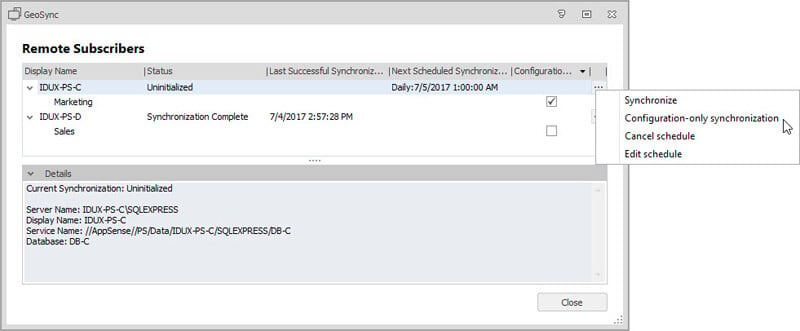 The new console functions allow for configuration of a daily scheduled sync, and provides statistics on previous synchronizations. This activity can also be monitored via the local Event Log.
For customers who require automated and scripted workflows, the setup, configuration and monitoring of the GeoSync feature can be driven by PowerShell cmdlets and APIs.
By balancing the needs of the user in a time when CIOs are continually looking at reducing server infrastructure and operational costs, EM 10.1 FR2 provides the following benefits without the pain and cost commonly associated with multi-datacenter management:
Setup, manage and monitor Personalization from one central console

Application-level data integrity

No dependencies on SQL Replication/AlwaysOn technologies or SQL Enterprise licensing

Network and storage resources usage reduction

Branch office and hybrid cloud scenarios through group-level synchronization
Check out our GeoSync Quick Setup video here to see more: https://youtu.be/SH6jiiyuG64
For more technical information about GeoSync, visit https://help.ivanti.com/ap/help/en_US/em/10.1/Content/Environment_Manager/GeoSync.htm
Endpoint Self-Service Tool Localization [Environment Manager]
Our Endpoint Self-Service Tool, a system tray utility that allows end users to manage and roll-back their own User Personalization settings, is now automatically localized for French, German and Dutch languages, based on the configured endpoint locale.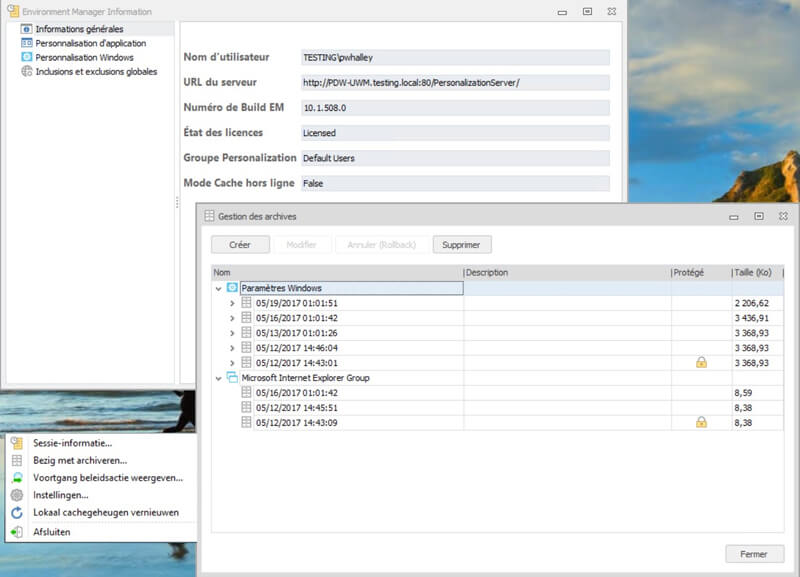 Event Database Maintenance through PowerShell [Management Center]
The User Workspace Manager Management database is at the very core of not only agent deployment, but the collection of events and alerts on the endpoint. As it gathers endpoint events, the database grows, which in turn can affect performance of the Management Server, the SQL Server and the console.
Management Center 10.1 FR2 introduces Event Maintenance, enabling system administrators to keep control over the number of events stored within the Management Server database, ensure high performance and keep storage costs low, while making it the ideal repository for reporting using Ivanti's Xtraction solution.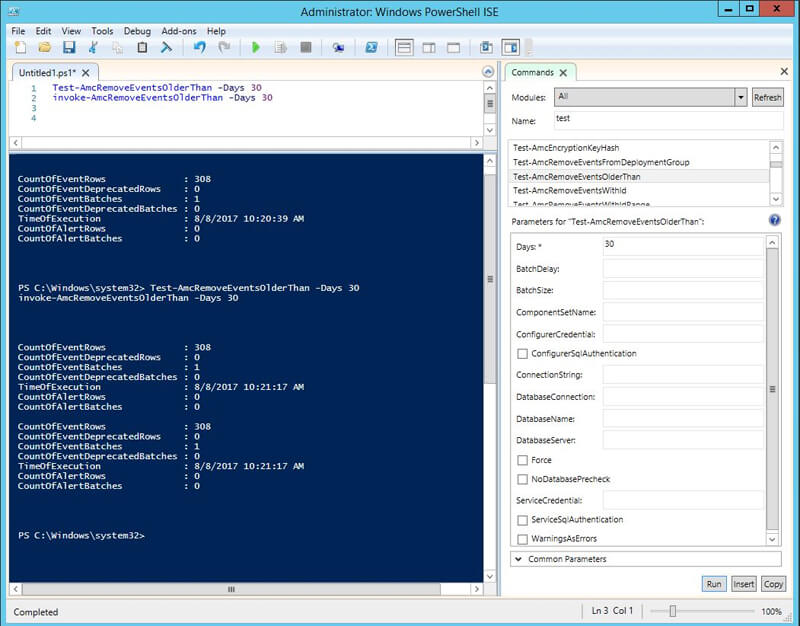 Event Maintenance is currently driven via PowerShell cmdlets, providing the system admin with the power to maintain the database without the need for assistance from a database administrator. In a future release this functionality will also be available directly from the console.
Reconciled Discovered Machines [Management Center]
As the number of managed endpoints within an organization continues to grow, it's vital that tools such as the Management Center are performant and responsive.
To improve the performance of the Management Center console Ivanti has made significant changes to both the Web Service API and database schema and logic. This work – especially in large scale deployments – will ensure that system admins can manage both agent and configuration deployments with minimal console lag.
What else?
In addition to the new features listed above, User Workspace Manager 10.1 FR2 includes updates to further enhance the stability and performance of our Application Control 10.1 solution, improve end-user experience and strengthen protection from ransomware and other malicious executables.
For more information on what's available in this latest release of Ivanti's market-leading user workspace management solution, check out our 'Ivanti User Workspace Manager – The Benefits of Upgrading' document, available from the Ivanti Community site.