Touchscreen Apps: For Millennials and Your More Experienced Workers
Sure, it's a major reason to consider refreshing your mobile deployment with Android mobile computers. Younger workers, categorized as millennials, are tipping the scales among employees. Equipping them with tools that are familiar and easy for them to learn undoubtedly accelerates their way to maximum productivity. Touchscreen apps are a prime example. But, what about your more experienced workers?
Ahh, "experienced". It's a nice way of referring to those of us who didn't grow up in the age of PDAs and smartphones. It's been ten years since what we call "smartphones" hit the market, and six years since Android entered the rugged mobile computing space. Hard to say Android is new, any longer. What's exciting as we take a look around our world, is the number of places we're finding touchscreen apps in our daily lives. Here's a look at a couple I've seen recently.
Healthcare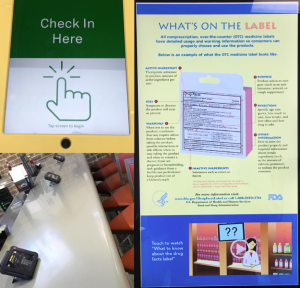 Whether checking in or filling out healthcare forms, you're likely encountering touchscreen tablet-based solutions. A couple of years ago, I would have been helping senior folks enter data in the waiting room. Now, I enjoy watching them teach others how to navigate these apps.
Advertising
The next level of customer engagement experience is now widely available. Touchscreen ads let us do product research. They're mesmerizing – especially for those of us who grew up with print ads. We pay more attention during this interaction, and often spend way more time than any 30-second commercial delivers.
Hospitality
Not just your mobile app for checking in for flights and hotels. Restaurants are building relationships with guests and driving loyalty using tabletop touchscreens. Guests sign up for rewards, play games, pay for their meals, and more.
For those of us in the industry, the proliferation of these touchscreen apps and use cases isn't a surprise. However, it's important to recognize these aren't just for tech-savvy millennials anymore. Our more experienced workers are also exposed to these apps more and more. This is important at a time when businesses are building a growing number of B2E apps.
44% of large companies are developing mobile productivity enhancing apps that help workers through everyday tasks, according to VDC Research. These apps aren't just for the millennials coming into their time. They're being deployed to workers across the business, because workers of all ages and experience levels are ready for them.