Service Desk Calls Ringing off the Hook? Employ Call Deflection!
Service desk calls are a part of everyday business, but that doesn't mean every call should make it through to a live person.
Think of it in terms of a press conference. Press secretaries acting on behalf of government leaders, CEOs, and movie moguls are well versed in the art of deflecting tough questions from the news media. Not every question gets air time, and as a result, the press conference starts and ends when it's supposed to.
But don't confuse this type of deflection with the call-deflection tools a call center or IT service desk can employ to reduce incoming service desk calls, cut costs, and improve service quality.
Imagine the nightmare scenario if your first-level support team employed the following eight press-question deflection tips furnished by Kim Harrison, a Fellow and former national board member of the Public Relations Institute of Australia:
Acknowledge the question without answering it.
Ignore the question completely.
Question the question.
Attack the question.
Decline to answer.
Give an incomplete answer.
State or imply the question has already been answered.
Defer to the will of others.
It's All About Reducing Service Desk Calls
Call deflection is designed to let callers handle more issues themselves, reducing the number of service desk calls to your organization's contact center. It's about addressing issues proactively and providing IT users, employees, and customers alternative channels to resolve issues. As with our smart phones, most people prefer to try and fix issues themselves.
Back in the day, folks would get frustrated if they couldn't reach a "live person" on the phone, but that's no longer the case. When people encounter an issue, they want to tackle it themselves so they can get back to work. And the technologies to help them do so have improved.
As discussed in the white paper Roadmap to Service Desk Automation, you have the opportunity to make life better and more satisfying for users and service desk agents alike. Automation sets up IT with a solid foundation to get more time back and more management support to work on the big things. It's the ultimate measure of your success.
Phone Integration and Call Deflection Can Do Everything an Agent Can
Voice enablement—or telephony integration—extends automation and self service to the call center. Phone integration and call deflection can help you do much to cut costs, offloading a significant chunk of a service desk agent's call volume—around 20 to 30 percent or even higher in fact according to HDI surveys.
Take password resets for example. The volume of such requests outpaces other IT service demands such as major outages, voice mails after hours / during busy hours, and automatic ticket creation. For some service desks, password resets can be the largest single call type, making it a clear target for cost savings. Factoring in average cost data from HDI, it's not uncommon for a service desk's cost profile to look like this chart: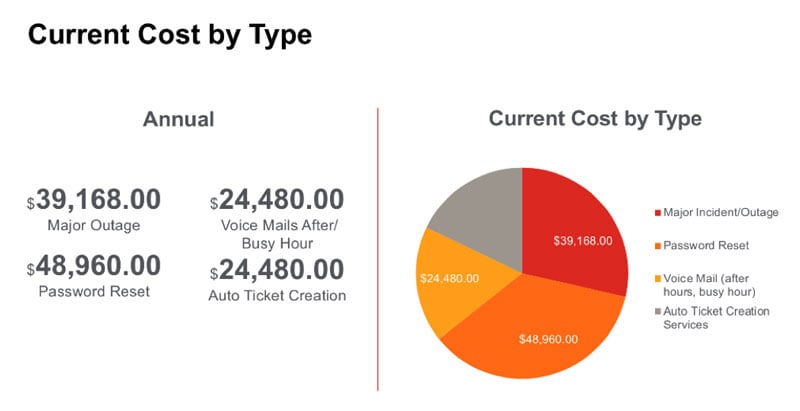 For password resets, your service desk can use Ivanti Voice to let callers reset their passwords securely without any agent involvement. The system can walk a caller through the identification and authentication process and then provide them with their new password. A ticket is created automatically for the call and, if desired, alerts can be sent to the caller and their supervisor for security purposes.
The service desk staff can also use available reports and dashboards to identify worrisome trends and potential problem areas if reset activity spikes. In addition, telephony integration enables the nature of a call to be identified and relevant information sent to users and agents from your knowledge base.
The white paper mentioned above recaps the story of a university that enrolls 45,000 students a year. Prior to implementing its service management system from Ivanti, its service desk staff was stretched. With Ivanti Service Manager, the IT department enabled users to log and close incidents over the phone using voice prompts and integrated workflow.
Previously the university experienced burdensome administrative processes, low user self-service, less-than-optimal service desk response, low request accuracy, and slow turnaround times. In contrast, through automation, self-service resolutions increased 300 percent within first month. Incidents were managed significantly faster and more easily, and full-time workloads were reduced to 15-minute projects.
Invest some time to read the white paper and to learn more about Ivanti Service Manager.