Returning to Work After a Career Break: Insights From a New Mother in IT
We recently interviewed Ivanti product manager, Lara Hellman, about her experience returning to work after taking time out to raise her lovely daughter, Beatrice.
Q: What was the hardest thing about coming back to work after maternity leave?
LH: There were a few things. Obviously leaving my baby with virtual strangers in daycare was really hard for me. I'm not lucky enough to have family nearby who could help, so Beatrice had to go to nursery. I was given some great advice to start nursery a week before starting work and I'm so glad I followed it. It meant I had a week where I could get myself prepared for work, including making sure I could fit into my office clothes, checking my laptop still worked, and getting out of the habit of calling nursery every five minutes to check on how Beatrice was doing without me.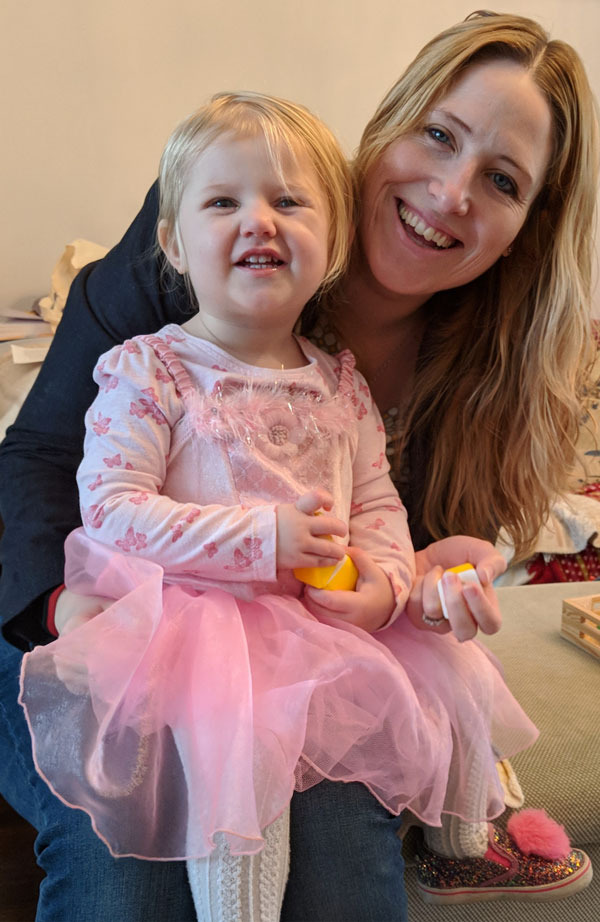 I was also really worried about how useful I'd actually be. I was aware that my product and industry knowledge was pretty rusty and a year out of date. I remember having real concerns that I'd never be able to get back in to my job, especially since the person covering my role in my absence had been great. I tried to get around this by using my KIT days to attend some planning meetings and schedule some deep-dive catch-ups with key people to get me back up to speed. In reality, after a couple of weeks it felt like I'd never been away; I slipped right back in to my role really fast.
One of the most frustrating things about coming back—that wasn't necessarily apparent on day one—was that there were things that changed while I was away that I wasn't explicitly told about. Silly things like the travel booking tool and the employee benefit packages changed, and I only discovered that much later since everyone just assumed someone had told me.
Q: What was the best thing about returning to work?
LH: It was great to be doing something I knew I was good at again! Motherhood is hard work and until your mini-me can tell you how they feel it's so much guess work. Coming back to my old job and having people telling me that what I was doing was helpful and valuable gave me a much-needed confidence boost!
I was also touched and deeply grateful for how I was (and am) supported in my role. My manager, HR, and the various teams around the business I work with have all been extremely accommodating of the various aspects of my job that have had to change, such as the amount of time I travel and the frequent days I take off to nurse my daughter through (what feels like) every possible toddler illness.
Q: Has becoming a mother changed anything about your job?
LH: Surprisingly, yes! Aside from the limitations mentioned above, I no longer have the flexibility (or desire!) to travel all over the world for weeks at a time. I often have to drop what I'm doing at the behest of nursery who are reporting that Beatrice has had a temperature over 37 degrees that isn't responding to paracetamol. I've been surprised by how it's changed my approach to work.
I'll admit to being a perfectionist and a stickler for detail. It's a trait that has helped me be so successful in my role. However, where I used to be able to let my work take up entire evenings and weekends, giving me the time to iterate and pontificate endlessly, I no longer have the luxury of that time and I'm better at my job for it.
I now make decisions far more rapidly, using gut instinct and hard facts to make a call fast, meaning things move forward more quickly. Despite devoting much less time to work, I'm more productive now than I ever was before I became a mum. This lack of time to spend on everything also means that I'm forced to prioritise what I do far more. I've adopted the ethos of the 80:20 rule in my approach now. Sure it means that occasionally I drop the ball on something, but it will almost certainly turn out to have been a waste of my effort had I done something about it as soon as the request came to me.
Q: What do you wish you had known about returning to work when you were pregnant that you know now?
LH: There's a lot of advice given to pregnant women and new mums, most of which is conflicting and utter rubbish. I was told that I would never want to come back (I did), would be bored witless in days and would be begging to return to work (I was nowhere near ready then), would have to bottle feed if I wanted to be able to return to work (I didn't), that "baby brain" would be permanent and I'd never be able to work effectively again (stupid nonsense), and that putting my daughter in childcare was callous and would "ruin her" (it hasn't, she thrives there).
I wish I had known to just ignore it all and go with my instinct. I put so much effort in to worrying about things that never happened that I didn't enjoy the experience as much as I could have.