Real-Life ITSM: Short Stories of Success
Since the January 23rd merger of LANDESK and HEAT Software that formed Ivanti, my duties in Corporate Marketing have included editing a mountain of HEAT case studies that are being rebranded under the Ivanti name. Several of them highlight customer successes with the formerly branded HEAT Service Management solution, now marketed as Ivanti® Service Manager, powered by HEAT.
Three of these case studies—SCL Health, University of Oxford, and Denton Independent School District—have been top of mind since studying a research report hot off the press from Enterprise Management Associates (EMA) that you can download below. It's titled Next-Generation IT Service Management – Changing the Future of IT and it's well worth the read.
Towards the end of the report is a section titled "Deployment, Obstacles, and Success" where EMA author, Dennis Drogseth, states:
"When respondents were asked about the greatest obstacle to ITSM success, "software, deployment, and administrative complexity" dominated all other categories as the number one concern, as seen in Figure 18. The implication for vendors delivering ITSM solutions to IT should be clear: There is a huge opportunity if rich functionality and minimal administrative overhead can be more effectively combined."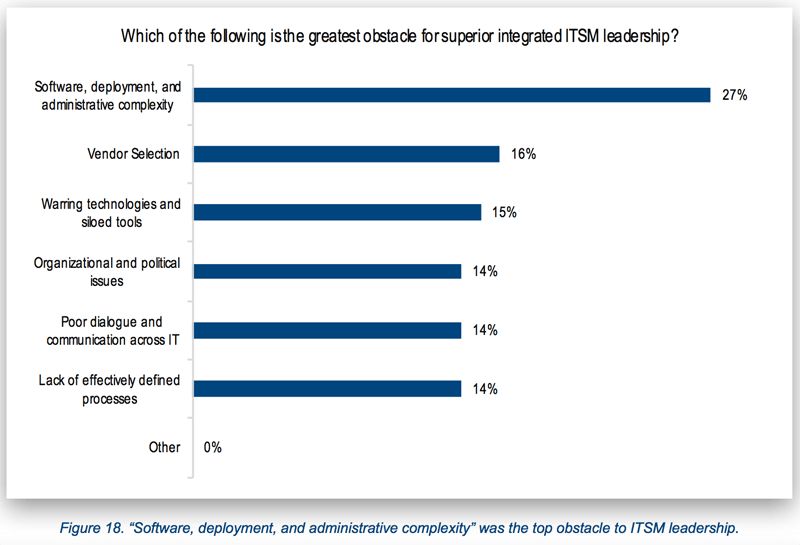 Many Ivanti customers have experienced "the rich functionality and minimal administrative overhead" of Ivanti Service Manager. Deployed in the cloud or on-premise, the solution helps IT departments modernize the service desk and deliver more value to the business.
Here are three real-life short stories of how organizations have benefited from Ivanti Service Manager:
SCL Health, Broomfield, Colorado
SCL Health's IT team has witnessed an 18% reduction in the monthly average volume of incidents. With problem management, SLAs are easier to achieve, incidents are resolved faster, and long-term problems are addressed. IT has also seen a reduction in emergency changes and created greater accountability for all changes.
The company's CIO has embraced service management as a strategic initiative. Rather than viewing IT as a collection of applications, servers, storage, and networks, IT is aligning its service portfolio with business functions, such as electronic medical records (EMR), laboratory services, and payroll services.
The Ivanti Configuration Management Database (CMDB) is a key part of the framework for translating services to align with the business. Without these services being defined in a meaningful way and without the CMDB to tie things together behind the scenes, IT didn't have the "connective tissue" to realize its full potential. Going forward, teams will be even more effective and leadership will have the data needed to make informed, strategic decisions as they relate to IT services.
IT's biggest learning was to engage senior management early, which changed how they thought of the team. IT went from being the "IT guys in the basement" to being a true partner in patient safety. It has changed the conversation.
University of Oxford, Oxford, England
Until recently, University of Oxford had three independent IT teams, each with its own service desk. With multiple systems to manage, the university found it increasingly difficult to provide IT-based services and metrics. Oxford also required a flexible cloud solution that could bring these central IT groups together, while supporting a potential user base of 250,000 IT users—students, staff, alumni, and visitors—from a single point of contact.
After an 11-month selection process, which required vendors to provide full-day demos, Oxford selected Ivanti over other leading SaaS vendors due to the strength and depth of its features and the ease with which it can be set up, customized, and used.
Each of Oxford's 38 self-governing colleges has a small, autonomous IT team and service desk. Maintaining this independence while ensuring compatibility with central IT was key to the consolidation project. Each college now has the option to adopt the cloud-based Ivanti solution as needed, further consolidating and simplifying IT support.
Being able to access everything from a web browser was important for Oxford, given the spectrum of devices, IT processes, and applications supported. As part of the vendor-selection process, Ivanti demonstrated the use of its online portal from a variety of devices and web browsers to prove its ability to provide a consistent user experience.
Denton Independent School District (ISD), Denton, Texas
Denton ISD's centralized helpdesk team can more easily deliver services to 40 school sites without driving to the locations. And with web-based access to Service Manager, the helpdesk team can work from anywhere.
The ability to automate common workflows increases IT staff efficiency and speeds resolutions. The team created a workflow to mitigate the impact of malware in email. If an employee clicks on an infected link, the information is captured and sent automatically to the helpdesk and the Exchange administrator. The first person to see the ticket resets the password, and the other team member is notified. The campus technician at the school is notified automatically to clean up the infected device.
Increasing first-call resolution rates
Denton ISD is integrating its phone system with Ivanti Service Manager to improve customer satisfaction and increase first-call resolution rates. The Ivanti Voice capabilities in the Service Manager solution include integrated voice response, voice self-service, screen pops, call recording, and skills-based call routing. Ivanti Voice can make the lives of the service desk staff easier through the ability to set a wrap-up time for each incoming call so it's not a constant onslaught.