Product Newsletter Blog for May 2018
Product updates and releases covered in this newsletter:
IT Asset Management
Ivanti License Optimizer 2018.3
Service Management
Ivanti Service Manager 2018.1 Cloud Release
Zapier integration
Endpoint Security
Ivanti Device Control 5.1 Update 2
Ivanti Endpoint Security for Endpoint Manager 2018.1
Unified Endpoint Management
Ivanti Unified Endpoint Manager and the Latest Version of Ivanti Endpoint Manager
IT ASSET MANAGEMENT
License Optimizer 2018.3 Now Available
With greater importing capability and more
The newest version of License Optimizer has a number of enhancement to ease and speed up importing capabilities as well as other practical updates to support your asset management journey.
Easier Licensing of User-based metrics
An update to the License Optimizer Agent enables you to import user data directly from Endpoint Manager. If you were using Endpoint Manager to pull user data in from Active Directory, you can now have the list of users and their assigned machines flow directly into License Optimizer. Using the same agent that License Optimizer employs to read discovery data, the user information is pulled directly out of Endpoint. This is critical information for licensing user-based metrics (such as office 365). Previously this was manually exported from Active Directory and manually imported into License Optimizer.
Single View of Idle Software Licenses
In this version, you benefit from a single view from within License Optimizer of where they are licensed and, also where you have unused software taking up those licenses.
An additional update to the License Optimizer Agent allows the import of software usage/metering data from Endpoint Manager. If you currently use the Endpoint Manager discovery agent on the desktop to track software usage, you can now import the data and report on it in License Optimizer.
Import Organizational Hierarchy Quickly and Easily
To assign licenses at the right level (for regional / divisional license restrictions, or purchase restrictions or chargeback), a view of the organizational hierarchy is required. Previously this was created manually through the License Optimizer UI. The latest version provides the ability to import business units through the UI. The hierarchy is imported from CSV via an import Wizard making the process quicker and easier.
View Geographical Location of Assets
The ability to see where an asset (device and or /user) is geographically located is useful for license assignment, reporting and management. You can now create or import a list of your geographical locations within the UI and assign users and devices to those locations. This is made possible by the ability to store, manage and assign physical locations in License Optimizer.
Security Enhancements to Harden ILO
Recommendations for further "hardening" of ILO were made as a result of our last security audit. The security updates include these suggested changes.
Extended Hardware Import
The License Optimizer hardware import wizard has been enhanced to include additional fields. This enables customers to now import form factor and device type.
SERVICE MANAGEMENT
Ivanti Service Manager 2018.1 Moving into Production for the Cloud
More UI enhancements, extended automation and user mobile app
Ivanti will soon release into production Ivanti Service Manager for the Cloud (formerly HEAT Service Management) 2018.1. This new Service Manager release delivers several new UI enhancements to improve your users' experience, native integration with Ivanti Automation, and a mobile app to make self-service even easier for your users.
If you've been enjoying the UI enhancements delivered in the previous Service Manager releases, then you'll love what the team has developed for you in 2018.1. Continuing to deliver on Ivanti's Responsive UI strategy, 2018.1 streamlines and updates Service Manager's UI for your analysts, including the dashboard UI. You'll enjoy more flexibility and control for the 'look & feel' and colors for your screens, such as the new 'donut' view of pie charts in dashboards. Your users will also enjoy the updates for the self-service and service catalog UIs. Their Home Pages are now easier to configure and provide a more engaging experience and consistent behavior across all devices, such as laptop, tablet or mobile phone.
Looking to extend automation across Service Manager to other applications in the Ivanti portfolio? Then check out the native integration with Ivanti Automation. With its included Automation Workflow Block, it's even easier now to include Service Manager activities in automated processes that include other Ivanti applications, automating more manual tasks to reduce costs and errors. Extend the benefits of Ivanti Automation by including connectors for other applications available in the Ivanti Market Place.
You're not always at your desk and neither are your customers. Give them the new Ivanti mobile app for Service Manager to stay connected to your service desk wherever they are. Let them use the self-service app to create incidents, check status, submit requests or search for answers to common questions. Make it part of your communication strategy so your users stay productive while they're on the move, all from the palm of their hand.
Learn more about the release by viewing the "What's New" webinar here. Stay on top of Serviced Manager updates by checking the Ivanti Community.
Find more Service Manager documentation on the Product Documentation section of the Ivanti website.
Extend Service Manager's reach with integrations to over 1,000 applications
Ivanti and Zapier integration coming soon
You've been using Service Manager to automate workflows to improve your service delivery inside of IT and beyond. Now Ivanti and Zapier are working together to make it easier to connect to other applications to automate more actions to remove even more manual tasks. Zapier is a cloud platform that delivers 1,000 applications that are ready to integrate and work with Service Manager. With the Zapier integration, Service Manager actions like creating a new incident can kick off corresponding actions in connected applications. You'll be able to create an integration in minutes without coding that'll allow you to:
Create an incident from a tweet
Send a Slack message when a new incident is created
Broadcast alerts on Twitter when a major incident occurs
And more….
The Service Manager integration with Zapier is currently in Beta with release targeted in the next few weeks. But our team is so excited by this development that we want to let you know that it's coming. You can access the Beta version here, and also look at the Integration Help document here. Look for more information in next month's Product Newsletter on how to get started with Zapier to connect Service Manager with even more applications.
ENDPOINT SECURITY
Ivanti announces Device Control 5.1 Update 2
Get the scoop on new features
Along with bugfixes, maintenance updates, and stability improvements, the latest version of Device Control offers a number of feature enhancements. Here are a few quick highlights:
The Authorization Wizard can now scan inside MSP files—which means it can now whitelist them.
You have more control over endpoint (RTNotify) notifications to reduce notifications for laptop users when docking and undocking.
This release supports the latest version of Citrix XenApp and XenDesktop (7.17) and the latest Win10 updates.
Let's dig down now into what a couple of these updates mean for you.
Scan inside MSP files
Note: This is a feature of application control, rather than device control, in Ivanti Device Control and requires the AC module.
Most Windows 10 and Office 2016 updates are delivered as MSP files, which traditionally meant the Authorization Wizard couldn't whitelist them. You would have to apply the update and rescan the entire endpoint to recreate the whitelist—which introduced the risk of adding other files (for example, malware) that were copied onto the system. With this latest release, the Authorization Wizard now supports scanning inside MSPs, simplifying whitelisting and reducing risk to the system.
More control over endpoint notifications
It's not a huge stretch of the imagination to assume you'd prefer not to receive device control notifications when you dock or undock your laptop. You'd rather just focus on getting your work done, right? At the same time, though, you likely still want RTNotify visible in the system tray, so you can perform tasks like checking permissions and resetting passwords. Before you had to choose one or the other, but this latest product release enables you to block notifications while keeping RTNotify visible so you can view policy settings and more.
Get more information on these enhancements.
Ivanti Endpoint Security for Endpoint Manager 2018.1 has arrived
And with the arrival come bugfixes as well as new patch engine and AV improvements.
New patch engine improvements
Download more types of files automatically
Receive clear direction to download patches manually that require that approach
Fixed a bug that caused historical information, like the number of scanned devices per patch, to reset
Memory and performance improvements
Ivanti AV 2017 improvements
UI now easier to use
More granular protection settings in the UI
Support exceptions for files to scan
A number of bugfixes
To learn more about these updates, take a peek at the release notes.
UNIFIED ENDPOINT MANAGEMENT
Introducing Ivanti Unified Endpoint Manager and the Latest Version of Ivanti Endpoint Manager
Now UEM helps improve the end user experience with 2018.1.
With the release of Ivanti Endpoint Manager 2018.1, Ivanti is combining the extensive platform support of endpoint management with the power of user policy. This new product offering gives you the following capabilities for managing Windows endpoints:
Environment Manager Policy – launches within the Ivanti console
Integrated Configurations – Open and save policy configurations directly to Endpoint Manager from Environment Manager
Agent Configuration – Deploy Environment Manager policy through the Endpoint Manager Agent Configuration
Additionally, the 2018.1 Ivanti Endpoint Manager release also added many features that extend capabilities to multiple supported endpoint platforms. These features include:
Network Map – graphical representation of your endpoints on the network
Windows 10 Co-management – Manage through MDM, agent, or both
Mac Self-Service Portal – Looks and feels like a Mac corporate app store should
Software Distribution – control for when and who to target with Do-not-disturb, maintenance windows, email targeting, and updated reoccurring task times
Role-Based Administration Agent Settings – Additional level of security
APIs for Distribution and Patch – for those who want to extend their processes to include these actions
Remote Control Preview – new Remote Control that improves performance across Internet connections
Windows 10 CSP configuration –MDM-style management with a custom CSP action
Apple VPP performance enhancements – increase in speed when retrieving more than one VPP token
tvOS11 Enhancements –additional restrictions and AirPlay Security
IOS11 Enhancements – Updated MDM payloads for Restrictions, Exchange ActiveSync, Mail, Wi-Fi, Cellular, and VPN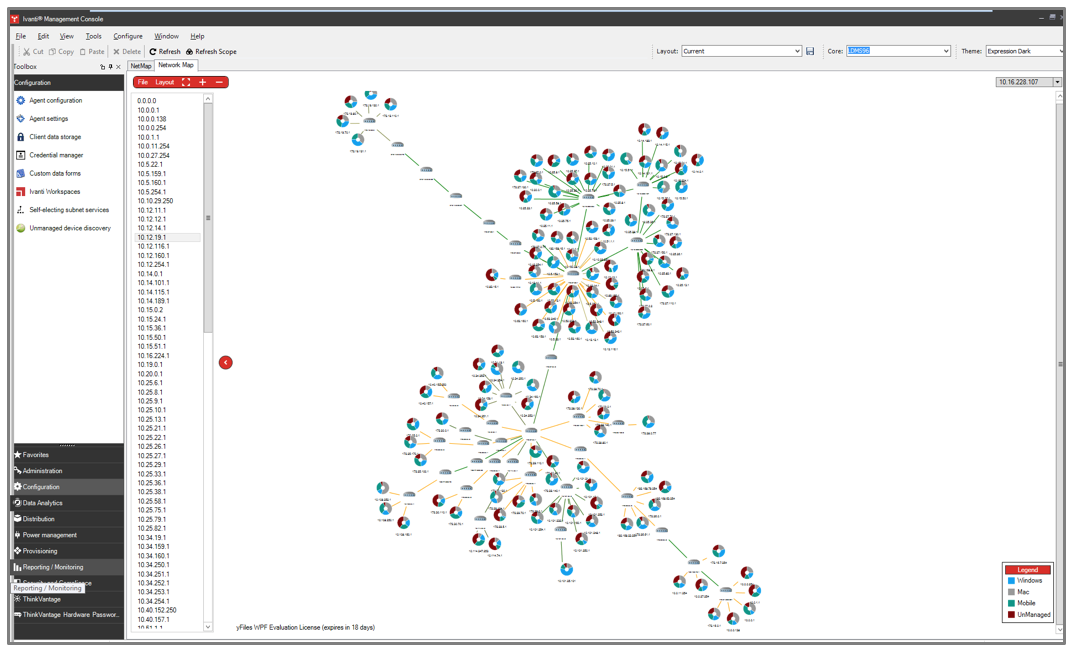 Figure 1: Network Map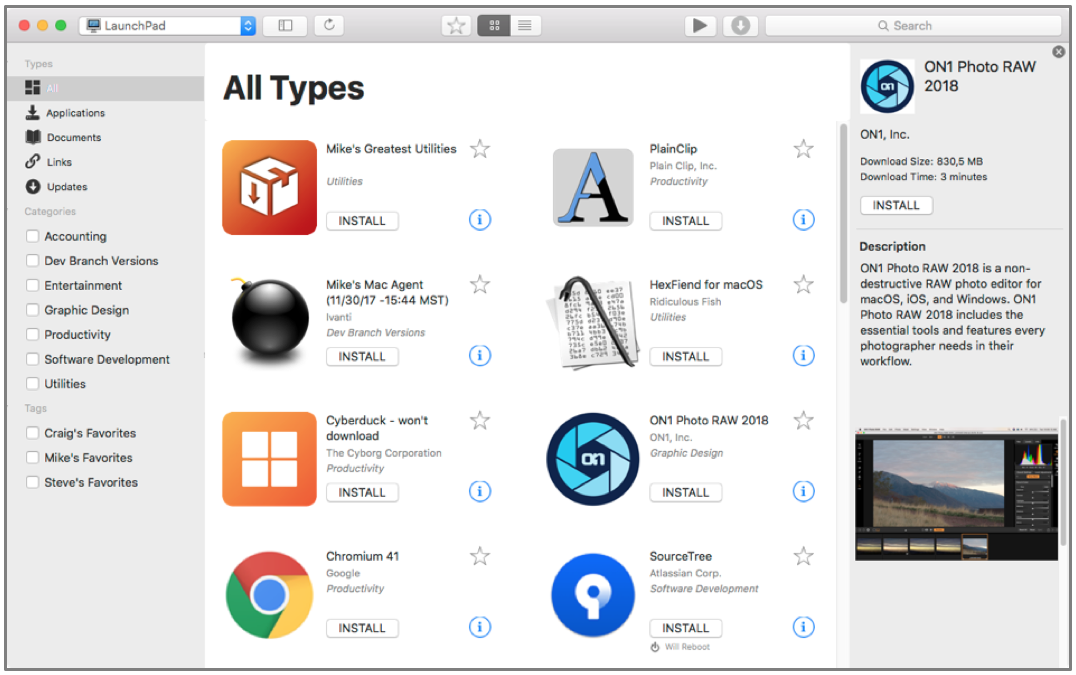 Figure 2: New Mac Self-Service Portal
From MDM to IoT to laptops to Servers, Ivanti Unified Endpoint Manager and Endpoint Manager support more platforms from one console than any other Endpoint Management solution and these products provide the data and actions, that when integrated with other IT disciplines, help you unify your IT projects and solutions.
For more detailed information, please refer to the Ivanti Community page for the 2018.1 release.