Product Newsletter Blog for June 2017
Products covered in this post include:
Ivanti Patch for Windows

Ivanti Endpoint Manager (formerly LDMS)

Ivanti User Workspace Manager (formerly DesktopNow Plus)

Ivanti File Director (formerly DataNow)

Ivanti DSM
Ivanti Patch for Windows 9.3
The general release of Patch for Windows 9.3 is now available. So, what's included?
First, an advanced API stack integrates with security solutions, vulnerability scanners, configuration management tools like Chef and Puppet, and reporting tools:
Interact with different systems in your environment.

Script a sequence of complex events that contain dependencies.

Perform bulk operations or process list inputs from other systems.
While making patch operations native to a large ecosystem of security products, this integration also helps you bridge the gap between Security, IT, and DevOps. For example, you can automatically import the latest vulnerability assessment into the next batch of patches to test, helping make IT Operations a more effective partner in securing the organization.
For its part, DevOps is all about continuous improvement and automation—and when integrated with patch management can lead to more resilient and consistent infrastructures and systems. And you can pull critical data into solutions like Splunk, Reporting Services, Archer, and Crystal Reports for faster analysis of, response to, and closure rates for critical security incidents.
Other updates in this release include:
A hierarchical structure for your machine groups, patch scan templates, and patch deployment templates

Additional staged deployment options

Scheduled snapshot maintenance

Ability to use a third-party certificate authority (CA)
Ivanti Endpoint Manager 2017.1 SU1 (formerly LDMS)
The majority of this release is what it should be, a service update with bug fixes and the like. However, some overzealous engineering team decided it would be clever to slip something significant into this release—and we love it! That engineering team updated the Portal Manager user interface, so now everything you create in Portal Manager has a modernized "Workspaces" look and feel. You will be able to download 2017.1 SU1 from the Ivanti community after Monday, July 10th.
Ivanti User Workspace Manager (UWM)
Product Name Changes
What's in a name? The forthcoming 10.1 Feature Release 2 product release will see the rebrand of AppSense DesktopNow Plus to Ivanti User Workspace Manager (UWM). As you can see below, UWM includes both File Director and Insight.
As we integrate products from across the Ivanti family, we are adjusting product names to make them simpler and more descriptive of what each one does. For example, Application Manager has become Application Control, and DataNow has become File Director, because those are better descriptions of the product function. DesktopNow (Plus) optimizes, secures and personalizes the user workspace, and so we have chosen to rename the product suite as User Workspace Manager.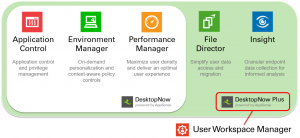 Ivanti File Director 4.3
Storage Connector for OneDrive for Business
Office 365 is enjoying rapid growth and adoption in business, and comes with 1TB of OneDrive for Business storage for every user hosted in the Microsoft Cloud. While thousands of organizations have adopted Office 365, all this cloud storage has been outside the control and visibility of IT until now, and the user experience has been poor.
File Director brokers user access and syncs endpoints to storage resources with a user experience that feels completely "local". Until the 4.3 release these storage resources were exclusively on-premises file shares, but with version 4.3 it is now possible to connect the File Director appliance to OneDrive for Business. This allows IT to selectively control the use of cloud storage with full audit, policy control and a seamless user experience across all endpoints and devices.
Directory Services Configuration
The Storage Connector for OneDrive for Business activation requires customers to create an application in Azure AD, enabling File Director to access the users' OneDrive for Business storage on their behalf. The new Directory Services section in the File Director Web Admin portal streamlines the setup of this Azure AD application by creating the key Azure AD requires as part of its Application setup workflow.
In addition to this new location for the AD setup panel, the Directory Services also allows customers to switch from an SMB home map point to a home map point in OneDrive for Business.
Ivanti DSM 2016.2 R2
This new version contains a number of bug fixes, feature and usability enhancements. In total we addressed more than 300 customer incidents (90 issues, 44 features). Key Highlights include:
Improved AD import

Patch Management improvements

Software Shop enhancements

Usability improvements

DSM Web UI

Enhanced Windows 10 support
The new product version and the release notes are available for download from the Customer Self-Service Portal. The provided zip file contains the ISO and getting started guide. Watch the What's New On Demand Webinar to learn more about the enhancements and capabilities included in this release.