AppSense Management Center v10.1
*This post originally appeared on the AppSense blog prior to the rebrand in January 2017, when AppSense, LANDESK, Shavlik, Wavelink, and HEAT Software merged under the new name Ivanti.
We are pleased to announce the release of AppSense Management Center 10.1. This release continues our commitment to delivering new features, enhancements to existing functionality, and support for the latest Microsoft desktop, server and application delivery technologies.
AppSense Management Center enables IT to rapidly deploy AppSense' powerful solutions at scale. V10.1 builds on previous releases to empower AppSense customers to further integrate their AppSense infrastructure with existing 3rd party management investments. Management Center's automation tools also deliver increased efficiencies.
Making Evaluation Installs Simpler
In Management Center v10.0, the Evaluation installation option, by default, forced the AppSense Management Center and Environment Manager Personalization Server components to be installed on their own IIS Websites using a custom Port Binding (7751/7771).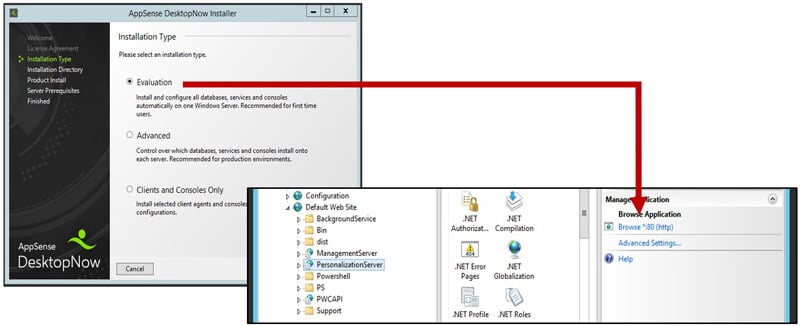 However, we realize that in Proof of Concept or Pilot installation scenarios, customers may want to simplify the configuration by eliminating the need to make changes to Firewall security settings.
With Management Center 10.1, the Evaluation installation mode now installs the products on the default website using port 80, enabling communication via typically pre-enabled, common firewall port numbers.
View a video on the Evaluation install mode here.
AppSense Agent Deployment Statistics
In Management Center 10.1, we've made it easier to view deployment status information for Application Manager, Environment Manager, and Performance Manager agents and configurations.
This enables IT administrators to instantly see the size of their AppSense deployment, and estimate the number of AppSense licenses in use.
Windows 10 In-place Upgrade Support
Microsoft designed Windows 10 using Windows as a Service (WaaS), a new approach intended to accelerate innovation development and delivery. The Windows as a Service model is focused on continually providing new capabilities and updates while maintaining a high level of hardware and software compatibility.
To take advantage of WaaS, we have updated several AppSense agents, so that they remain fully functional – without the need for a reboot – following any Windows 10 Feature Release update:
AppSense Performance Manager
AppSense Environment Manager
AppSense Application Manager
AppSense Client Communication Agent (CCA)
AppSense Watchdog
Windows Server 2016 & Windows 10 Compatibility
Our Citrix XenApp and Remote Desktop Session Host/Terminal Server customers tell us that Windows Server 2016, with its refreshed and more user-friendly interface, will be the operating system of choice for many of our published desktop and published app customers seeking a Windows 10 experience. That positive reception of reinforces our commitment to our relationship with Microsoft so we can continue to deliver timely ongoing support for their latest desktop and application delivery technologies.
With v10.1, the Management Server, Console, Licensing Console, and Agent components have been upgraded to utilize the latest Microsoft technology stack, making them all fully compatible with Microsoft Windows Server 2016 Server (with Desktop Experience installed) and Microsoft Windows 10.