Life just got easier with those Office files…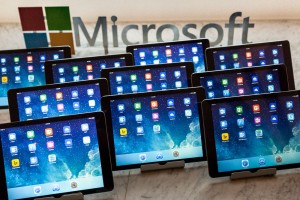 *This post originally appeared on the AppSense blog prior to the rebrand in January 2017, when AppSense, LANDESK, Shavlik, Wavelink, and HEAT Software merged under the new name Ivanti.
Microsoft recently opened up their Office apps on iOS allowing users to open, edit and save files from 3rd party applications. Users are no longer restricted to just OneDrive (or DropBox with whom Microsoft recently struck a partnership) to save and access their Office files on the go.
This is quite a big deal. Here's a scenario...
On your work desktop, you create an important presentation and save it to your My Documents folder. Like many organizations today, your company saves the data from "My Documents" folder to a centralized network share as opposed to OneDrive or DropBox.
Next day, you walk into a Starbucks with your iPad and want to work on that presentation. Until now, you were simply stuck - You could download the file using an application like DataNow and try opening it Office, but Office applications on iPad would not let you edit or save changes back to the original location
Thanks to iOS 8.0 and this newly announced functionality from Microsoft, you can browse, edit, and save files located within a third party storage provider application like DataNow from Office without leaving the Office application. However, this does require the third party storage provider application to natively integrate themselves into the "Locations" picker in the iOS Office apps.
And, we have done just that with our upcoming DataNow 3.5 iOS client !
Here is a quick walk through of how this looks for an end user:
Launch Office application on iPad – Within the Office application, navigate to Open > More > and pick DataNow as a Location from the list. This allows you to browse files located within DataNow (i.e, your network share) without leaving the Office application as shown below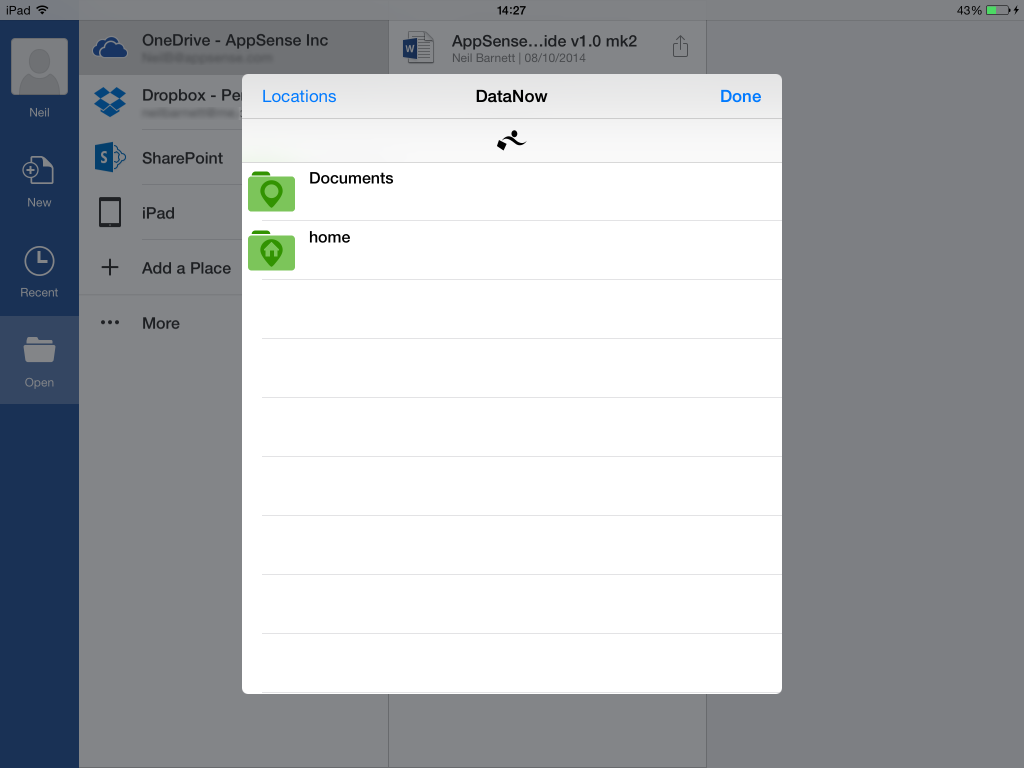 Browse through DataNow and pick the file that you want to work on – again without leaving the Office application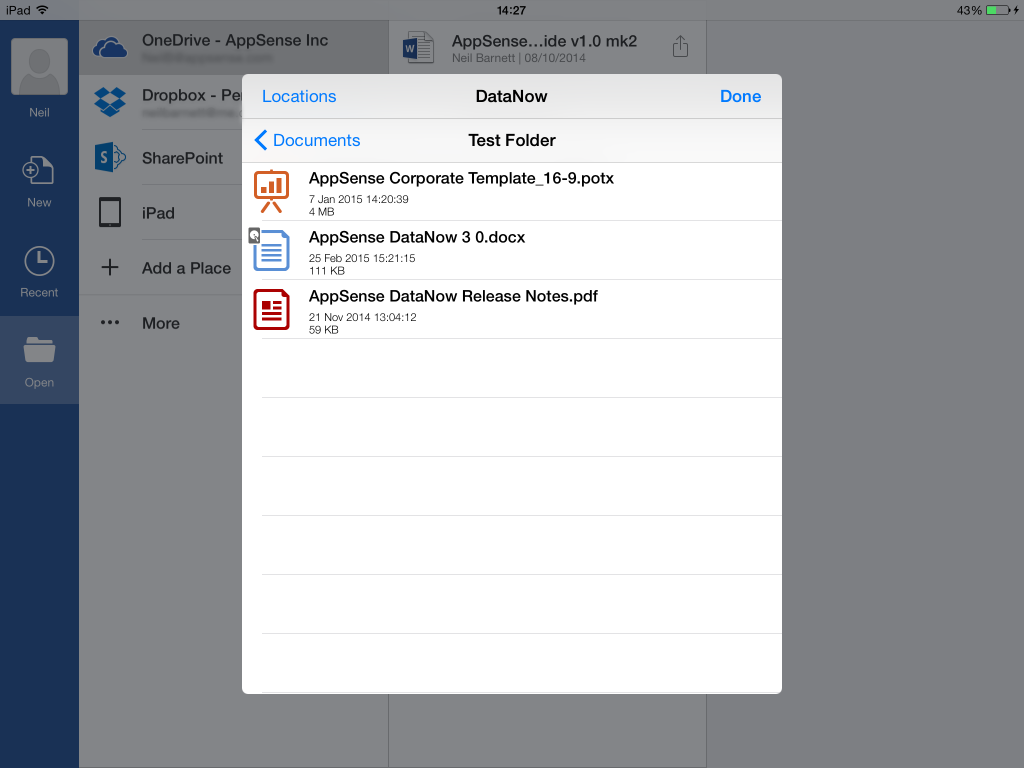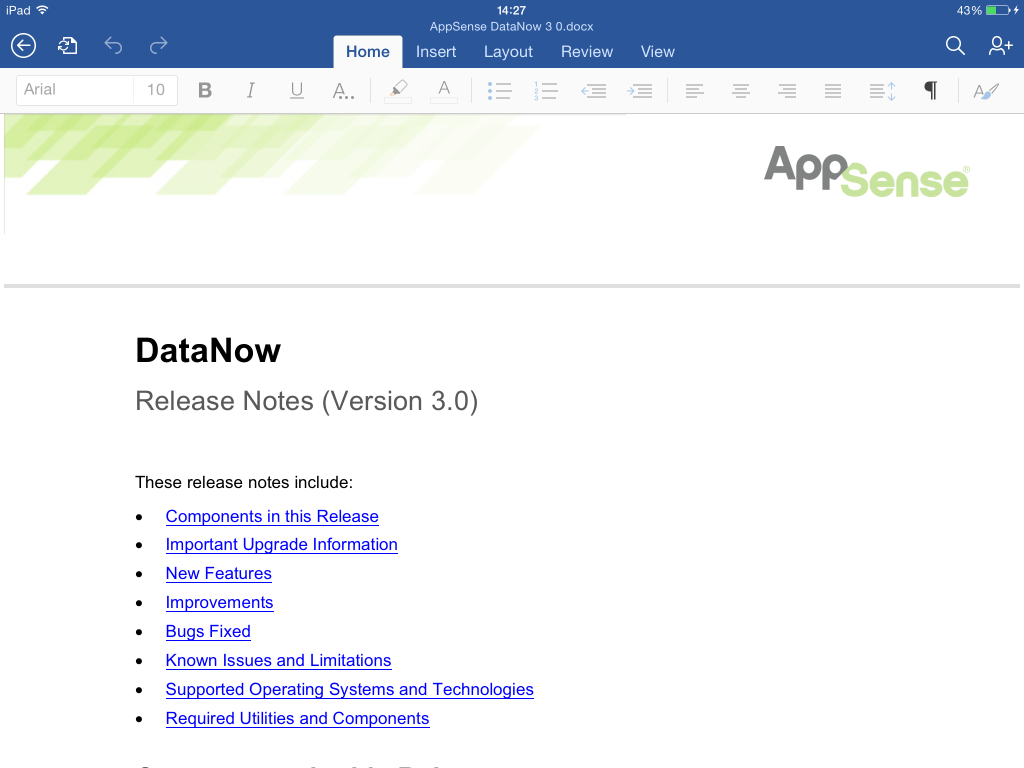 Once the file is open, you can make edits and save changes. Changes are saved back into DataNow and user gets a notification indicating that.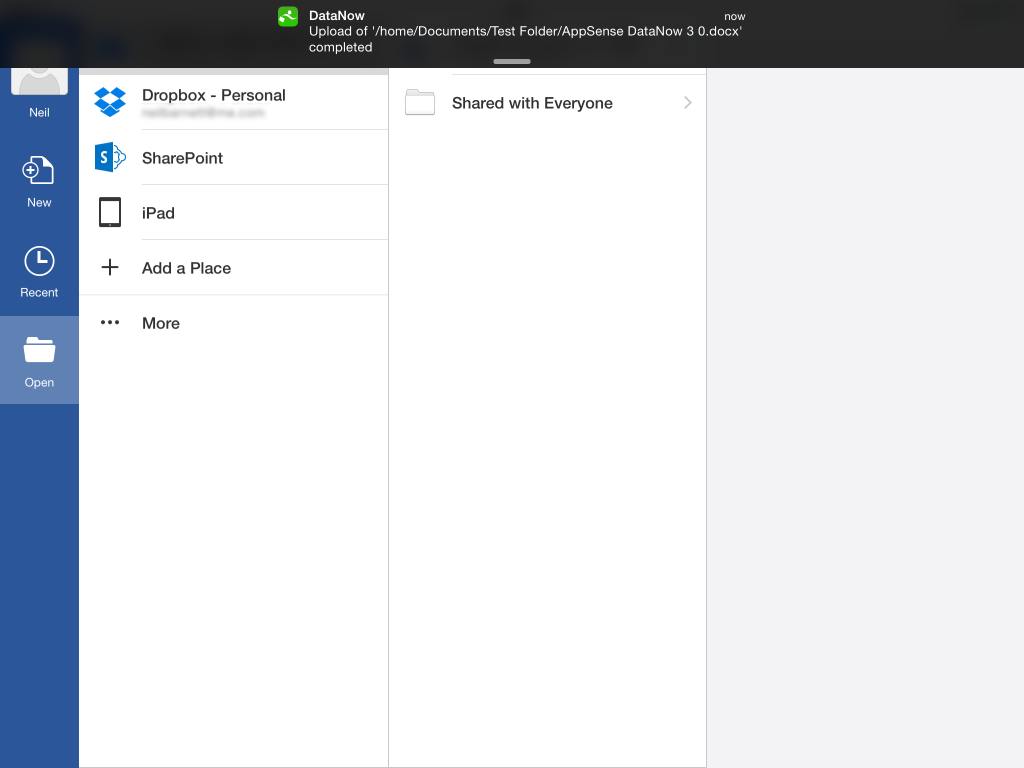 Now, you can access that presentation or document directly from PowerPoint or Word on iPad, make changes to it and save it back to it's original location allowing you to resume work on it later from your work desktop - All while sipping on that freshly brewed cup of Blonde Roast from Starbucks.