Ivanti's First Cybersecurity Game Show Recap
When you think of #IvantiWebinars, you probably don't imagine a series of cybersecurity questions so random they make you go, "Wait, what?"
But you should. Because that's what we did earlier this week when our self-proclaimed "webinerd," Erica Azad, turned a normal webinar into a full-fledged game show titled Wait, Wait, Don't Hack Me!
We may have skimped on the set design, but each contestant did get a brightly-colored buzzer. And who needs to recreate The Price Is Right when we have such quality panelists?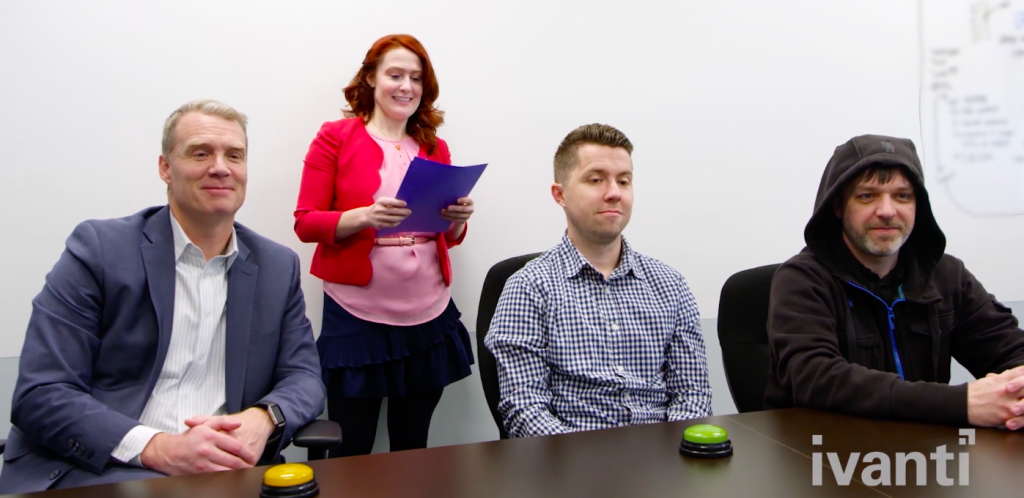 The game show stars:
Host: Amber Boehm, Manager of Product Marketing
Contestant on the left: Duane Newman, VP, Product Management & Marketing
Contestant in the middle: Cache Walker, Customer Advocacy Manager
Contestant on the right: Chris Goettl, Director, Product Management, Security (and resident hacker/Sith Lord for the occasion)
Let's first address Duane's resting face: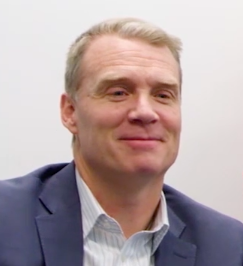 And the corresponding Tweet with animated gif:
A look at @dlikestorun's resting face from today's webinar!
Am I right? @EricaAzad @flashtyn @ChrisGoettl pic.twitter.com/SqBpeSC9ZS

— Cache Walker (@CacheWalker) March 21, 2018
Since Duane won't tell us any of his secrets, we'll jump right into some game show highlights.
Amber explained what the prizes would be and how to win. The first webinar participant to answer correctly in the chat window would receive an Amazon Echo Dot...
...and a pair of Ivanti socks!
Here are the reactions to the sound of Ivanti socks:

It's pretty obvious that Ivanti socks are a huge hit around here.
The game show brought out the competitive spirit in everyone.
When Chris failed to answer "Siri" for one of the questions, Cache threw him this look: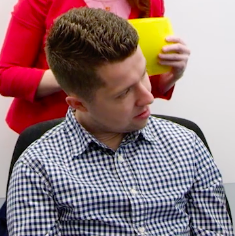 The tables turned when Cache couldn't come up with the word "patching" in the sentence sequence "third-party application ______."
Chris answered as if he was saying the sky is blue.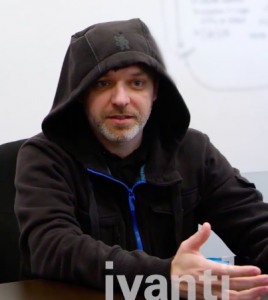 But trash-talking was only part of the game show. We also learned a lot of (fairly useless) trivia.
For example, when the Burger King Twitter account was hacked in 2013, the hackers did not tell consumers that their burger patties were 20% cat meat.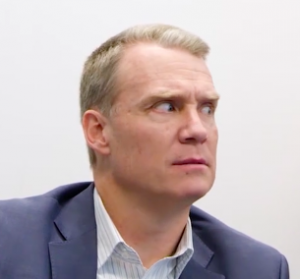 Correct answer: The hackers wrote that Burger King had been sold to McDonald's.
There was a decent amount of #teamwork, too, as Duane struggled to come up with an answer and Cache whispered it to him like a 9th grader whispering to his buddy during a final exam.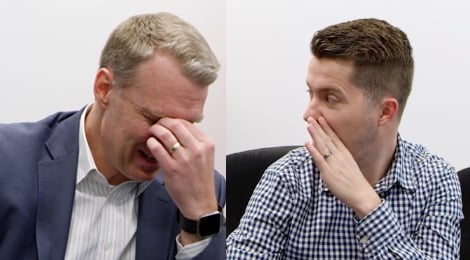 And, to end this on a high note, Disneyland has never been hacked.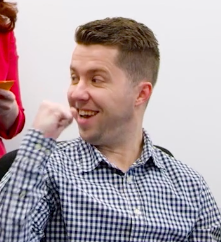 I'd say that makes us all winners.