Ivanti Workspace Control 2021.1 – Service Update 1 is Now Available!
Our latest release of Workspace Control is a service update for IWC 2021.1 containing a number of bug fixes and compatibility updates. But it has so much more than that!
We've also included a number of User Voice requests which were submitted via the Product Ideas page on the Ivanti Community. In addition, we are currently developing a significant new feature called Workspace Control Cloud Relay which we will be releasing later this year.
However, this service update contains an Early Access version of this feature, so let's start there!
Workspace Control Cloud Relay
Over the past year, most organizations experienced the rapid shift whereby users moved out of the corporate office and started to work from home. In many cases the endpoints they were using were no longer connected to the corporate network and, as a result, it made it very difficult to connect to these devices and to provide configuration and other updates needed for the users to remain productive and secure.
We already have solutions to help with this scenario, but they place the burden on our customers to add additional on-premises infrastructure and, for many customers, this is a very challenging proposition. Customers want and expect us to take this burden away from them and to provide a solution without the need for them to add infrastructure locally.
To solve this problem, we have developed Workspace Control Cloud Relay, which enables endpoints that are located outside of the corporate network to connect and receive updates without the need to use a VPN connection.
This feature is now available for customers to trial. If you want to try this feature out, contact our Support team through the Ivanti Community portal. We would love to get your feedback on it.
For more information on Cloud Relay, refer to the Release Notes.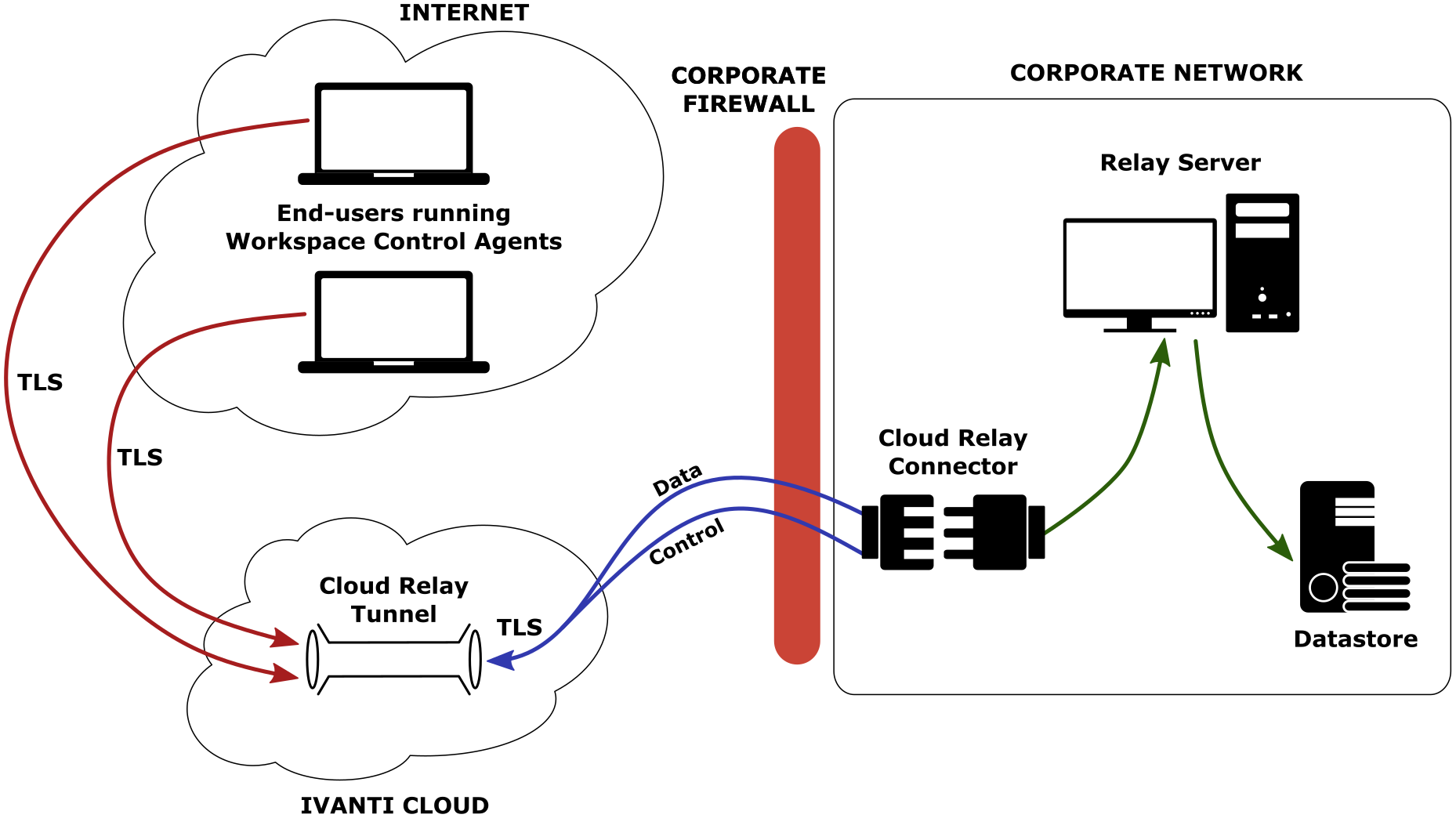 User Voice and Other Enhancements
We are continuing to review and respond to your feature enhancement requests. Thank you for continuing to submit these requests and for voting on the requests that others have submitted previously!
These ideas and votes act as an input to our roadmap. In addition to including requests which have received a lot of votes, we also try to include some 'quick wins' (those requests that really don't take that much effort to implement but provide benefit to our customers).
Please refer to the Release Notes for details on all of the User Voice feature requests and other feature enhancements that are included in this service update. The following are a couple of the more noteworthy additions:
Display Scaling (DPI) settings are saved per user
This was our top voted User Voice entry with over 70 votes, so we are very pleased to be able to fulfil this request!
In previous versions, Workspace Control was starting too late during the logon process. By which time the DPI settings had already been set on the endpoint. This made it very challenging for users with a visual impairment - and for those who preferred to have larger text on their displays.
The good news is that this top request has now been implemented. Workspace Control can save DPI settings on a per-user basis and apply these settings every time the user starts a Workspace Control managed session. This enhancement works for both single monitor and multiple monitor configurations.
Managed application GUID displayed in Application List
One of those 'quick wins' mentioned earlier, this request - which accumulated 16 votes - was to make it possible to show the GUID column in the Application List.
Having this information can be helpful when troubleshooting for example. The administrator may know the application GUID but identifying the associated application from the GUID can be challenging.
Simply adding the GUID as a column in the Application List makes it easy to search for and find the associated application, so that's what we've done.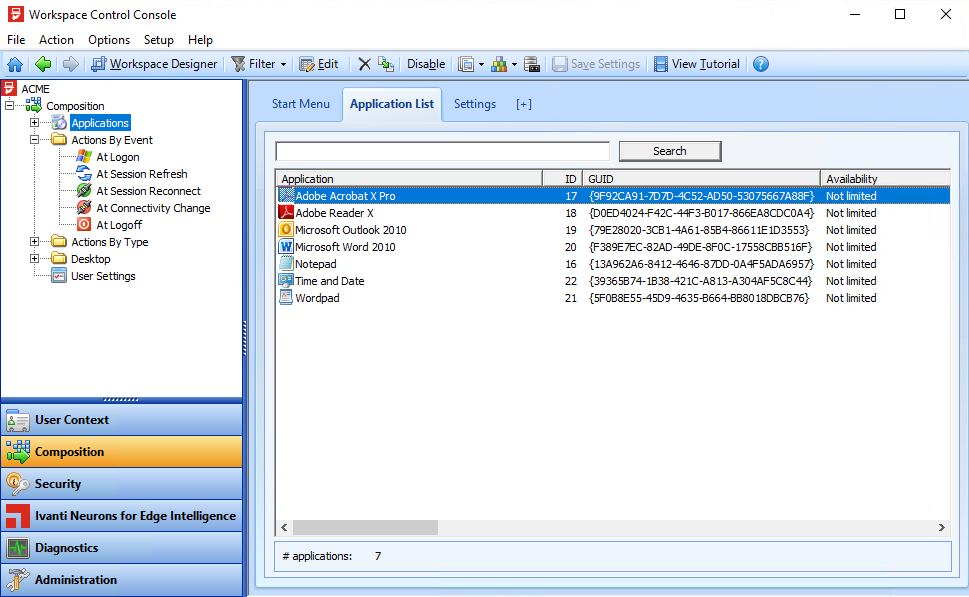 Workspace Control Agent status displays connected Relay Server name
This request didn't come through User Voice, but it did come up in a conversation with one of our Cloud Relay early access customers and we recognized that it was a great idea and have implemented it!
If a Workspace Control agent is connected to a Relay Server, the name of the connected Relay Server is now specified in the "Connects to" column in the Agents view.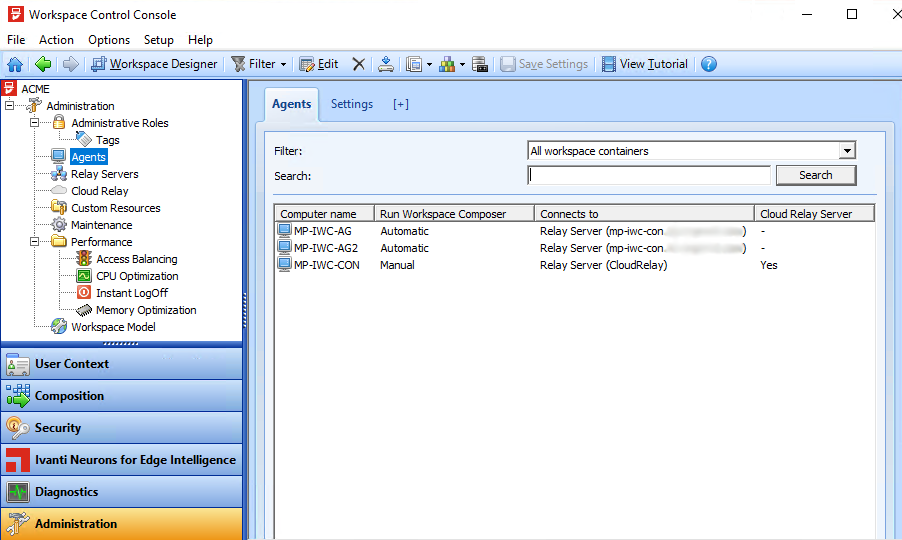 We've implemented some other requests that focus on improving performance, such as the ability to reset the last visited node in Workspace Analysis and the ability to reset the 'Show all User Settings' option when switching tabs.
In both cases, the current behaviour could cause a lot of information to be reloaded when the user visits these pages, resulting in extended waiting time for the page to load, particularly in larger environments.
We are already working on the next set of User Voice requests for the October release. If you have enhancements that you would like to see in the product, go ahead and submit them.
We won't get to them all, but we do review them every week.
Compatibility Updates
Finally, one of the more significant compatibility updates is that Managed Applications can now be published to specific Citrix folders when using Citrix XenApp. Please refer to the Release Notes for more information on how to configure this.