It's official! LANDESK is now the proud owner of AppSense
*This post originally appeared on the AppSense blog prior to the rebrand in January 2017, when AppSense, LANDESK, Shavlik, Wavelink, and HEAT Software merged under the new name Ivanti.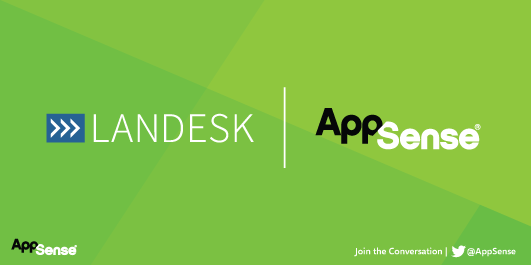 On April 18, LANDESK officially acquired AppSense. Since we announced our intention to do this deal about a month ago, the feedback we've received from customers, partners, industry analysts and the media has been amazing. Apparently we aren't the only ones who think AppSense is a great fit for LANDESK.
Here are just a few of the things we've heard:
One thing I've always liked about LANDESK is our customer relationship with them. We have the ear of their product managers, engineers, and executives, and that's huge for us," said Aaron Ortiz, manager of Enterprise Device Architecture at Sharp HealthCare. "We can't go to Microsoft and request a product enhancement like we can with LANDESK. We also have the users group conferences, the Product Advisory Council, technical support answering questions, and the people in the broader user community who are helping out on the forums all the time."
"Using both AppSense and LANDESK at our multiple hospitals has stabilized the IT environment at Sharp HealthCare significantly," said Donald Nelson, technical system administrator, who helps administrate the organization's 16,000 desktops and 800 Citrix virtual servers. "Everybody is using the same image and the same policies and procedures. This acquisition will really simplify things for us as administrators. We'll have one central point of contact for technical support and a common community for knowledge sharing."
451 Research
There's still a lot of growth and potential in the desktop virtualization space, particularly as the core technologies underlying it mature. But it has become evident over the past few years that endpoint management will continue to involve physical and virtual desktops alongside each other for the foreseeable future – not to mention the incorporation of disparate mobile devices and unified security across them all. This pairing seems like a good fit, as LANDESK previously had no answer to customers aiming to implement virtual desktops, while AppSense has struggled to broaden beyond its core areas of expertise in the virtual world.
Enterprise Management Associates
Through the acquisition of AppSense, LANDESK is taking a major leap into enabling the management of user workspaces across multi-device environments. Once the AppSense solution is fully integrated into the LANDESK Management Suite, full workspace provisioning, management, and security will be enabled for both virtual and non-virtual environments from a single centralized console – a feat few competitors can currently match.
EMA applauds LANDESK for its acquisition of AppSense as it expands the vendor's support for evolving user-focused desktop management requirements and for reaffirming its commitment to enabling comprehensive unified endpoint management.
IDC
Unifying IT management: IDC believes that LANDESK's acquisition of AppSense makes sense from both technology and business perspectives. From a technical perspective, IDC believes that many IT organizations are faced with a fragmented and heterogeneous management structure for the traditional, virtualized, and/or mobile endpoint devices in their ecosystem. As digital transformation and mobility increase their presence in the organization's ecosystem, IT's need for unified management tools is only increasing in criticality. Therefore, LANDESK's accumulation and integration of a unified set of endpoint management tools stand to enable the company to go to market with a more compelling one-stop-shop value proposition.
From an AppSense perspective, the deal also makes sense. Although growth had been high, it would be difficult to sustain without significantly ramping its sales and marketing structure as well as scaling its channel partnerships and international presence. The deal effectively triples its customer exposure while, at the same time, more than doubling its global footprint.
Overall, this is a great deal. AppSense at its core is a great company. The employees I talked to about becoming part of LANDESK are excited about it. (Frankly for many of the same reasons I wrote about here.) LANDESK is excited about it. And I'm excited about it. Congratulations to both companies. Now let's hurry up and continue to be boring! We have desktops to manage!
Gabe Knuth, Independent industry analyst- TechTarget
You know that feeling you get when you see two people that were meant for each other finally get married? That's how I felt when I heard that LANDESK acquired AppSense.
LANDESK has a product portfolio that includes nearly everything but the type of user environment management AppSense specializes in. The AppSense-LANDesk deal is too good a fit to not go well.
This move is really exciting, because it keeps AppSense's technology and people doing the things they do best, all under the umbrella of a company that places more emphasis on products than looking sexy. It genuinely feels like two companies that needed each other got hitched at the right time.