ITAM Complexity Calls for Greater Governance
Wow. My eyes were opened while reading the Gartner report titled Redefining IT Asset Management for the Digital Age by analysts Victoria Barber and Roger Williams published March 30, 2017. And thankfully my eyes stayed open because it was a short, compelling report. You can download it here.
The report awakened me to some new ITAM realities. I'm the first to admit I'm no Mr. Technoid or digital "native." I'm a digital "immigrant" born when Eisenhower was in the White House and I've got the "immigrant accent" to prove it. I'm the grateful beneficiary of the ersatz, spur-of-the-moment tech support I've received from my wonderful, younger, digital-native Ivanti co-workers on many occasions.
The ITAM realities the report discusses that relate to this specific blog post are capsulized in this table: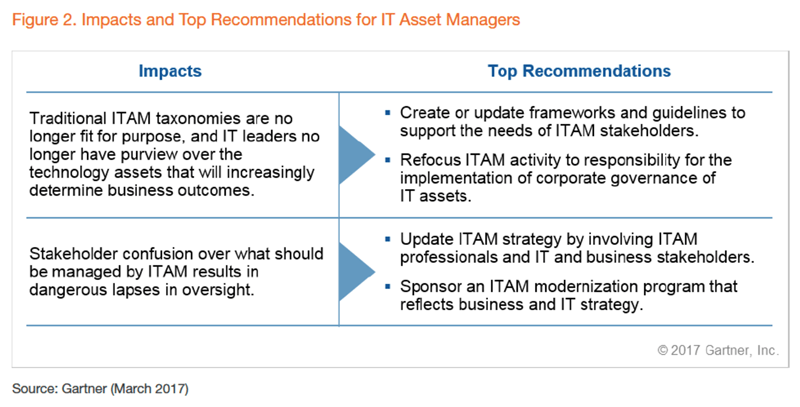 I contemplated these impacts and recommendations, and the further along I progressed in the report, the more I took hope in the knowledge that Ivanti has a cadre of bright, gifted thought leaders and product experts in tune with these trends—and what it takes to help customers and prospects navigate present and future challenges of the digital age.
Patricia Adams is one of these "guardians of the ITAM galaxy." She's Ivanti's IT Asset Management evangelist who spent more than 21 years as an industry expert at Gartner Inc. There she advised companies on how to establish governance programs unique to their organizations, build the business case for ITAM, measure the success of the program, design policies, define roles and responsibilities, implement tools, and build a strategic road map for integrating ITAM into other domains.
A "Strategic Roadmap" for Effective ITAM Discipline
At part of Patricia's consultations with Ivanti customers and prospects, she has introduced an easy-to-follow "strategic road map" in the form of the Ivanti Asset Management and Software Asset Management Attainment Model.
To me, it represents an answer to Gartner's recommendation to "create or update frameworks and guidelines to support the needs of ITAM stakeholders," as well as provides a means to "update IT strategy by involving ITAM professionals and IT and business stakeholders."
This attainment model begins by looking at the components of an effective ITAM/SAM discipline: governance, policies, processes, people, metrics, automation, and alignment with business direction. It's designed to help bring to the table the correct teams in the organization and chart a course of direction around asset management that can be shared with stakeholders tasked with determining what ITAM's scope should be in the face of redefining ITAM for the digital age.
Such an attainment model in my view supports this statement from Barber and Williams found in the Analysis section of the Gartner report:
"Put in place the policy and guidance needed to ensure that the ecosystem of stakeholders who are responsible for the day-to-day management of the assets are doing so within a consistent framework. This ensures that the various stakeholders in ITAM are able to coordinate effectively. As ITAM expands to include additional systems and stakeholders in digital business, it must provide transparency into where things are working well, and where to focus improvement efforts."
The Benefits of an ITAM/SAM Strategy Outside of Hardware and Software
In an Ivanti-sponsored webinar last year on the attainment model, attendees were asked, "Does the ITAM/SAM team meet regularly with the business to ascertain their asset-related needs and direction?" In response, only 26 percent of attendees answered that indeed they did.
This leaves an opportunity for ITAM/SAM programs to work within their "ecosystem of stakeholders" to help solve a spectrum of challenges rather than just responding to software audits. Asset managers can use the attainment model as a driver, structure, or impetus to modernize an ITAM program that can in turn support some of the bigger "digital business" initiatives facing IT.
You can learn more about how to optimize your organization's IT assets here.