5 Key Benefits an IT Asset Management System Should Provide

Asset management is not just about collecting inventory, it's about how we document, track, and control every IT asset. Below are five key benefits that every IT asset management system should provide.
1. IT asset management should provide a single view into all IT assets owned by an organization
IT asset management dashboards provide complete visibility into every system within an organization. The knowledge that is provided from IT asset reports can be used to make informed decisions about IT strategy and IT asset acquisitions.
2. IT asset management should enhance data protection
When IT administrators can see every device, they are able to see technology gaps that might put their organization at risk. For example, on May 12, 2017, at least 230,000 computers in more than 150 countries were paralyzed by the WannaCry ransomware attack. However, this event was avoidable.
On March 14, 2017, Microsoft released a critical patch that protected IT assets from WannaCry ransomware. However, many of the organizations impacted by the WannaCry ransomware attack were running older-unsupported operating systems like Windows XP and Windows 2003.
IT asset reports could have notified these organizations about vulnerable outdated operating systems or software on their networks. Organizations that do not have reliable asset reports increase their security risks. If IT devices are not tracked, they might not be properly secured.
3. IT asset management should provide software license reports
Tracking and managing software licenses is critical if organizations want to avoid unexpected costs and penalties that come from software audits. IT asset management best practices suggest that organizations define and follow a process for purchasing software so that software licenses can be documented and tracked from the moment they are purchased until they are decommissioned.
However, mapping software installed in the data center to software licenses can be complicated because license models and SKUs are much more complex. Furthermore, they are often modified and changed by the software vendors. An asset management solution should provide integration to external sources so that license models and SKUs are up-to-date.
According to Gartner, "Reconciliation merges normalized data with related information from other, often external, sources. This can include procurement data, vendor SKUs, license and entitlement details, and organizational information."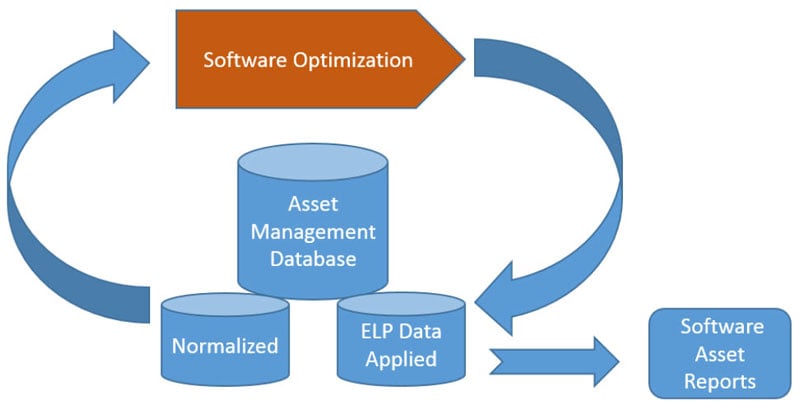 "Reconciliation is the act of harmonizing contract, purchase, and entitlement information with normalized inventory data to establish an ELP—the balance of licenses purchased to actual license consumption."
4. IT asset management should provide the lifecycle status of each IT asset
IT asset management systems document the status of an IT asset throughout the asset's lifecycle. For example, when a laptop is purchased, it would be reflected in the IT asset management system as "purchased." When the asset has been shipped, the lifecycle status would be changed to "shipped." Additional lifecycles would include statuses such as "received," "assigned," "available," or "disposed."
Tracking the lifecycle of an asset allows administrators to be much more efficient when allocating IT assets to employees.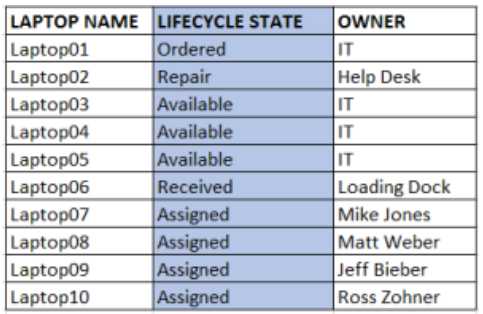 For example, if a laptop is required for a new employee, the IT asset lifecycle report could show if there is a laptop available.
5. IT asset management should facilitate IT asset requests
IT departments typically provide IT services to all non-IT departments within an organization. If requests for software and hardware are fulfilled by IT administrators without IT asset management, the organization will most likely incur additional costs.
For hardware requests, IT asset management systems will help avoid unnecessary purchase requests through asset reports that show available hardware.
For software, administrators can create automated processes that facilitate automated software installation of a software package. This process would include a task to map the associated software license to the customer. Software license tracking will ensure the organization is prepared in case of a software audit.