Investigating User Experience – By the Numbers
*This post originally appeared on the AppSense blog prior to the rebrand in January 2017, when AppSense, LANDESK, Shavlik, Wavelink, and HEAT Software merged under the new name Ivanti.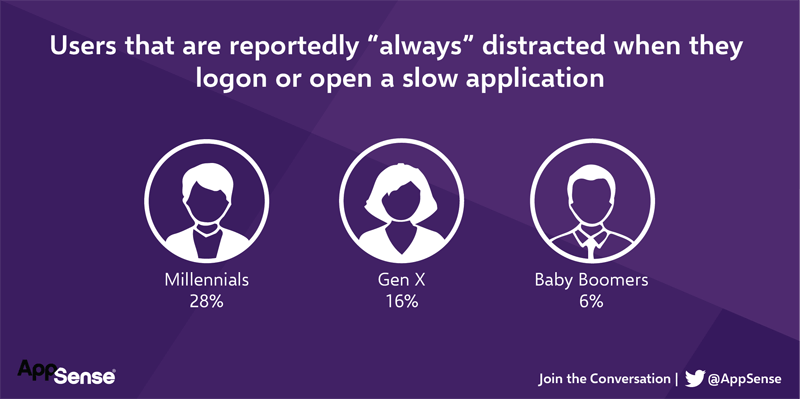 The data is in. Desktop experience truly has a significant impact on workplace productivity.
Based on the findings of the new AppSense 2015 Desktop Experience Study, developed by Dimensional Research, nearly all (98%) business users say that a good desktop experience makes them more productive. But, when computers and applications run slow, costly distractions may add up quickly. Especially for Millennial and Gen X users.
In fact, Millennials are the most distracted with computers are slow. They are also the hardest to please and the most likely to play a game, go on social media ore make a personal call during these distractions – pointing to a clear need for enterprise to catch up to Millennials' desktop user expectations.
The distraction of a slow desktop can be an expensive one. The research finds that 88% of computer related distractions last more than one minute and as many as 38% last more than five minutes. What are users doing that is so distracting? 71% admit that when their computer is slow they take to personal activities including making a personal phone call, playing a game or going on social media. Others (52%) report using the time to use the restroom or take the opportunity to chat with a co-worker (41%).
So just how slow is considered slow? The study found that the majority of business users (63%) find 30 seconds or less an acceptable logon time. Waiting longer than that drives up the risk of distraction, and lost productivity.
To explore these findings from 869 business users and IT teams, AppSense hosted a webinar with Dimensional Research's Senior Research Analyst, Diane Hagglund, along with me, Bassam Khan the Vice President of Product Marketing at AppSense Inc. Here complete results of the global survey were reviewed, providing an inside view of the challenges that enterprise desktop users face.
Some of the points covered include:
The online toolkit: What factors are most effective in creating a great user experience?
The link between a strong user experience and boosted productivity
The impact of user acceptance on project success
The best practices to ensure user acceptance and reduce the strain on your help desk
The challenges posed by virtual desktop infrastructure (VDI) implementation and application virtualization, and how to overcome them
Bonus: Virtual attendees who view the replay and then hold a meeting with one of our AppSense advisors will also earn a $50 Amazon gift card!