Help Desk vs. Service Desk: What's the Difference?
In my first IT job, I worked as a Help Desk Analyst. I supported a software package that tracked individual documents when DOS was predominantly used as the operating system on most IBM-compatible computers. The software we used to support customers would create incidents, which meant it would create a profile with a unique incident number, a category, the analyst, the customer, and various other pieces of information we considered important. The way we provided IT support was what many called a 'Help Desk' or 'ticketing' solution.
Help Desk vs Service Desk:
We often hear the term Help Desk or Service Desk when talking about IT Service Management (ITSM) solutions. Help Desk solutions usually refer to incident management, whereas Service Desk solutions extend beyond incident by adopting additional ITIL disciplines.
When defining an IT Service Desk, Gartner says that:
"IT Service Desk (ITSD) products range from simple call tracking/trouble ticketing (aka "help desk" products) to broad suite solutions encompassing call management, incident management, problem management, IT change management, configuration/inventory repositories, request fulfillment and self-service portals."
Let's discuss the difference between a Help Desk and a Service Desk in more detail.
Help Desk solutions, which do incident management without formalized processes for other ITIL disciplines, tend to focus on getting the customer back up and running as soon as possible.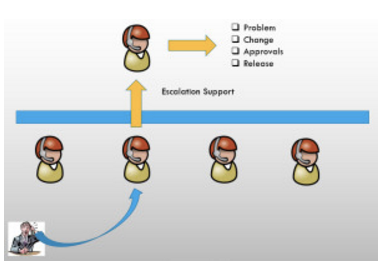 Help Desk solutions provide a reactive method for IT support. Ownership of an incident from start to finish is typically the responsibility of the front–line-support analyst. Depending on what is considered to be most urgent, escalation analysts often perform all the tasks of a problem manager, change manager, and release manager.
What is Service Desk?
Service Desk solutions provide a way to accomplish problem, change, configuration, knowledge, and release management, in addition to incident management. Today, most Service Desk solutions are able to be designed according to ITIL V3 best practices. When organizations move from simple ticketing systems (i.e. Help Desk) to an IT Service Desk solution, they usually require a change in software tools so they can meet their objectives.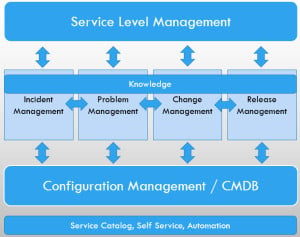 Service Desk solutions focus on preventing problems by measuring performance, sharing knowledge, managing configurations, and formalizing problem, change, and release management processes.
With a Service Desk, IT service management organizations will separate incident and request processes, creating an environment where IT can provide a value to the organization through request fulfillment and catalog services.
Service Desk software tools can also help improve efficiency by providing self-service portal capabilities. Services offered include requests such as software, hardware, and network access to corporate resources.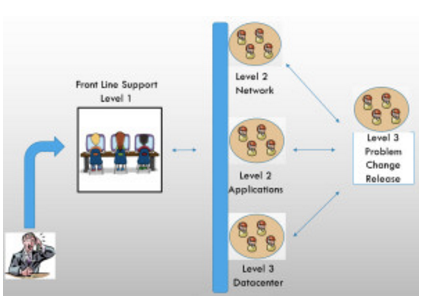 With a Service Desk solution, IT service management organizations structure their employees into groups and roles such as change managers, problem managers, and release managers according to ITIL best practices. Furthermore, analysts are aligned with the appropriate IT experts when doing problem and change management.
Service Desk solutions share information with analysts, and their customers, through automation and a managed knowledge database.
Internal & External Service Desk Integration:
Service Desk software solutions can be integrated with internal or external corporate resources.
When choosing a Service Desk tool, be sure to choose a tool that can be integrated with internal and external solutions such as HR databases or IT procurement processes.
Through integration and automation, a Service Desk solution will increase efficiency and add value to the organization by providing automated request fulfillment services.
Summary
Organizations not providing Service Desk capabilities should examine their ITSM software and their IT service management organizational structure so that appropriate changes can be made when moving from a Help Desk to a Service Desk.
Adopting ITIL best practices, along with choosing the right software tools, will transform your IT service management organization from a Help Desk solution to a Service Desk solution.