Future-Proofing: Examples from the Real World
*This post originally appeared on the AppSense blog prior to the rebrand in January 2017, when AppSense, LANDESK, Shavlik, Wavelink, and HEAT Software merged under the new name Ivanti.
Whether it's a planned OS migration, a physical to virtual migration, domain migration or just a lost device, migrations happen. But with AppSense migrate doesn't have to mean migraine.
Because the AppSense platform can decouple the profile, policy and data from the underlying system, it's effortless to migrate users to new devices and operating systems. This reduces the time, cost and complexity of migration and eliminates user disruption.
And data is future-proofed as storage requirements change without the need to ever migrate data when new devices are deployed.
But don't take our word for it.
Check out this webinar on easier migrations where Steven Kimery, Citrix Administrator, Cornerstone Lending recounts his experience using AppSense including:
Domain migration, WinXP to Win7 migration, and physical to virtual migration
Using AppSense at a previous company to migrate 12,000 physical devices from XP to Win7 within 6 months (one tech could migrate 100 machines in 5 hours!)
Being able to use DesktopNow again played a role in his decision to join Cornerstone Lending
His team claims he should have a pull string that says "AppSense can do that!"
And Omesh Pertob, Virtualization Architect – Infrastructure, City of Round Rock, Texas shares how AppSense DataNow helped provide efficient data access and management. Users can access their documents and drives from any Windows device, Mac, iPad, iPhone or Android-based device securely. And they don't have to be tethered to one machine or in the office to be productive.
For example, city sewer line employees quickly discovered that they could use the DataNow app on their phones to take pictures of faults in the sewer lines. Why is this exciting? The newly snapped photos automatically appeared in their "My Pictures" folder back on the employees' virtual and physical desktops. This saved the employees from manually copying the photos to their desktops and provided immediate backup of the photos. They were beginning to test this same use case with police officers at car accident scenes.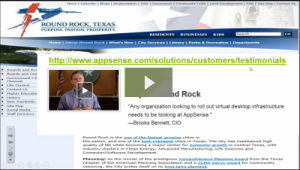 Watch these webinars on demand to hear more from your peers or contact an AppSense Pro to see how we can help you improve productivity and boost ROI.