Faster Logon Times are Just the Beginning
*This post originally appeared on the AppSense blog prior to the rebrand in January 2017, when AppSense, LANDESK, Shavlik, Wavelink, and HEAT Software merged under the new name Ivanti.
Logging on to a PC or virtual desktop is the first thing your users do everyday. Ensuring that your users can hit the ground running with a responsive user experience is more important than keeping up the coffee supply in the staff kitchen. (OK, maybe not that important.)
Long logons also impact overall user productivity. This "waiting around time" can add up and cost organizations significantly over the course of a year.
AppSense helped Conexus Credit Union reduce their logon times by 99%, taking logon times from seven minutes to only six seconds. Replacing traditional roaming profiles with on-demand personalization makes a significant impact, but there is much more that goes into logon optimization. This infographic provides a broader overview of how AppSense can help: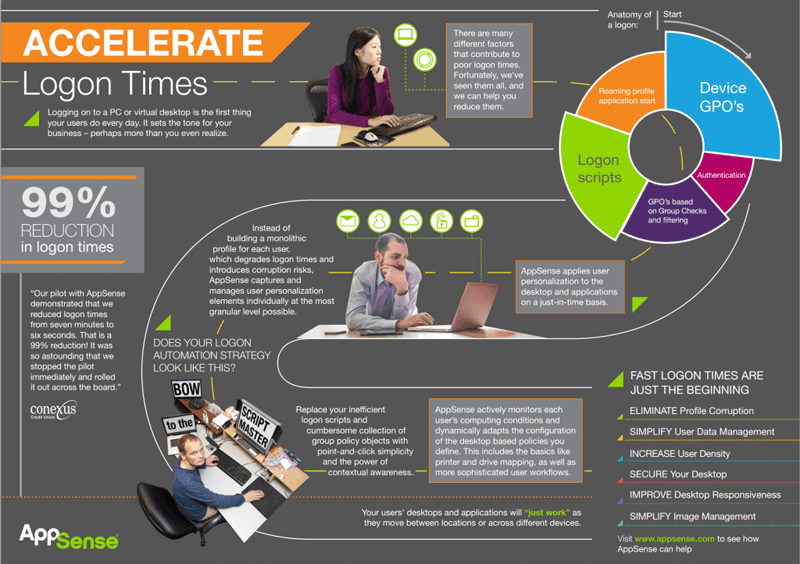 Below is a quick video showing just a few of our many of thousands of customers who are benefiting from faster logon times thanks to AppSense.
The best part? Fast logon times are just the beginning. While customers often come to AppSense to solve this highly visible problem, the steps they take to implement a sound User Environment Management strategy also helps them with countless other desktop projects and pain points.