Experience AppSense at VMworld Barcelona
*This post originally appeared on the AppSense blog prior to the rebrand in January 2017, when AppSense, LANDESK, Shavlik, Wavelink, and HEAT Software merged under the new name Ivanti.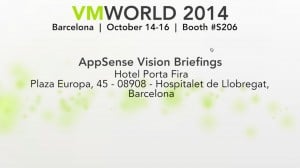 VMworld 2014 Europe starts on Tuesday, and here at AppSense we're once again packing our bags and heading to Barcelona baby! There's tons of things we're planning on drinking experiencing, but our main agenda is to show you how you can save time and money by deploying the Best Desktop Ever.
Our European team is coming together to deliver personalized demos and answer your questions about our solutions. All the fun will be happening at the AppSense Solution Exchange booth, S#206. Just look around for a lot of green, you'll find us.
The Solution Exchange is open from 11am to 7:30pm on Tuesday and Wednesday. Then, on Thursday, we'll be opening even earlier at 10:30am! Pop by as early as you can, and we'll enter you in a drawing for some cool swag. Also be sure to join us for a free beer starting at 5:30pm on Tuesday and 5:00pm on Wednesday.
We'll also be on the agenda with a great lineup of speakers who will show you how AppSense can enable a seamless physical-to-virtual migration for new VMware users and deliver the best possible user experience at the lowest possible cost.
So do what thousands of people did at during the San Fran leg of the tour, come say 'hello' and see why AppSense+VMware=Awesome.
Space is limited, but we're also holding Vision Briefings all week at the very modern Hotel Porta Fira. The briefings run from 9 to 5 with a short break at 10. Each session only lasts 45 minutes of your valuable time, and naturally includes refreshments. If you can only make one, then come to the 5pm one, it includes Atlantis, Lakeside, Nvidia and us. Tweet to @MissTM_Williams and she'll ensure you get an invite.
See you in Barcelona!