Enterprise Architecture Through Ivanti ENVISION
Enterprise Architecture — How We Do It at Ivanti
The two words, "Enterprise Architecture", elicit various reactions and have no standard definition in the dictionary or technical manual— everything from "we tried that and it's too much work" to "we need that!" to "what does it mean to have an effective EA practice".
Trial and error also taught us it's possible (even easy) to do Enterprise Architecture incorrectly! An approach that is slow, feature/function driven, and technology-first or too theoretical causes issues. Strategic architectural evolutionary decisions end up either too low in the IT department or too high in the classic siloed ivory tower.
The Ivanti Enterprise Architecture team exists within Digital Transformation Team and over the next few posts, we will answer the following questions:
How does Ivanti do Enterprise Architecture?
Why do you need Enterprise Architecture?
How do you shift the conversation from features and functions to business capabilities and the value they offer?
ENVISION — The "How" of Ivanti Enterprise Architecture
Let's start with the "HOW" first. Within Ivanti Digital Transformation, we use an Enterprise Architecture methodology we call ENVISION +. This is an agile methodology that's been created and evolved over many years at many companies. We've embraced the best of breed practices in Enterprise Architecture and use those tools in our ENVISION customer engagement.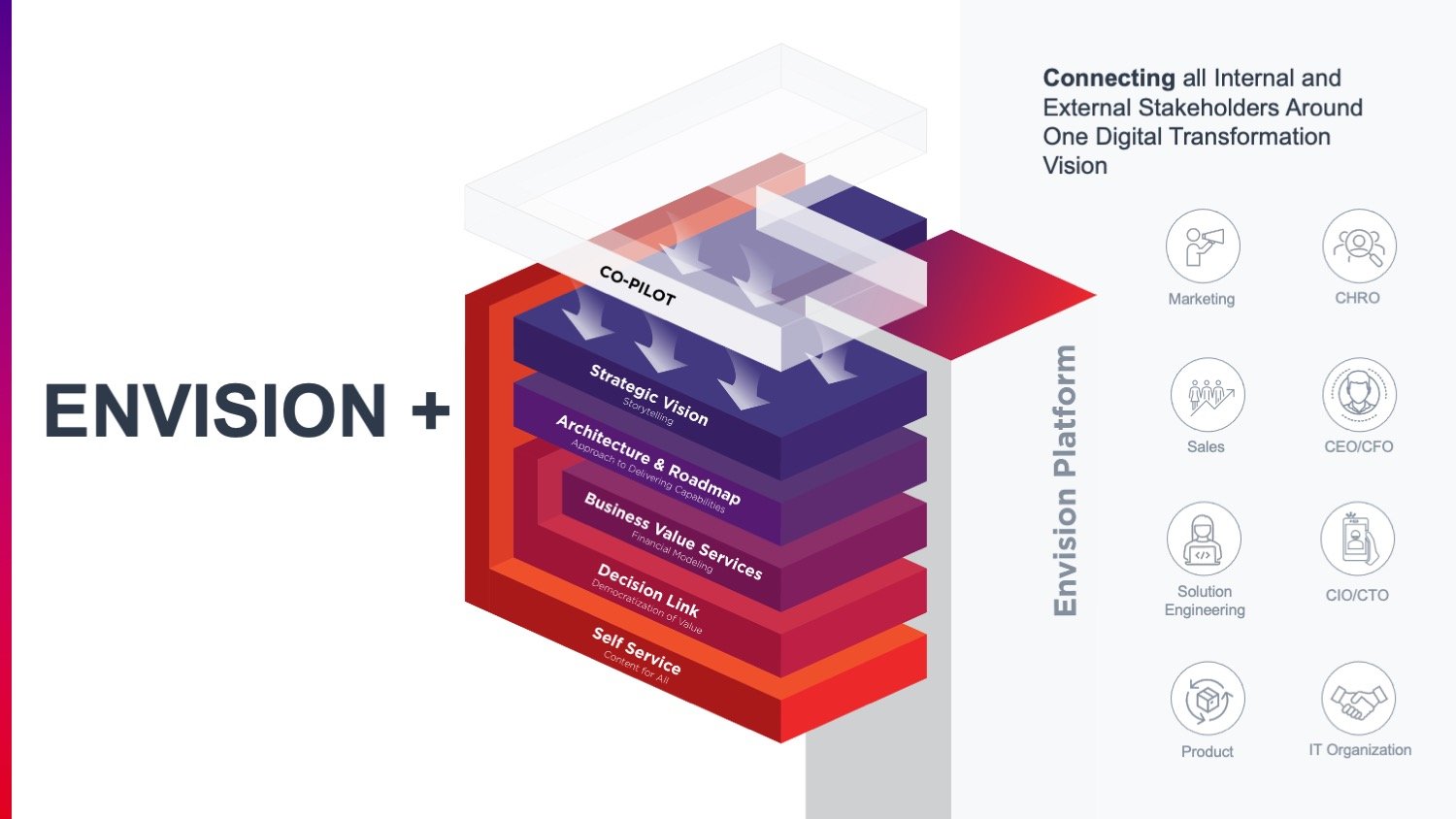 There are three key principles associated with driving strategic value through the ENVISION EA methodology:
Business-value led Enterprise Architectural services based on business capabilities (middle layers)
Pragmatic and Light-Weight — spans the gambit from self-service to advanced engagement deliverables
Minimum Viable Product / Iterative and Agile
A few key things about ENVISION Enterprise Architecture and how we inject it into our ENVISION Engagements:
The first step, Strategic Vision, is focused on the business in terms of goals/objectives and then business capabilities. We purposely do NOT recommend starting with technology, features, functions, points-and-clicks because the most important thing is the business goal(s).
Architecture and Roadmap generates a Capability-Based Heat Map, a Current State Architecture, a Future State "North Star" and a Roadmap which is what we consider the toughest step because it's all about chunking up the evolution to the future state, optimally into scaled agile release train deliverables. The best Enterprise Architects are great at articulating a pragmatic roadmap with reasonable steps based on development methodology and product backlog.
Business Value — although this shows up as one of the last steps in the methodology, it is actually started at the beginning when discerning the customer's Strategic Vision. It eventually demonstrates QUANTIFIABLY how you will meet the business goals and objectives through the roadmap of deliverables — specifically it shows "at each milestone, here are the quantifiable business metrics we will affect."
In future posts, we will explore the areas outlined above with additional details!
If you want to learn more about how other companies are focusing on Enterprise Architecture this check out a few of the links below: