An Early Thanksgiving: 15 Years at Ivanti
The U.S. Thanksgiving holiday that falls on Thursday, November 26 this year came early for me. I'll explain why later. Saturday, August 22 marked my 15th anniversary with Ivanti. And, spoiler alert, this is an "attitude of gratitude" blog expressing thanks for the rewarding career experience Ivanti has been for me.
My time with Ivanti constitutes a significant chunk of a 40-year working life—which also includes a five-year stint at Data General Corporation in Colorado and Massachusetts, and eight years with FranklinCovey in Salt Lake City.
But let's get back to Thanksgiving. Here's a quick timeline of how the holiday came to be, based on information from History.com:
1621: Colonists who had settled Plymouth, Massachusetts and Native Americans of the Wampanoag tribe shared an autumn harvest feast. While turkeys were indigenous, there's no record of a large, roasted bird at the feast. The Wampanoag brought deer, and there would have been seafood—mussels, lobster, and bass—plus the fruits of the first Pilgrim harvest, including pumpkin.
1777: The Continental Congress declared the first national American Thanksgiving following the Patriot victory over the British at the Battle of Saratoga.
1789: In his first year as president of the fledgling United States of America, President George Washington again called for a national day of thanks on the last Thursday of November to commemorate the end of the Revolutionary War and the ratification of the Constitution.
1863: President Abraham Lincoln declared Thanksgiving to officially fall on the last Thursday of November, to be celebrated nationally.
1939: During the 20th century, Thanksgiving evolved into a day of leisure and new customs. To help boost the ailing economy, President Franklin D. Roosevelt detoured from tradition by declaring November 23, the next to last Thursday that year, as Thanksgiving Day ("Franksgiving") to lengthen the Christmas shopping season, causing considerable controversy. On November 26, 1941, Roosevelt admitted his mistake and signed a bill into law officially making the fourth Thursday in November the national holiday of Thanksgiving Day.
Over the River and Through the Woods: Ivanti Has Felt Like Home
Americans go to great lengths to travel home for the Thanksgiving holiday, and Thanksgiving week is one of the busiest travel holidays of the year. To me, Ivanti still feels like home. The company has certainly changed and evolved over time, much like the family homestead that undergoes renovations and updates. But a "home" is less about the physical structure and more about—yes, I'll say it—the loved ones inside.
I was hired by Landesk, one of Ivanti's predecessors, in August 2005 as a long-form copywriter, producing white papers, data sheets, solutions briefs, brochures, etc. Landesk and HEAT merged in 2017 to form Ivanti, and through it all, I've felt fortunate to be associated with such great people—an accomplished and committed executive team; bright engineers; savvy sales people; motivated marketing types; and the finance, HR, legal, operations, customer care, and training professionals who help make the company what it is. The company continues to make significant strides in a competitive market, and employees are being productive in the "next normal" of working remotely.
Why Do So Many Ivanti Employees Stay So Long?
In early January, I wrote a 20 Years of Service Q&A blog that featured the five Ivanti employees listed below who were recognized at that time for reaching the two-decade milestone. More have joined that august body since:
Kevin Smith, Senior Channel Sales Manager (Toronto, Canada)
Bari Carney, Senior Renewal Account Manager (Rutherford, New Jersey)
Paul Petersen, Vice President, Corporate Strategy and Sales Channel Enablement (Chicago, Illinois)
Deanne Benn, Corporate Paralegal (Colorado Springs, Colorado)
Gary Wang, Senior Sales Engineer (Sydney, Australia)
Reasons abound for why people stay devoted to their jobs and employers for years—even decades. Is there a secret to long-term worker loyalty? Well, it's a whole combination of factors. Here's a sampling:
Work that has purpose and meaning
To stay part of something special
Personal contributions that make a difference
Gifted and talented co-workers
Irreplaceable culture
Challenge and excitement
Benefits, incentives, and compensation
Career development
Great relationships with leadership
Work-life balance
A New Traeger Grill and Gifts from a Brit
Having reached 15 years with Ivanti, I qualified for the company's benefit to find something on Amazon valued up to $1,500 (gift-amount values are also associated with 5, 10, 20, and 25 years of service). After some searching, I landed on a Traeger Ironwood 885 barbecue grill/smoker. LeeLa Smith in HR ordered and paid for it and Amazon shipped it to my home. I attached the legs, shelf, handle, and other components and have already used it several times, learning and grilling "on the job".
I had mentioned my Traeger grill selection to Ivanti's VP of Marketing, Melanie Karunaratne in the UK, whom I currently report to, in our weekly 1:1 call. Then, lo and behold, within a couple of weeks of the grill delivery I received from Melanie a Chicken Throne (to roast/smoke a whole chicken) and a Rib Rack, with a very kind note with work-anniversary and birthday well wishes (my 66th birthday was August 16), and appreciation for our association over the past 12 years.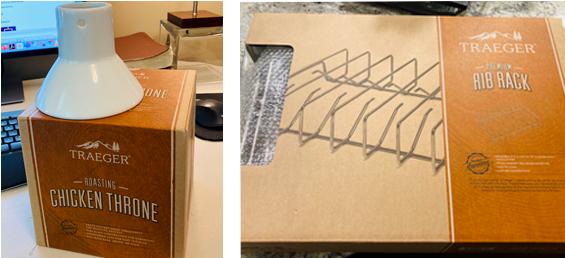 The Pilgrims of Plymouth in 1621 didn't have roasted bird for their Thanksgiving, but we'll grill and enjoy such this November. Thank you, Ivanti. And thank you, Melanie.