AppSense Showcases New Products and Ultimate Swag at Citrix Synergy 2016
*This post originally appeared on the AppSense blog prior to the rebrand in January 2017, when AppSense, LANDESK, Shavlik, Wavelink, and HEAT Software merged under the new name Ivanti.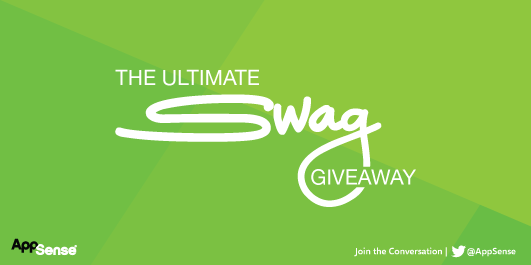 Synergy 2016 is right around the corner and this year AppSense is showcasing new ways to make your IT initiatives go further, faster, and safer.
Like you, we look forward to Synergy every year. This year is no exception! To celebrate, enter the #UltimateSwagGiveaway multiple times - will you catch them all?
AppSense will also offer insights into how it helps IT go further than ever before, at speeds that were previously unheard of, and with levels of safety that are unparalleled in the industry. Connect with AppSense at Synergy and learn how to future-proof your user virtualization and endpoint security strategies.
Plan to meet up with AppSense during the event:
AppSense Live!
You don't want to miss out on this special event, to be held Monday, May 23. AppSense Live! is our premiere technical event for IT professionals. Part session and part party, it brings together over 100 of your peers. AppSense Live! will be held Monday at the Mirage Hotel, Bermuda Room A from 3:30pm - 5:30pm, Happy Hour begins at 6pm. Network with AppSense and the LANDESK team. Be sure to RSVP - space is limited!
Don't forget to ask about entering the #UltimateSwagGiveaway to win the BMW R nine T and more!
Vision Briefings with AppSense
At AppSense, we're always planning new innovations for the future. Attend a Vision Briefing, you'll find yourself on the inside track, spending some time with a small group of your peers and getting an in-depth look at how we make endpoint security safer. We'll also show you how AppSense will help you anticipate threats of the future and build strategies to be prepared.
Attend a Vision Briefing, and gain another entry for the #UltimateSwagGiveaway.
Visit Us at Booth 515G for a Demo & Enter to Win
Get the chance to see new products in motion at our demo station and discuss the changing dynamics of end-user computing. Plus, learn more about AppSense, now part of the LANDESK family.
AppSense will showcase the new DesktopNow Plus v10. Offering new features to reduce IT risk and workload related to Windows 10 migrations and data consolidation, DesktopNow Plus now also delivers greater infrastructure visibility and improved performance and control, with lower resource requirements and zero user disruption.
Don't forget about that #UltimateSwagGiveaway! Watch a presentation and earn another chance to win.
AppSense Party
Wednesday, May 25 from 6:30pm – 8:30pm at the Rockhouse Bar in the Venetian, hosted with Dell, Nutanix, and Unidesk. VMblog directs readers to this event in their Citrix Synergy 2016 Survival Guide for a reason - it's one of the best parties on the calendar! Enjoy appetizers and drinks, all on us. We'll be raffling off a great prize, and party attendees get an extra entry into the #UltimateSwagGiveaway.
What's the #UltimateSwagGiveaway?
We're serious about this "Go further, faster and safer with AppSense" theme, and we're giving one lucky winner something to ride at the conclusion of Synergy 2016. Get multiple chances to win the BMW R nine T, cash, and more by attending a Vision Briefing, visiting our booth, attending the AppSense party and AppSense Live!
Register ahead of time to secure your spot!