AppSense Ranks Among the Top 50 in Glassdoor's Employees' Choice Award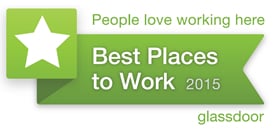 *This post originally appeared on the AppSense blog prior to the rebrand in January 2017, when AppSense, LANDESK, Shavlik, Wavelink, and HEAT Software merged under the new name Ivanti.
AppSense is pleased to announce we are among the winners of the seventh annual Glassdoor Employees' Choice Awards, a list of the Best Places to Work in 2015.
Unlike other awards there was no self-nomination process, instead it's entirely based on feedback our employees have voluntarily and anonymously shared on Glassdoor. To determine the winners of the awards, Glassdoor evaluates all company reviews shared by employees over the past year. This year, we are proud to be recognized among an elite group of companies that have less than 1,000 employees. (See what other companies won in the SMB category: Glassdoor Best Places to Work 2015.)
"It's incredibly rewarding to receive acknowledgement from our employees that our efforts to make AppSense a great place to work are paying off" says Michelle Denman, Sr. Vice President of Human Resources. "We've done a lot of listening to what our employees feel is important about their work experience through focus groups, engagement surveys, and just good conversations and we've implemented a number of initiatives in the last year based on their feedback.
We've made a significant investment in providing exceptional benefits for employees as well as stimulating workspaces that encourage creativity, collaboration, and fun which also support our passion for delivering exceptional value to our customers. We also have a strong belief in community service which brings employees together in activities that support local charities such as the Alder Hey Children's Charity in our Warrington, UK office and Second Harvest Food Bank in the Silicon Valley location.
Debuting on the Glassdoor Best Companies list at 29 is a huge honor and a big thank you goes out to all our employees who took the time to share their perspectives on what it's like to work here. We appreciate all the valuable feedback as it only helps us to get better and we won't stop working until we're #1 on the list and have five stars in every category across every location!"
Below are just a few words employees shared on Glassdoor that contributed toward the award and that made us feel incredibly honored to be recognized:
"There are so many super talented people here, who are passionate about what they do, whether it's developing software, selling or working in the support functions. AppSense is a hard working company! There have been some changes over the last 18 months and things are certainly headed in the right direction to be even more successful. The benefits are excellent -(which we need to remind ourselves of more often) and management are supportive and open to new ways to keep staff motivated and focused. The Exec team are approachable and know most people by name. I've worked in a mix of organisations where this wasn't the case, so this is a refreshing change. All in all, this is a great place to work."
-Anonymous Employee – Warrington, UK
"I absolutely LOVE working here. I started in April of 2013 and I am so happy that I did. The management treats you like family, the benefits are amazing, and the technology and core products are innovative and smart. I am passionate about our solutions and feel very secure in the future of the company. The entire organization has moved in the right direction and more opportunities for growth have opened. The culture is energizing and motivating, which makes me happy to be at work all day. I would recommend that AppSense be voted top companies in 2014.
-Anonymous Employee – Cary, North Carolina