AppSense DesktopNow Receives EMC VSPEX Labs Validation for Desktop and Application Delivery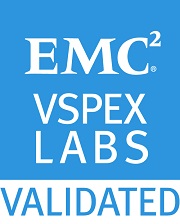 *This blog post was published prior to the rebrand in January 2017, when AppSense, LANDESK, Shavlik, Wavelink, and HEAT Software merged under the new name Ivanti.
AppSense DesktopNow, a key technology for EMC customers undertaking virtual desktop infrastructure (VDI), XenApp / Terminal Services optimization, and workspace configuration management projects, is now VSPEX Labs Validated. EMC Consulting and joint partners now have access to a pre-designed and validated EMC VSPEX architectural standard that will greatly accelerate the deployment process and help EMC customers with:
Improve user efficiency by accelerating logon times, improving OS and application responsiveness, and configuring workspaces based on context.
Improve IT team efficiency by reducing profile corruptions and simplifying image management.
Maximize the value of EMC hardware investments by improving user density on XenApp/Terminal Services environments by up to 40% and enabling a personalized experience on non-persistent virtual desktops.
DesktopNow was recently updated, with a number of key enhancements, such as:
Extended heterogeneous support for Microsoft, VMware, and Citrix environments, including full integration and support for Windows Server 2012, Windows 8.1, System Center 2012, and VMware ThinApp.
Improved policy and efficiency controls for workforce productivity.
New deployment and scalability options that support deployments into the hundreds of thousands of endpoints.
AppSense and EMC share many partners such as Accudata Systems, IPM, LPS Integration, MTM Technologies, Right! Systems, World Wide Technology, who are versed in implementing VDI and using AppSense for workspace and desktop management. Now they have access to the EMC VSPEX architectural standard configuration which will accelerate deployments and ensure faster successful deployments.
EMC Consulting and AppSense have been working together for several years and have successfully deployed many customers. Now with the VSPEX validation we look forward to further engagements and successful customer deployments.
Joint Customer Win: St. Charles Health System
When St. Charles Health System needed to refresh their desktops, they turned to AppSense and EMC Consulting to bring together the services, software, networking, storage, and servers required to make the project a success.
For more details email [email protected]