Improve Your Security Grade
Education most likely to be hit by ransomware.*
Technicians with 1 to 1,150 support ratio.
University Checklist
Essential requirements for modernising your IT Service Management solution.
Higher Education
Today's Education Is Built On A Solid IT Foundation
Each college or university approaches IT differently. Some take a centralised approach, while others are driven by each department or school's needs. No matter which way you're organised, unifying IT workflows, tasks, and tools plays a major role in how well you solve tomorrow's challenges and adapt to evolving technology.
Outside influences also play a part in what kind of foundation you need. At what level must you secure your information? What degree of reporting or compliance do you provide your trustees, regents, or governing boards? Your IT solutions, if integrated together, will help you perform more like a post-graduate and less like a first-year freshman.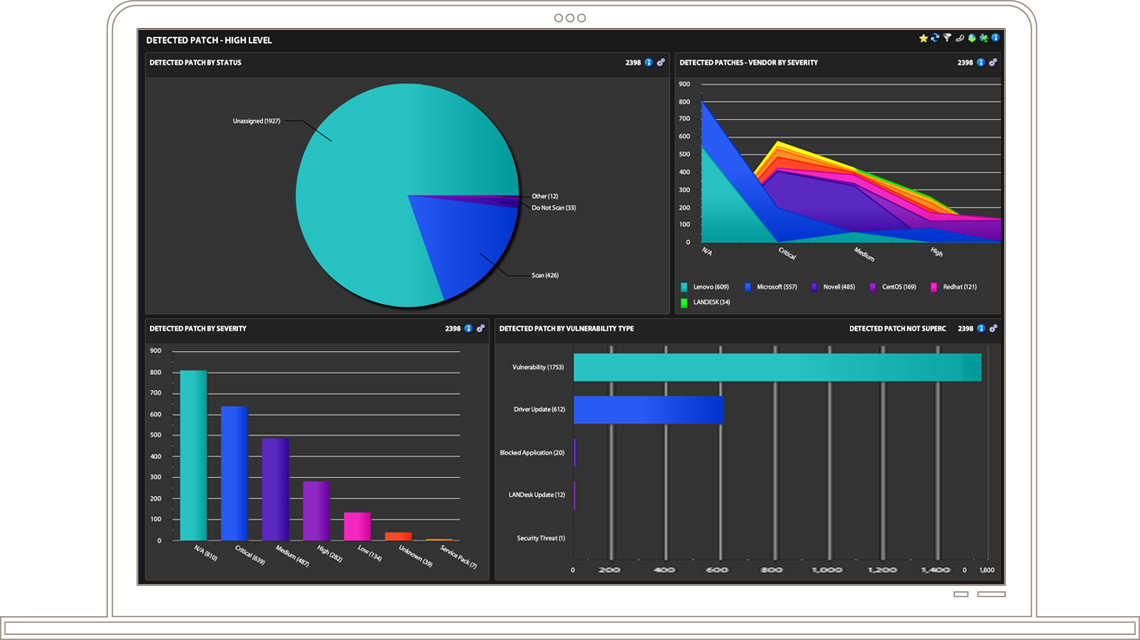 Graduate to a Higher Degree of IT
Your college or university enables students for their careers and their future. Your IT should do the same for everyone who works there—make their careers easier and your future more certain.
So Many Threat Vectors
Every semester sees new mobile devices and apps, as well as threats that use these as a vector.
Third-Party Patching
Who knows what kinds of security threats and productivity hits lurk in those unpatched apps?
What's on Your Network?
Confidence comes from knowing—you know what you manage, but what are you missing?
Migrate and Maintain Windows 10 and Other Operating Systems
Mass OS migrations always present unforeseen challenges to IT and users alike.
Support All End-User Platforms
Windows, Apple, Chromebooks, Linux, iOS, Android—Too many devices to count, too many to manage? Or maybe you're using too many tools to manage them all?
Can't See Beyond the Risks?
Higher education is held to a higher standard when it comes to software licencing and data security. How much visibility do you have?
Not Enough Resources? Make It Self-Serve
What other projects could you do if your faculty, staff, and students could get what they want, when they want it, without you being there?
Ivanti Solutions
Discover what you have and know if it is being used, working right, or creating vulnerabilities and headaches. Automate and simplify comprehensive security. Manage all the endpoints people use. Optimise your assets. And put in place a more process-driven approach to service delivery. Now that's how you unify IT for higher education; here are more details about how we can help:
Unified IT 101
Ivanti supports your mission and vision. Helping students and educators achieve their full potential is no small task. Universities and colleges rely on trusted solutions from Ivanti to improve IT services and support, optimise IT assets, safeguard data, maintain systems—and above all—enable teaching and learning.
Focused, layered security
The breadth of security threats requires a planned, multi-layered approach. Focused solutions built on common processes and integrated tools lower costs and increase responsiveness across your organisation.
Cross-platform endpoint management
Ivanti creates time and cost efficiencies by replacing multiple systems with one single solution. Discover, inventory, and configure all devices—PCs, Macs, laptops, servers, tablets, and smartphones. Simplify imaging. Quickly deploy or migrate to the latest Windows, Mac, and Linux operating systems. Interact securely with users and fix their issues via remote control.
Take the pain out of Windows 10 migrations and updates
Relieve Windows 10 migration headaches by automating OS, driver, and app delivery, while retaining user personalization and productivity. Also ease the pains associated with frequent and large Windows 10 updates and patches.
IT asset optimization
Gain complete visibility to maximise the performance and value of your hardware and software. Understand your software usage and automatically reclaim what is not used, meet compliance requirements, and save time with a centralised view of your assets.
*2016 BitSight Insights Report