Spotlight on Senior Manager of Ivanti Technical Support, Alison Howe
This week we are spotlighting Alison Howe, a Senior Manager of Technical Support based in our Ivanti office in Daresbury: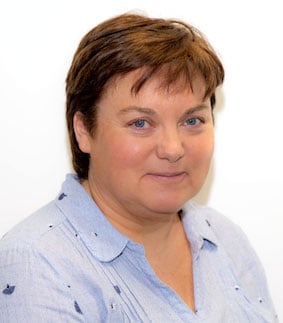 What is your role at Ivanti?
AH: I head up the Technical Support teams based in Daresbury and joined Ivanti at the end of 2016. The frontline team currently provides support to our customers, partners, and the field in Europe for Environment Manager, Performance Manager, File Director, Management Center, Application Control, Patch for Windows/SCCM, and Security Controls. The global backline team enables the frontline teams to develop technically; they work on complex situations and focus on continuous product improvement through working with Engineering and Product Management.
How has your career developed?
AH: I started my career in 1989 by joining a small, UK-based software company writing accounting and investment software for pension funds—all the words which can make a 20-something glaze over. Working in a small company was a great start for me, straight from university and gave me exposure to everything from designing, coding, pre-sales, consulting, user training, and telephone support.
As the business grew, I chose to focus on technical support and built out a team. After seven years, I took a break for six months to go travelling across India and reassess what I wanted to do. At that point I committed to Technical Support as it gave me the buzz of technical challenges, it's fast-paced, and I like the element of customer service, so I joined a much larger global software company called Hyperion Solutions. It was at the time when customer support was being recognized as a specific skilled role and not an add-on to consulting or development teams, so I was part of a new team which we then built to cover Europe from two locations for many products and in multiple languages.
Over the next 10 years the company grew by acquisition, which meant that we were in constant change with new products to support and new locations, and I spent extensive time in India building a new support centre. The make-up of the teams I managed during this time changed in line with the business, from country- or region-specific to product-specific, each with their own challenges.
In 2007, Hyperion was acquired by Oracle and I was tasked with leading support in the EMEA region for the Hyperion-branded products, with a team of 80 engineers and adding a new support centre in Cairo. In 2011, a strategic review determined a restructure based on the needs of customers changing and their requirement for "follow the sun" support as they offshored their own teams, so I took on the role of global domain lead, owning the 24/7 global support service for a set of products and technologies involving Engineers in many global locations.
In 2016, with more restructure due, I decided not to evolve into a new role but to take 12 months off and re-evaluate, not even sure that I wanted to continue to work in IT. It allowed me time to consider what I enjoy and what I wanted out of a new role and what sort of company I wanted to work for. I chose Ivanti—and never completed my planned time off.
Why did you choose to work for Ivanti?
AH: I knew that I wanted to be able to make a difference in whatever role I chose, not just turn up for work, and to be able to apply the skills that I had gained over the years. Ivanti is expanding and, with that, there are opportunities to impact change that comes with growth. I really enjoy working on process improvement. A few years ago I self-funded my Certified Lean Six Sigma Yellow and Green belts, and I can get involved with that, just by seeing something that needs doing and getting on with it. I have been a Certified Support Manager for 20 years and I wanted to be able to use that experience, which I have been able to do as we have evolved the support centre in Daresbury. I really enjoy enabling others to develop their careers, which is encouraged at Ivanti, and I have had a lot of satisfaction from that since joining. I made the right choice.
How important is work-life balance to you?
AH: When my daughter was born in 1998, I took 10 weeks off. My role was not one which was considered applicable for part-time, and lack of flexibility meant that I never dropped her at nursery or school, never went to a performance or school trip, and would often be away for up to a month at a time. That was far from balanced, only achievable with the help of grandparents. This is why I have been focused on ensuring that work-life balance is high on the agenda when building teams.
Times have thankfully changed and we work for a very enlightened company. I would encourage everyone to make use of the flexibility that we have, whether that be as a parent or carer or volunteer, or for your own well-being. Family first is a great way to think of it, but family includes yourself. My daughter is away at university now but the flexibility is still important to me, for those days when something needs doing at home, starting work later in the winter so that I can have a walk in the woods with the dog before work without it being dark, leaving early for a concert or knowing that if anything crops up with my family I can be there.
Can you describe Ivanti in three words?
AH: Collaboration, Change, Appreciation
You've been very involved in the Ivanti Women in Tech Community. Why do you think a diverse culture is so important for businesses?
AH: Diversity brings with it diversity of thinking, which in a culture like ours where challenging and questioning is encouraged, brings innovation. I've worked in teams with differing levels of diversity, and the most enjoyable teams have been those where we have brought together lots of different cultures. You expand your knowledge of the world around you through hearing about different life experiences and viewpoints and the workplace is much more fun.
What advice would you offer younger women as they start their career in technology?
AH: Take the opportunities as they come along; throw yourself into change and see it as an opportunity to try new things and gain new skills. Don't be afraid to stop and take a side step into a new role and to question whether you are happy. I've been very lucky in my career that I have worked for growing companies that have offered me challenges and career development. If I were starting out now, I'd still be looking for those attributes in an employer, but I would add flexibility to it. Look for a company like Ivanti that encourages a work-life balance, including flexibility—not just documented or regimented by policy, but really believes in it.
What are you reading right now?
AH: I always have at least three books on the go. "The Garden of Lost and Found" by Harriet Evans is a dual time line (present day and early 1900s) about three generations of women facing challenges of their time. "Pandora's Boy" by Lindsey Davis, one of a series set in Rome around 80AD about investigator Flavia Albia, told in the first person and gives a perspective of the traditional Roman world from the viewpoint of a woman. I'm also re-reading a series of old favourites by Michael Bond (of Paddington fame) about Monsieur Pamplemousse, a detective turned food critic who solves mysteries with his faithful bloodhound, Pommes Frites.
Any other thoughts for our readers?
AH: Change in our industry is inevitable. It can be exciting and challenging, very rewarding, and often tiring. As I get older, I reflect on how much things have changed in Support, let alone the wider IT industry, and it can be mind-blowing. Back in the day, we had one phone on the wall, not knowing who was calling before you picked it up. We had no concept of logging cases via the web; no email; no remote viewing of a customer environment and having to visualise it instead; sending upgrades to customers through the post on disks along with a heavy manual; having to go on-site at the drop of a hat to fix an issue; shared mobile phone for on-call that was the size of a brick; and worst of all, being expected to wear a suit. Who knows what it will look like in 2050. Think of the change which has happened in my 30-year career so far. One thing we know for certain, it's going to be exciting. Enjoy it.