Q&A with Matt Heller, Ivanti Sales Development Representative in the U.K.
Want an inside peek at a sales development success story? Read this quick Q&A about Matt Heller who is based in Ivanti's Bracknell, U.K. office. He's recently been promoted and is on track for continued success and fulfillment.
Q: Could you please tell us a bit about yourself and what you do at Ivanti?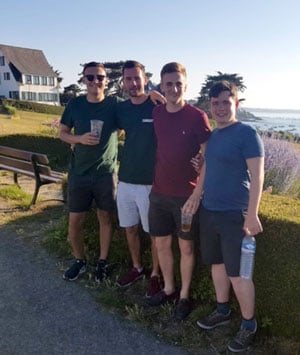 A: I am currently a Sales Development Representative (SDR) at Ivanti and have been with the company for 18 months.
As an SDR, my day-to-day role is to be the first point of contact with prospective customers and to follow up on inbound marketing leads, as well as create my own outbound contact with potential new customers. Following this initial point of contact I then qualify opportunities across the Ivanti portfolio and distribute to the Field Sales team to follow up on. I also regularly attend technology and marketing events as an Ivanti representative, and work closely with our partner network to train the Account Managers and team together to discover new opportunities.
I have just been promoted and am due to move roles next month into an Inside Sales Representative role. I'll move from the Marketing team into the Sales team and into a quota-carrying role. This is the career progression I was driving for since joining Ivanti and was a major motivation for wanting to join the company.
Q: If you had to describe Ivanti in three words, what would they be?
A: Motivational, friendly, challenging.
Q: How has Ivanti helped you grow professionally, and where do you see yourself in three to five years?
A: Ivanti has provided the opportunity I was looking for following my departure from my last company. Even before joining Ivanti, the potential career paths were laid out to me and discussed in depth to make sure my reasons for joining were clear for both me and the company. Since joining, these paths have only become clearer as I've progressed and achieved in the SDR role. I have consistently been supported in various activities that will aid my progression to the next role, which allows me to grow outside of achieving my targets in the SDR role. This has been a huge benefit.
In terms of my three-to-five-year plan, my target is to join the Field Sales Team following working as an Inside Sales Rep, and ideally in five years I will be in an Enterprise role as I want to keep pushing forward and growing my skill set in this area. I believe the level of support and professional growth is available at Ivanti to allow me to do this.
Q: What advice would you give to someone looking to start a career as an SDR?
A: I would advise individuals to truly lay out the goals they have and the career progression they are looking to undertake. The SDR role is a great way to learn the company through and through, both products and personnel, which will stand them in great stead as they look to move up through the company. However, the SDR role is a challenging position. SDRs must make sure they are focusing on the targets set in front of them and achieving these first and foremost. The position is the perfect place to get to know everything about Ivanti, and even more so, to grow both personally and professionally.
Q: Any final thoughts?
A: The SDR role is a great starting point for anyone looking to begin a Sales career or looking to move into a company that has defined career paths. Without question, Ivanti will follow through 100 percent, and support the individual through whichever avenues they wish to pursue. The company and management are adaptable as well as motivational, meaning that you can discuss various options in the company. Whether that be a progression through Marketing, Sales, Channel, or Technical, the options are vast.
Ivanti Is Hiring
From Beijing to Boston and Bracknell to Bangalore, our employees build lasting customer relationships that foster trust and confidence in Ivanti software solutions. Learn more about our open positions. We support each other and welcome the diversity of backgrounds, education, experience, approaches, and ideas.