Xtraction Connectors: Bridges to Greater Business Insight
To be honest, Xtraction Connectors from Ivanti weren't top of mind while riding in a tour van across the Queensferry Crossing bridge that spans Scotland's Firth of Forth north of Edinburgh.
In May my wife and I were on a daylong tour visiting castles and other sites featured in the popular "Outlander" television series airing on Amazon Prime about Scottish Highlander Jamie Fraser and his time-traveling English wife and World War II nurse, Claire Beauchamp.
From the vantage point of the Queensferry Crossing that opened last year, we could also take in the panorama of the Forth Road Bridge, as well as the Forth Bridge—a railway bridge and enduring Scottish icon that opened in 1890. It was a stunning visual statement about the construction achievements of the times, human endeavor, and the continual motivation to speed travel, improve life, and enable commerce.
Civil Engineers Build Bridges; Software Engineers, Apps
Dinesh Paliwal, CEO of automotive sound system maker Harman International, said, "Civil engineers build bridges. Electrical engineers, power grids. Software engineers, apps. From the engineers who created the Great Pyramids to the engineers who are designing and developing tomorrow's autonomous vehicles, these visionaries and their tangible creations are inextricably linked."
Xtraction Connectors are bridge-building "civil engineers" in a sense. Xtraction Connectors instantly bring together data from multiple vendors' tools and multiple enterprise applications—each with its own reporting interface—into the Xtraction solution, providing a consolidated view of the IT information that matters to you – without coding or waiting for an expert reporting specialist to do it.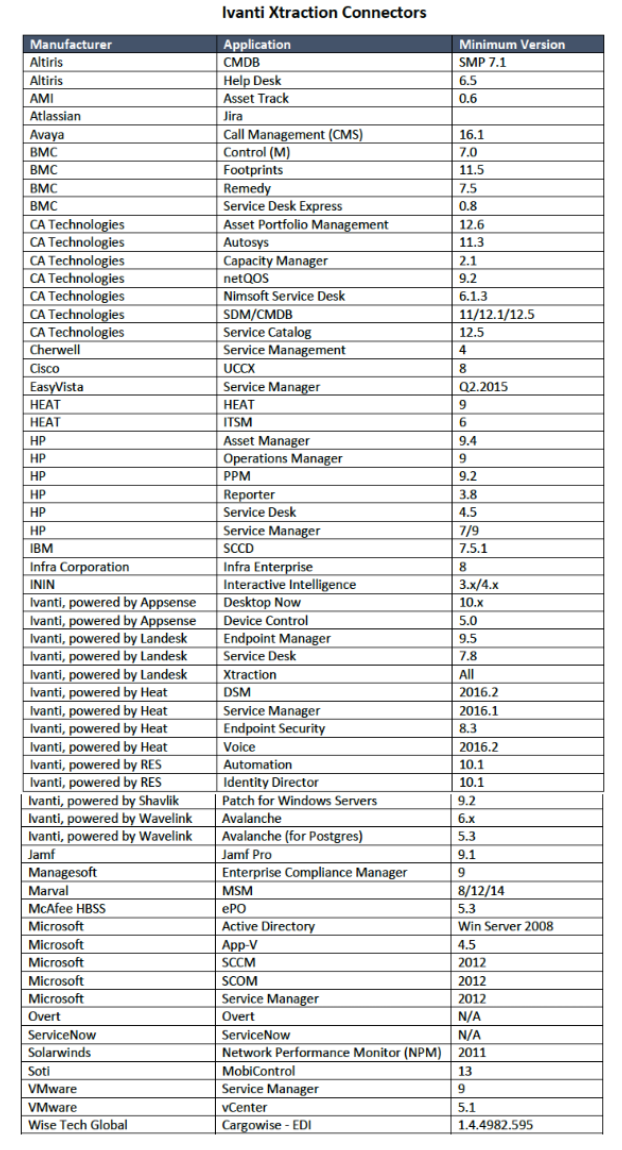 These connectors are pre-built, saving you and your IT department time that can be better spent elsewhere. We have connectors for Ivanti tools and other common applications—ITSM, ITAM, operational security, endpoint management, and relational databases. Once the connectors have brought the data into Xtraction, you can unify, cross-reference, and cherry-pick the data you need and perform a level of analysis unachievable with siloed tools and data.
Certain Ivanti customers have discovered Xtraction to be even more powerful than initially expected, crunching through the data extremely quickly to provide detailed reports.
Take time to learn more about Xtraction and the pre-built connectors that you can choose from . Visit the Ivanti® Xtraction web page where you can also request a demo. And download a PDF of the list of Ivanti Connectors