Three Keys to an Efficient ITSM Self-service Portal
Traveling can be quite stressful, especially when visiting unfamiliar places. Many years ago, when I rented a car, I would ask for a map and directions. Even though I had a map, I always seemed to get lost in unfamiliar places. Sometimes I misunderstood the directions I was provided, and sometimes I was given poor directions.
GPS technology simplifies the process of getting you to your destination because it has the ability to pinpoint your location. With GPS technology, it is almost impossible to get lost, even in the most unfamiliar places.
When IT Service Management organizations design efficient self-service capabilities for their customers, it is much like providing GPS capabilities to someone who is looking for directions. When customers are provided the ability to solve their own IT problems, or to make a request without soliciting the help of another person, they will have a better experience. Self-service improves customer satisfaction while reducing IT service management costs.
When building self-service capabilities for incident resolution and request fulfillment capabilities, it is important to have three key building blocks for an efficient ITSM self-service portal.
Knowledge
Automation
Asset Management
Knowledge
Empowering your customers with relevant information in a self-service portal is critical. If customers do not trust the knowledge provided, they will not use the self-service portal. An app using GPS technology not only provides directions, it provides additional relevant information about surroundings such as restaurants, gas stations, and hotels. Like a GPS, a self-service portal needs to display relevant information to the customer through the self-service portal.
Knowledge provided to customers in the self-service portal should include the ability to search for an answer to a question. Known issues should be easily obtainable along with instructions for a resolution.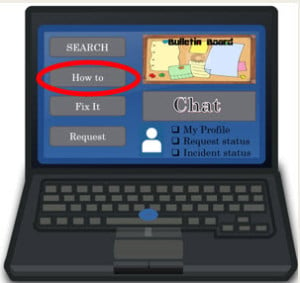 Create a 'How-to' section on the portal. How-to knowledge will reduce support calls. If customers are calling to ask the same question about a specific task, create a 'How-to' knowledge document. For example, if customers often call support to have someone assist them through the task of connecting their phone to the wireless network, create a 'How-to' document and post it in the 'How-to' section of the self-service portal. Use pictures where possible to show the customer what to do.
"The effective use of visuals can decrease learning time, improve comprehension, enhance retrieval, and increase retention."
Consider adding a social media component to your self-service portal. Much of the information we get today comes through social media. As customers learn tips and tricks, they will post their findings for other customers to see.
Be sure to monitor the knowledge information provided to keep it fresh. If the knowledge provided by the self-service portal is not helpful to the customers, they will not trust the content. If they don't trust the content, they will not use the knowledge database. The result will be more calls to the support analysts.
Automation
Automating redundant tasks will reduce costs and minimize errors. Analyze your incidents to find the most common issues.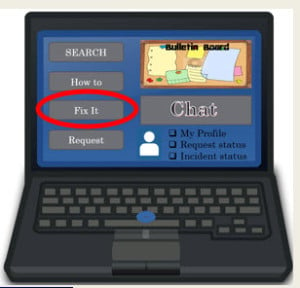 If possible, create an automated process to resolve common issues such as a password reset. For example, when someone forgets their password, have an automated task verify the person's identity, then allow that person to reset the password. Meanwhile, the process can log an incident as opened then resolved without intervention from an analyst.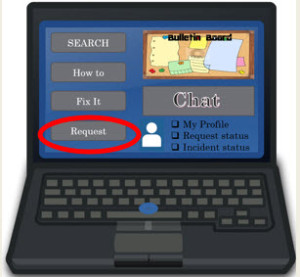 When providing catalog services to your customers, automate request fulfillment through the self-service portal. For example, a request for software that requires a license might need a manager's approval. The request process can be automated to notify the manager of the request. When approved, the software will automatically install to the customer PC.
Asset Management
Automation in conjunction with asset management will enable your self-service portal to manage and track IT assets that are requested by the customers. For example, if a customer requests a laptop, integration with an asset management database allows you to verify if the asset is currently available.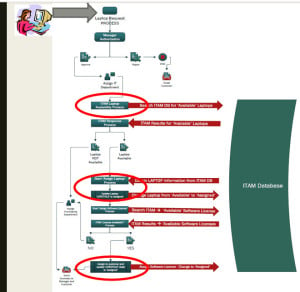 Connect self-service hardware requests to IT asset management procurement processes, if possible. If an asset is not available, automated processes can facilitate a purchase request with minimal intervention from the analysts.
For software, create automated processes that will facilitate the automatic delivery and installation of the software package. Use asset management to track the software license. Map the software license to the customer in addition to the location of the device. Software license tracking will insure the organization is prepared in case of a software audit.
-follow me on Twitter @marcelshaw
This article originally appeared at marcelshaw.com