ProMat 2017: Looking Ahead to Productivity
It's impressive how fast the supply chain is evolving. Few events make this more evident than an every-other-year show like ProMat. Though the pursuit of productivity gains remains the same, the business demands on the supply chain are becoming more – in both number and intensity!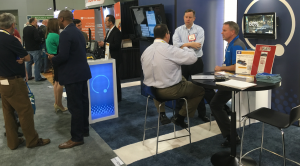 Two years ago, much of the talk at ProMat was about an increasingly omni-channel world, and how to succeed across the board. Since then, the issues have become more focused: "How do I meet customer demand for faster delivery?" or "How do I improve our "perfect order" rate?" As often the case, time has helped zero-in on the specific solutions that come from a broad challenge.
As we head into ProMat 2017, here are three ways Ivanti's supply chain solutions, powered by Wavelink, can help you meet the demands of faster, more accurate delivery.
Move to a new generation of mobile devices: Making the move to Android sounds scary, but with our Velocity framework, you can make the move at a pace that works for your business. Check out this cool playlist that explains how, with an approach we affectionately call "M.O.M.S.".
MDM: Yes! Remember this? Three years ago there were over 100 companies trying to be the MDM for the rugged mobile computing market. As the dust has settled (and sanity has returned) the solutions designed for the unique needs of the supply chain – including Avalanche, have proven up to the mission-critical demands of the supply chain.
Voice: Two words that have long been the promise of the voice-directed supply chain: speed and accuracy. However, as traditional voice apps included a third word (expensive), Speakeasy has gotten even easier to implement via the Velocity platform.
So, stop by our Ivanti booth at ProMat next week. We're in the South Hall, booth #s5446. Get a personalized demonstration of our productivity-boosting solutions, and get started exploring how we can help your business increase customer satisfaction with faster, accurate deliveries. I'll be live-tweeting from the show floor, so feel welcome to follow me: @Rob_DeStefano. See you in Chicago!