Patch Tuesday Goes LIVE at Interchange 2017
It doesn't happen too often, but occasionally Patch Tuesday takes place when Ivanti IT security expert Chris Goettl is on the road.
Be sure to check out all of Ivanti's patch products:
Goettl runs Ivanti's popular Patch Tuesday webinar, dedicating an hour-plus to informing the masses about Microsoft's latest security updates. He's backed by a team of Ivanti researchers that dissect each bulletin, execute tests, and develop Ivanti's approach to updates.
Since May's Patch Tuesday happened to fall right in the middle of Interchange 2017, Goettl, along with Program Manager Todd Schell and Ivanti's Kate Borsheim, decided to host the webinar in front of a live audience at the conference.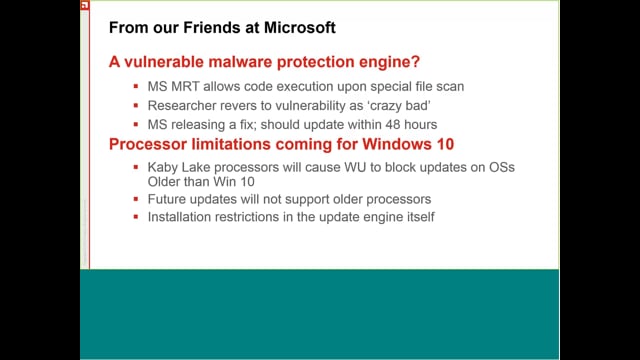 Adding to the magnitude of the event – several pressing issues related to May's update:
Microsoft announced a 48-hour fix to a flaw in their malware engine
3 exploits were being resolved to Internet Explorer, Office, and Windows
A critical Flash update resolving 7 vulnerabilities
A trusted voice in security
With a couple hundred dialing in to the monthly Ivanti Patch Tuesday webinar, and Interchange attendees live in the room, Goettl and Schell walked the audience through the updates, answering questions and offering their expert take on how to proceed with patching.
Some of Goettl's takeaways:
Cumulative updates are getting large, some more than 1 GB
Delta updates are smaller in size, but aren't accessible if you choose the quality updates
There are several zero-day vulnerabilities
Chrome release identified no security fixes, but it is likely to support the latest Flash update
Ivanti is your source for Windows Updates
Microsoft discontinued its bulletin updates in April, but Goetll says Ivanti will continue to send out its own "bulletin" style updates. Ivanti is also researching Microsoft's plan to make its delta updates more compatible and will soon release guidance on how to take advantage of these smaller updates.
Sign up for our monthly Patch Tuesday webinar and explore related content on our special Patch Tuesday section of our website.