Meet Brandon Black: Supply Chain "Pro to Know"
With over 25 years of experience in mobile productivity, Brandon has collaborated with customers for supply chain success from a number of perspectives. He's done it all - Engineering to Customer Service, Product Design, Project Management and Solution Implementations. He's invested years on-site, helping businesses throughout the supply chain successfully define, deploy, optimize, and upgrade enterprise mobility solutions.
As Director of Worldwide Systems & Solutions for Ivanti's supply chain mobility business, Brandon continues to be a leader – shaping product evolution from his deep customer relationships and experiences. He also maintains a strong relationship with partners, overseeing the advancement of the company's Certified Professional Services Partner program. When not carrying a suitcase, Brandon resides in the Salt Lake City, Utah area.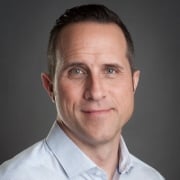 We're extremely proud to celebrate his recognition on Supply & Demand Chain Executive's 2018 Pros to Know in the supply chain. To his teammates and those who know him, his selection was a "no-brainer". Read on and you'll quickly see why he made Supply & Demand Chain Executive's list.
You've been with this business since the early 1990's – ROI Systems, becomes Wavelink, and now the supply chain mobility business of Ivanti. What have been some of the unexpected challenges and opportunities you've encountered along the way?
"In the early days, ROI Systems was a material handling services company specializing in designing and implementing conveying systems. The automation technology of the time was fascinating, and this is what motivated me to join the ROI team. Through the years I have been learned from some of the best and one message has been consistent throughout: The customer comes first. This has defined the core fundamentals of my career. It's kept me focused on identifying the customer's challenge and developing a solution that returned solid results for their business - and in particular, the workers on the floor."
What keeps you excited about being in this industry?
"Emerging technology is a driving motivation, but more importantly working in close collaboration with device manufacturers and strategic partners to develop products and solutions that deliver a solid user experience. There is nothing better than developing solutions that make a positive impact on the daily routine of the worker!"
You've traveled all over the world helping customers implement our solutions. Is there anything that's the same, or is every supply chain mobility implementation like doing it for the first time?
"While there may be similar themes, every customer's needs are unique. From the time we complete the the initial discovery discussion through go-live we are continuously examining the unique aspects of a customer's operations. As we look at their individual business, we're collaboratively evaluating how to implement a solution that delivers optimal results for their specific operations. As we stand side-by-side looking at their operations, we trade notes on our observations. That's also important to the long-term relationships we establish: the understanding of each customer's unique environment, pressures, experiences, and workflows."
There are a lot of emerging technologies being explored in the supply chain/retail space – augmented reality, Internet of Things (IoT), etc. What are you hearing customers ask about?
"Automation using robots in the warehouse seems to be gaining a lot of attention. This is likely years off, but a very cool technology that could really change how goods move. The near-term advance of that is IoT. It's certainly a hot topic already. Data is the cornerstone of any operational process. Having the ability to report, track, and optimize the technology in use is something we are working on with so many of our customers."
A bit of fun: With all the destinations you've travelled to as part of your work, where's your favorite?
"Oh man! I've been blessed to travel and experience so many interesting places and meet amazing people. It's difficult to narrow it down, but two locations I love to visit are Sydney, Australia and London, UK."
You can chat with Brandon next week in Atlanta, Georgia, USA, at MODEX 2018 from April 9-12. Ask him about your next generation mobile productivity initiatives and more, in our booth #4334.