Ivanti Named a Leader in the Omdia Universe 2022-2023 Enterprise Service Management Report
We're delighted to share that Ivanti has been named a leader in the Omdia Universe Enterprise Service Management (ESM) Report for 2022-2023. Omdia's annual report aims to evaluate high-quality ESM solutions available in the market to support both IT and business leaders in selecting the right ESM platform that best meets their needs and long-term goals.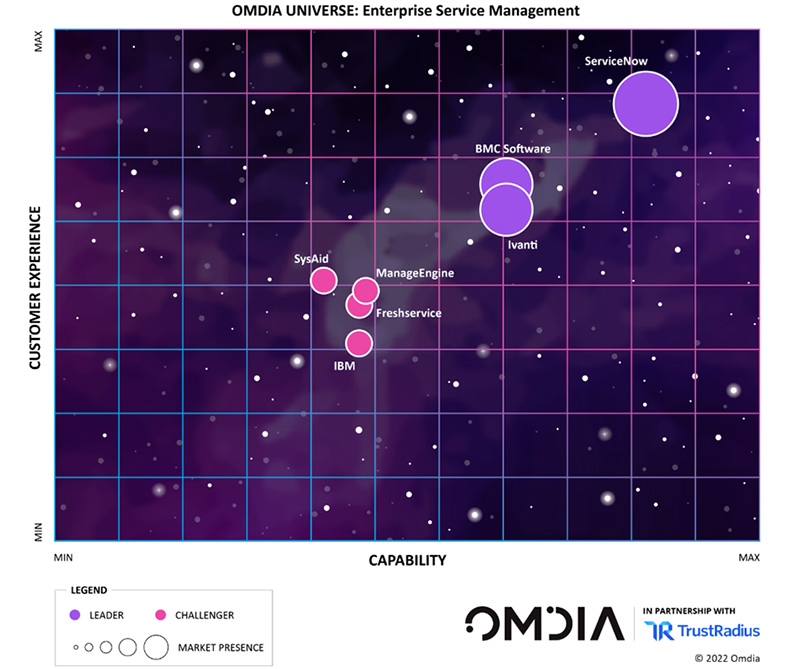 There are eight key capabilities, attributes and features that Omdia's report considered when evaluating the 7 best-in-class vendors:
IT infrastructure and service
IT operations management
Security operations
IT business management
Deployment and integrations
Business workflows
Digital employee experience
Reporting and analytics
Based on the rating, Ivanti is positioned as one of just 3 leaders. Self-healing and low/no code capabilities are just a couple recognized in the report:
"Ivanti delivers a diverse and richly integrated set of capabilities that support more hybrid and mobile-centric ways of working…Ivanti's combination of strong service management, security, and endpoint management capabilities make it a solution worth shortlisting by enterprises looking to deliver against digital workplace initiatives."
According to a survey conducted by Omdia, 24% of the enterprise workforce is permanently hybrid (a mix of in-office and remote-based working), whilst 20% is permanently remote. The fabric of work is changing, which makes an ESM solution critical to support business resilience and productivity. Meeting the needs of a distributed workforce requires daily workflows to be better integrated, mobilized, automated and operationalized in a scalable way, all of which ESM solutions enable.
Additionally, they allow to put more focus on employee experience and business needs. In fact, according to Omdia's survey, the top three areas enterprises plan to invest in for their organization are
1) tools to help measure and improve employee experience,
2) tools and services that improve how devices and applications are managed and secured,
3) improving technical support capabilities.
"Ivanti's proposition continues to evolve in interesting ways, especially in how it supports businesses embarking on future of work initiatives… Just over a year since its acquisition of both MobileIron and Cherwell, Ivanti has made excellent progress in strengthening its overall portfolio and in positioning itself as a vendor that supports businesses on the path to the Future of Work."
Ivanti has invested in strengthening our platform over the past few years through driving strategic acquisitions. This allowed for our roadmap differentiation and continued diversification of capabilities that support the future of work, as well as the employee experience. Ivanti Neurons for ITSM, the center of our ESM offering, modernizes service delivery for IT and beyond by offering full flexibility to deploy in the cloud, on-premises or a hybrid combination, supporting whatever model enterprises need. This allows organizations to automate workflows and eliminate costly manual processes, all while increasing efficiency, compliance, and security. Moreover, it assists IT teams in being proactive and preserving employee productivity by empowering service teams to nip issues in the bud, all behind the scenes via self-healing.
We're grateful to Omdia for recognizing our team's efforts to enable the future of work. You can view a copy of the Omdia Universe report here and a press release about this announcement here. To learn more about Ivanti's ESM solutions click here.