Study: 85% of Employees Don't Have all the Resources They Need on Day One to do Their Job
Results capture the challenges faced by IT professionals when onboarding and offboarding employees.
Introduction
When onboarding a new employee there are many things that need to be done. And although companies think they have a pretty smooth process established, 85% of employees don't have all of the resources needed to do their job on day one, according to a new survey from Ivanti, the leader in unified IT and security operations. After surveying nearly 400 IT professionals, it's clear that there are still many areas for IT to improve when it comes to onboarding and offboarding. This report details the survey's key findings.
First impressions matter
85% of employees don't have all of the resources they need to do their job on day one. 38% of IT professionals say it takes about two-to-four days to get a new employee everything they need, with 27% saying it takes more than one week to accomplish this goal.
The biggest challenge IT professionals face when onboarding and offboarding employees is that the process is not well defined (24%), followed closely by automation (23%). Lack of resources seems to be the least of their worries (10%).
92% of respondents say they see a correlation between people being onboarded productively and their overall satisfaction with the company. Moral of the story? Have a smooth onboarding process and you're already ahead when it comes to winning over your new employees.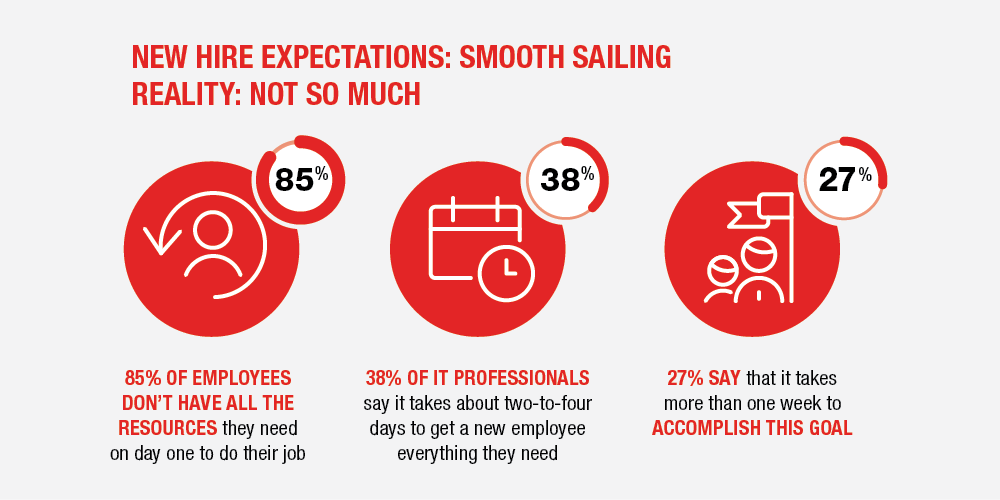 People still like the hard way
You're off to a good start with your new onboard employee, but what happens during their journey within an organization?
When an employee changes their role within an organization, 55% of respondents are confident unnecessary access rights are removed.
When asked how these roles are changed, 54% of IT professionals are still doing it manually. 37% have some automation in place but still have to make manual changes, and only 9% said it's done automatically (as soon as HR makes the change).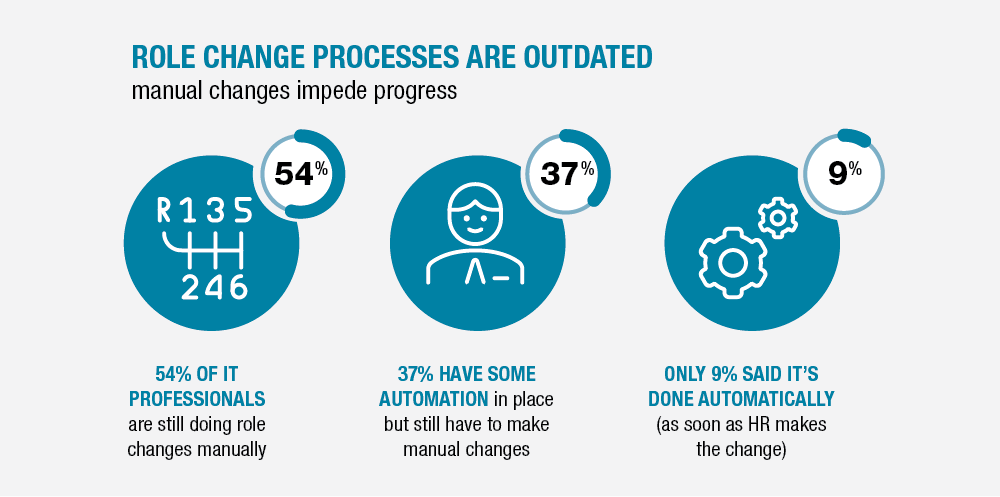 Parting is such sweet sorrow
It's (typically) sad to see an employee leave an organization and it's definitely a lot of work for those in IT! 26% of respondents said it takes more than one week to fully deprovision an employee who is leaving a company.
And once they do leave, nearly half of IT professionals are only somewhat confident that the most recent employee to leave their company, no longer has access to that organization's critical systems and information.
Find that last data point uncomfortable? Take a look at this one: 52% said they know someone who still has access to a former employer's applications and data.
When an employee isn't properly deprovisioned, do you want to know what terrifies an IT professional most?
The risk of the leakage of sensitive data (38%)
The risk of a cybersecurity hack though an unmanaged account (26%)
The risk of malicious data deletion/theft (24%)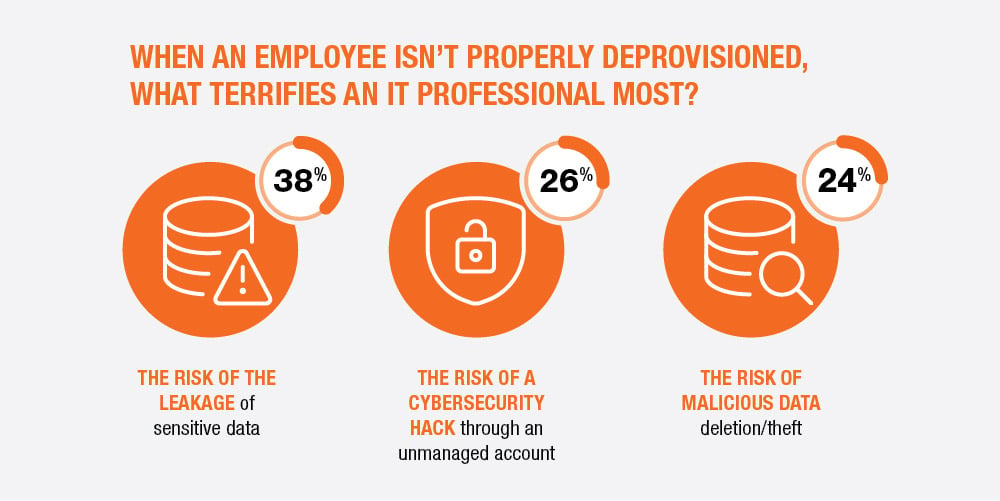 And finally, be compliant!
56% of respondents have faced an external regulatory compliance audit in the last four-to-five years.
When asked which compliance regulations an organization was subject to, the top three choices were HIPAA (27%), GDPR (25%), and SOX (23%).
Conclusion
Overall, this study shows IT professionals are still in need of an automated approach when it comes to onboarding and offboarding employees. It also highlights that insider threat is a major concern when dealing with sensitive data around employees and the company.
About the Research
The survey polled 400 IT professionals over the age of 18. Research was generated by Ivanti in the summer of 2019.