Ease Windows 10 Migrations, Halt Ransomware, and More, with New DesktopNow Plus v10
*This post originally appeared on the AppSense blog prior to the rebrand in January 2017, when AppSense, LANDESK, Shavlik, Wavelink, and HEAT Software merged under the new name Ivanti.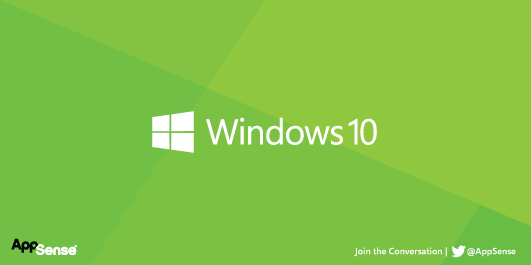 Worried about your imminent Windows 10 migration project? How about the chilling threat of ransomware? Relief is on its way. The new release of DesktopNow Plus v10 offers new features to reduce IT risk and workload related to Windows 10 migrations. It also provides greater endpoint security, infrastructure visibility and improved performance and control, all while lowering resource requirements and without disrupting users.
The new DesktopNow Plus v10, to be released for General Availability in June, is once again proof that reducing endpoint security risk and ensuring a great user experience are not mutually exclusive. The new release offers a wave of new features, across each product in the suite, that work together to deliver a secure and productive workspace that not only reduces IT risk but powers user productivity.
Benefits of version 10 include:
Reduced Endpoint Security Risk. To mitigate the risk of Ransomware exposure, v10 has amped up its granular application control and least privilege access so that you can create rules that address any desktop scenario and use case. Now you can also create customized endpoint policies guided by production data and develop new reports that track and pinpoint non-compliant user behavior. Plus, it enables control of users' web browser and SaaS application policies so your users can work securely from anywhere.
Easier, Controlled Windows 10 Migrations. Don't fret about the constant state of migration brought on by a faster Microsoft release cadence. v10 enables cost-effective action plan development and new Windows client endpoint sync controls with simplified enablement and configuration of large numbers of endpoints. Automatically start, pause or resume sync on a Windows client and simplify your Microsoft Outlook PST file migration, or benefit from the new Office 2016/365 Application Group & Windows Settings Personalization Template and support for Windows 10 Credential Guard and Start Menu customizations.
Enhance User Productivity. For users, v10 delivers up to a 50% reduction in logon times when using Windows Personalization with large numbers of small files. It also offers more personalization options, enhanced drive and printer mapping and support for IP-based printers and automatic personalization data removal for orphaned user accounts.
Save IT Time. With a new server configuration portal, v10 centralizes management of local DTN server instances, enabling prompt response to user issues from anywhere at any time, from a single web browser page. The portal also supports multi-user operations so IT can better delegate user environment management administrative workload. Other new time-saving features include unlimited control functionality, easier workflows, enhanced rule customization, and task delay to reduce server load.
DesktopNow Plus v10 includes these new versions:
AppSense Application Manager 10.0
AppSense Environment Manager 10.0
AppSense Performance Manager 10.0
AppSense Insight 10.0
AppSense DataNow 4.0
Don't let Windows 10 migration, endpoint security concerns or user productivity needs get in the way of your user environment operations. Consider DesktopNow Plus v10 and see how you can balance desktop control and user productivity – for good.
AppSense will be showcasing DesktopNow Plus v10 in Las Vegas, May 24-26, during Citrix Synergy 2016 at Booth 515G and LANDESK Interchange 16 at Booth 6.